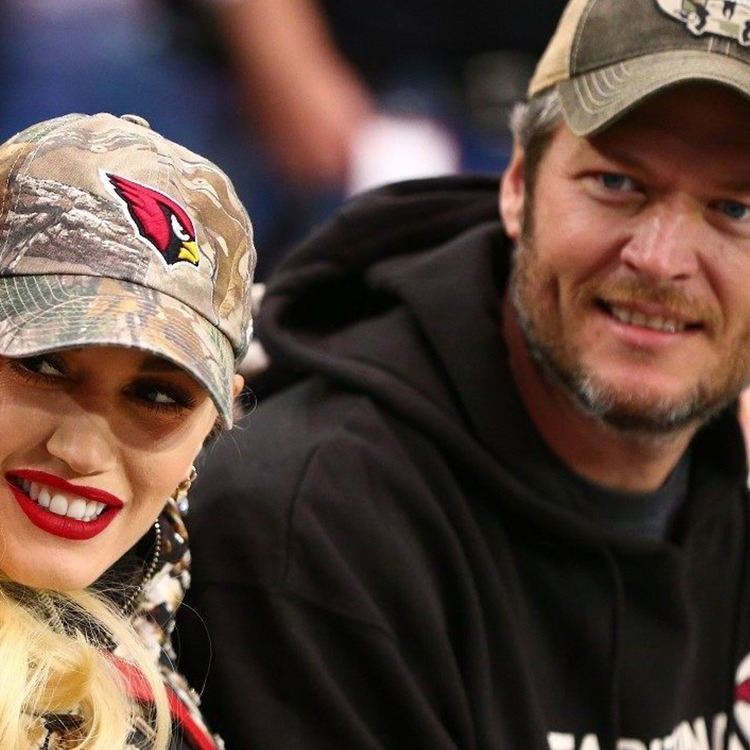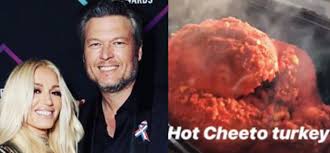 Hello Darlings! I hope everyone had a wonderful Thanksgiving. Gwen Stefani and Blake Shelton made me have turkey envy when I read they had a Cheeto's covered turkey this year. Kind of Gross but YUM. Paris Hilton has a lot to be thankful this year, she gets to keep her 2 million dollar ring!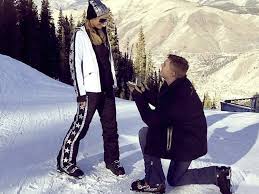 Remember last week when I wrote about Paris and her engagement ring drama? Well it turns out that she doesn't have to give it back. You know why? Because according to a source, it was gifted to her by a celebrity jeweler so that he could get that priceless PR that came from her posting about it all over her social media. So my guess is, she picked it out herself which means she knew Chris was going to propose. So sweet. This is a different version from the original story from January, when a source claimed Chris wasn't only an actor, but also a world-renowned painter whose pieces had
"
become very valuable and lucrative." Oh, yeah, watch out Van Gogh! At least Chris isn't out two million. And we'll always have that picture ingrained in our heads of Paris on top of a mountain Instagramming "I said YASSSS".
Dolce & Gabanna, what's going on with you guys? Between calling Selena Gomez ugly and making racist and homophobic comments they found the time in their busy schedules to insult the entire Country of China. These two foolios used a series of ad clips for a fashion show that was supposed to be put on in Shanghai to make the most insulting comments ever. So rude, in fact, that I'm too embarassed to write about what they said but you can google it. They later made an apology video and something tells me its because China makes up for a third of the global luxury retail market. I'm shocked that they're still being tolerated in the fashion industry.
There have been so many rumors about the Royal Family these days. Meghan apparently threw a fit about the tiara she wanted to wear on her wedding day, she reportedly made Kate Middleton cry on her wedding day, Kate and Meghan don't get along and of course now that Meghan and Harry are moving to the English suburbs, people are saying it's because there's been too much tension going on between the two Princes and their wives. No one knows if any of these rumors are true, but the press seems to think the rumors are coming from inside the palace. It's now being reported that Kate just hired a whole new PR and glam team that she doesn't plan on sharing with anyone else in the family. It's also been said that Meghan will no longer be doing her own makeup (gasp) and wants to hire her own glam team as well. Imagine this dinner scenario: "Kate, I love your hair, who did it?" "Oh thank you, unfortunately that stylist just retired."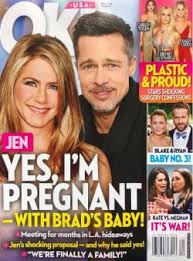 Is there anything more ridiculous than Star Magazine's cover this week claiming that Jennifer Aniston and Brad Pitt are having a baby? Really guys? Let's see. Do we even know that they've even spoken in the last decade? Does anyone know? I don't know that they have. This is about as credible as Ross and Rachel getting back together. Also, he already has six kids for christ sake. Then there's the whole Jen is turning 50 this year. So you know, it's pretty irresponsible to print headlines like that because it gives people false hope. I had to break it to my mother that Brad and Jen are most likely not back together and that magazines aren't always honest. That changed her nail salon visits forever. In good news, it looks like Brad and Angelina have agreed to settle their custody issues outside of court before the trial date that has already been set. I think maybe everyone should have some of their Miravel Rose' to celebrate.
From somewhere near lots of spaghetti squash and cauliflower crust pizzas ,
Julia Obst