Happy Wednesday Darlings!
Hope everyone's having a good week! My kids went to camp and I'm depressed so I decided to write about people that annoy me this week.
Let's start with Kevin Spacey. R Kelly must not have been available, so you may have seen that Kevin took some time out from his court appearances to recite some poems in Italy in a truly horrible brown suit at the Palazzo Massimo alle Terme of the Museo Nazionale Romano last week.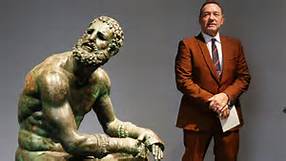 He was asked to do so by an Italian poet named Gabriele Tinti, who was inspired by a bronze sculpture. If you look at pictures or footage from the event, you'll notice that even the sculpture couldn't look at Spacey. Didn't think a statute could look uncomfortable siting next to a person. but here we are. This is art people. 150 people showed up to watch this train wreck.
Page Six is reporting that Lindsay Lohan is "getting close" to Mohammed bin Salman. As in, the crown Prince of Saudi Arabia. Two human rights warriors finally unite. I bet Lindsay thinks she can marry a prince just like Meghan Markle. After some investigating I read that Prince MBS has a wife and a few kids with her and she reportedly has a "bad temper".
So seriously, Dina, Michael, whoever, I know you're busy with fake Facebook boyfriends/a messy divorce/white Oprah-ing/ secret love children, etc., but come and get your girl. This can't end well. Lindsay's team denied this claim and said she has only met the Crown Prince once. MBS's representatives declined to comment and said the Prince was currently on vacation with his family.
Actor and father of Angelina Jolie, Jon Voight recently decided to voice a message to America with a political video and it was called "Jon Voight's message for America." In the video, he claims that racism was solved a long time ago. I think I understand why Angelina no longer speaks to him.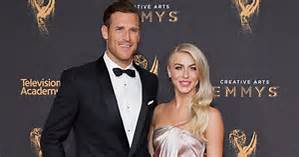 Julianne Hough recently graced the cover of Women's Health. She told the publication that although she's married to a man, she's actually "not straight". She said she shared this non breaking news with her husband after they were married.
"I told him, 'You know I'm not straight, right?' And he was like, 'I'm sorry, what?'" the ex- Dancing With the Stars judge says in the September 2019 issue of Women's Health, adding:
"I was like, 'I'm not. But I choose to be with you.'"
Saying "I'm not straight" to your husband for maximum shock value and then following with "but I choose you" like he's won some kind of prize is actually pretty genius if you ask me.
Julianne recently did that thing where she dyed her hair red and was like "I feel like I'm my true self now because I've always had a fiery personality" and then she went back to blonde like a week later. So who really knows where this is going to end up. All I'm saying is if her husband responded with , "Hey, guess what? I'm not straight either!" She would be pissed.
But wait- it gets better. Julianne's husband, Brooks Laich runs a podcast called "How Men Think" with Gavin DeGraw and they had a sexologist on the show recently where Brooks revealed that "My wife really enjoys it when I suck on her toes." WHAT ON EARTH ARE THEY PROMOTING? Why are we being punished? I don't know what we did as a society to deserve this but I'm out on this.
On that note, I'll leave you with the amazing picture of Kevin Spacey standing next to that statue while reciting poetry.
From somewhere near lots of bike shorts and neon clothing,
Julia Obst