Having my favorite products with me all day makes the day and night much prettier! Here is my cosmetics case that I transfer into my handbag everyday!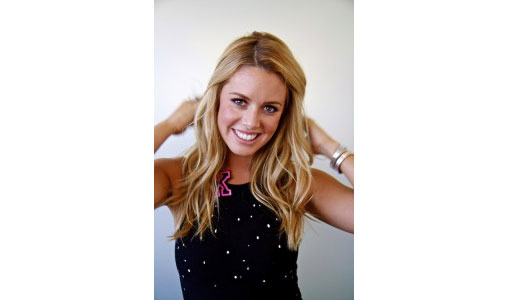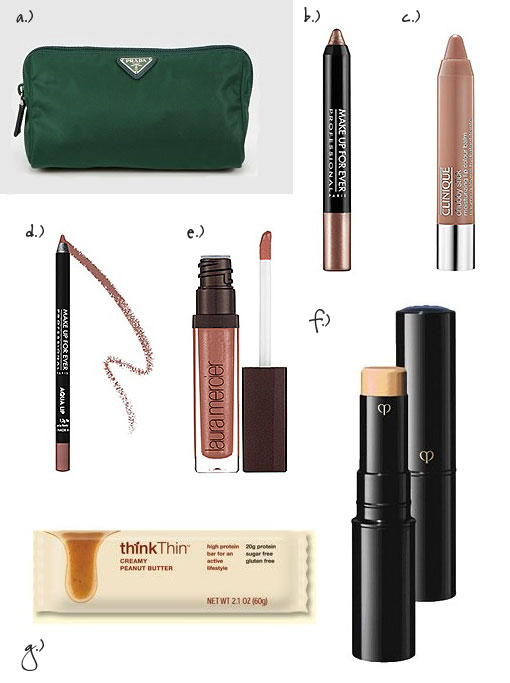 This is my favorite cosmetics bag because it doesnt take up much room and since it is nylon, it is waterproof and I can hand wash it! There is nothing worse than a broken lip gloss all over your makeup bag! This one cleans perfectly! a.) Prada $195
I always have eyeliner in my bag to touch up for night time and add a darker, smokey eye! I love this one because you can use your fingers to smudge it easily! No brushes needed for this shadow look. b.) Matte Brown Make Up For Ever Aqua Shadow.
For lips I have my day and night regimen handy. For day, I just put on c.) Clinique sheer nude Chubby Stick. And then for night I add d.) Aqua Lip Waterproof Lipliner Pencil by Make Up For Ever in 3C over the Chubby Stick to define my lips. And then I top it off with e.) Laura Mercier Lip Glace lipgloss in Pink Tulle to add shine and a yummy vanilla scent!
f.) Cle de Peau Beaute $70 concealer stick is really great on the go. I like to use this one for touch ups throughout the day and at night because it is light and great for layering on top of the makeup I already have on.
And then of course I need a snack between lunch and a late dinner, so I always like to be prepared with a g.) thinkThin High Protein Bar in Creamy Peanut Butter. They are so yummy and taste like a peanut butter cup without the sugar! No more afternoon drags here!
-Kathryn, The Blonde