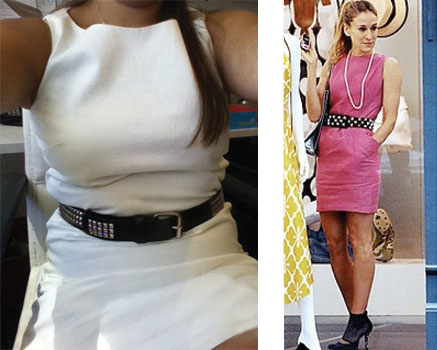 So Labor Day was nearly two weeks ago now. For years, the unofficial end of summer has also served as the "official" date to pack away your white wardrobes until Spring. Wearing white after Labor Day has long been considered a fashion faux-pas. Being I live in Southern California (and that my personality tends to have a defiant streak at times), I have deliberately chosen to wear all my predominately white outfits post-Labor Day. I mean, parts of SoCal are experiencing hotter temperatures than they did all summer, so why not?? Now, I know whites and pastels aren't always appropriate for the fall and winter months, but they aren't always inappropriate and it's truly all about the execution.
Pictured above (sorry it's so close up. I didn't have anybody handy to take it for me) is how I created my seasonal compromise reminiscent of a great Carrie Bradshaw look; you can't see it in the photo, but I was also wearing black pumps. I really like the contrast. And by the way, this outfit was definitely not a budget-buster…dress from NY&Co (around $60), belt I had since high school (probably $18, if I had to guess), and any basic black pumps (mine were BCBG for about $100).
Do you wear white after Labor Day?
– Ashlee, Guest Contributor