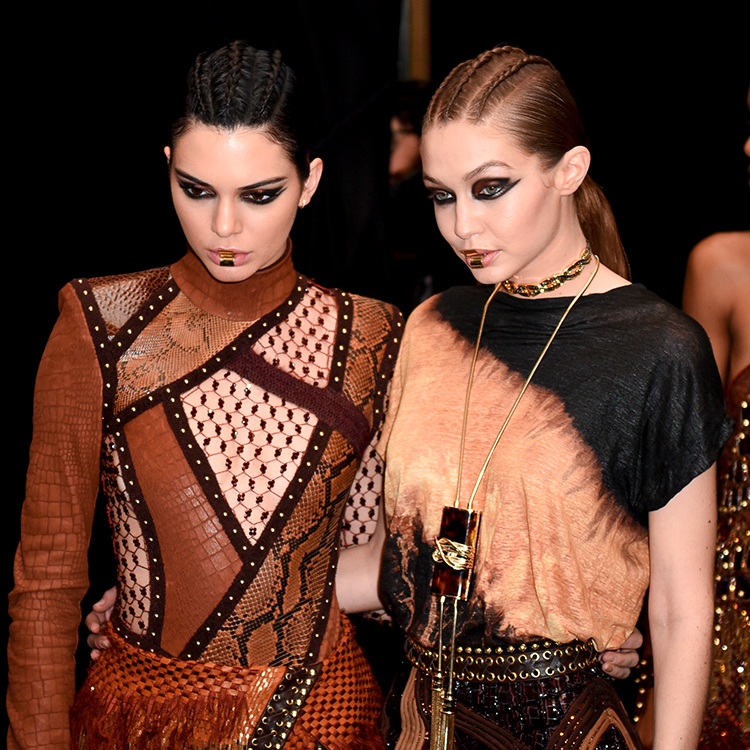 The Gold Lip & Cuff & Dramatic Eye
Paris Fashion Week is in full swing and so are some daring beauty trends. Runway looks ranged from serious heavy metal at Balmain to a whole new take on color for eyes. Some trends might be worth trying and others are just for the runway. We found five major beauty looks that caught our eye and felt we just had to share. Overly dramatic and designed just for the runway, you can rework these five for your own fun and put them to the test on the streets. Everything from an extreme cat eye, to some more subtle pops. Why not, give it a go.

With no Kardashians in sight, the Balmain show had the models walking to Nirvana's "Smells Like Teen Spirit" as well as the soundtrack of rock music from 1970s and '80s (by Aerosmith and the Eurythmics). Possibly an anthem for a new generation, the gold lips worked perfectly with all the fringe and leather. And those eyes. Get your black charcoal eye pencils out again. What fun and worth a try. Our girls Gigi and Kendall sported a chic innovative lip cuff and were also channeling some Egyptian goth glam eye that we were really feeling.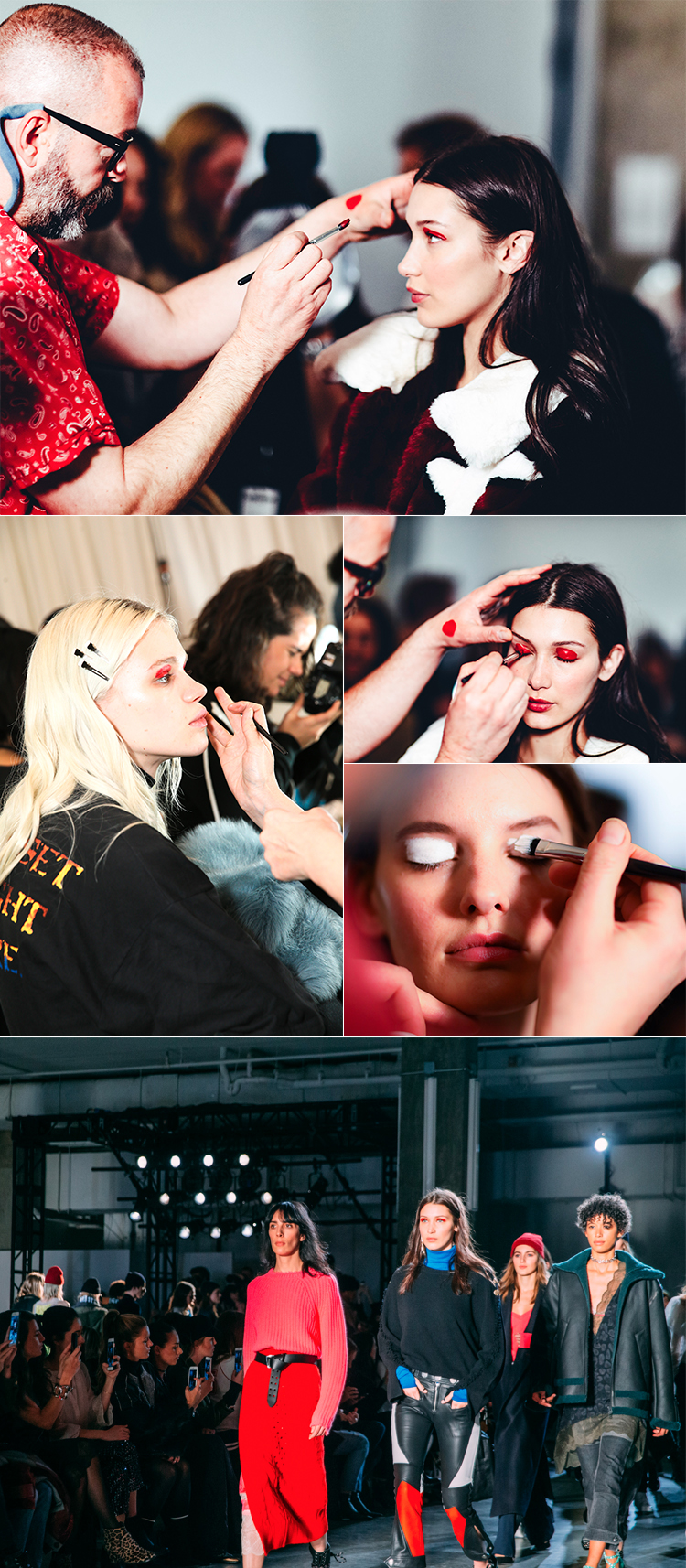 2. The Painted Eyelid
Not for the fain of heart, last Monday in NYC we watched it all go down at the Cecilia Bonstrom Zadig & Voltaire show. We loved the painted eyelid look, which we also spotted in a similar vein at the Maison Margiela show. Mmm, do we smell a trend coming on? If so, we ain't mad about it unless it goes down a notch.

3. The Colorblocked Eye
Along with some subtle looks, like the full painted lid (above) there were also some, not so subtle, looks that graced the runway at Maison Margiela that had everyone talking. Rainbows, and wings, and pops of bright colors were the highlight of the show, along with peacock feathers, glitter, and lots of other fun out-there accessories! Think festival season.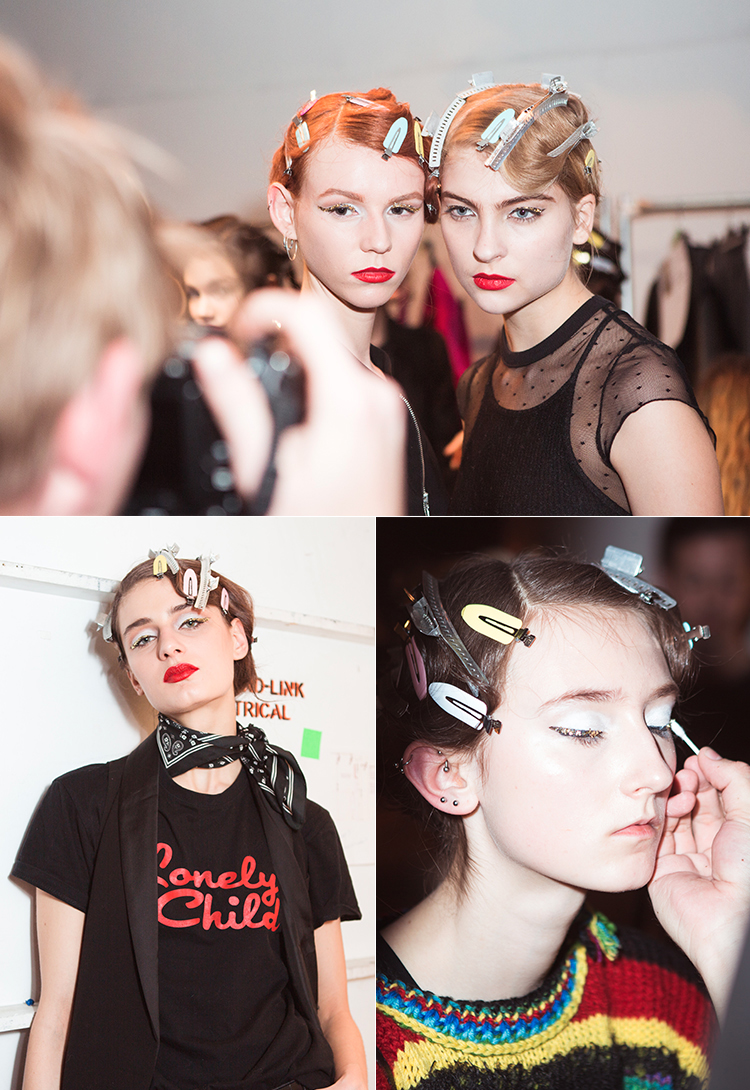 4. The New Lash
Always a sucker for anything that sparkles, glittery lashes and a standout red lip was all you needed at the Chiara Boni La Petite show. Definitely taking notes and might give this one a try ourselves. Love.

5. The Smokey Eye
And last but not least, Clare Waight Keller's farewell Chloé show was a definite showstopper, and the makeup was on point. How do you say goodbye to a brand that you've helmed for last six years? That's how. With a bold smokey eye, that screams "cool girl" and a killer last collection. Well done Keller, well done.
What were some of your favorite beauty trends you spotted during Fashion Week? Let us know in the comments!
xo,
-Lauren Cheek & NJ Goldston