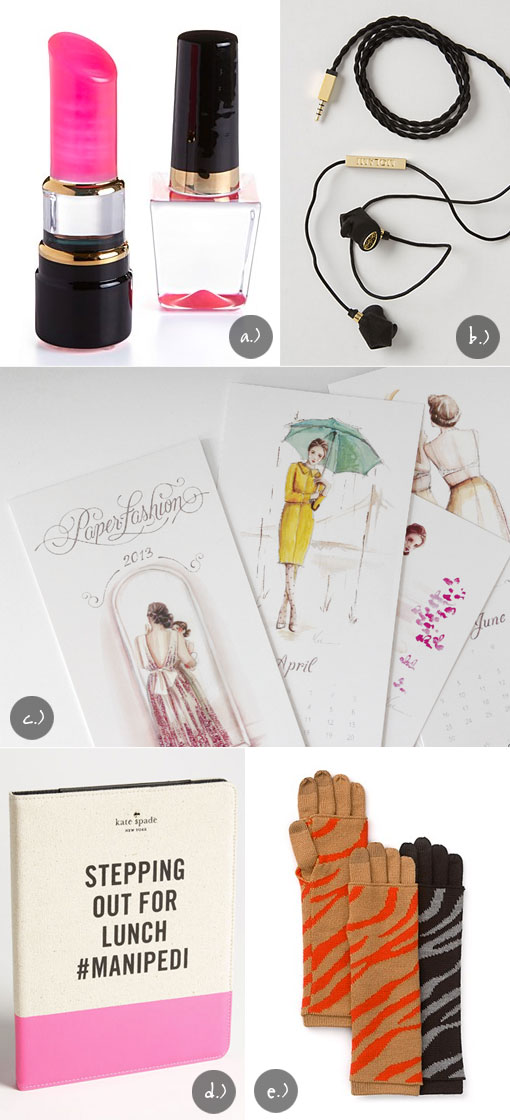 Whether you're shopping for a boss, coworker, business associate or the stylish gal on-the-go, these gifts are sure to please any working woman who likes to be as fashionable as she is professional. And we covered a variety of price points:
a.) Kosta Boda Makeup Collection $100-$150. A beautiful addition to any girl's workspace.
b.) Molami Mollusca Earbuds $200. 18k gold plated hardware with black leather for listening in style.
c.) Paper Fashion 2013 Desktop Calender $30. Features 30 original fashion illustrations by artist Katie Rodgers.
d.) Kate Spade "Mani Pedi" Folio for iPad 2 or 3 $85.
e.) Aqua Zebra 3-in-1 Tech Gloves $48 (on sale right now for $36). Not only are they touch screen-compatible, but these can be also worn as long printed gloves, short solid gloves and armwarmers.
– Ashlee, Brunette Contributor