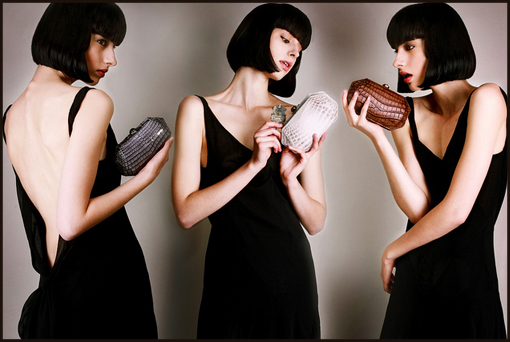 Let's be honest. A stunning crocodile bag that is also a work of art is normally out of reach for all of us. Not anymore. About two weeks ago we were invited to sit down at Saks Beverly Hills with 28 year old Ethan Koh, affectionately called Ethan K, as he introduced his latest line, of exclusive, widely-coveted, ethically sourced, bespoke crocodile bags.
Now I want one too along with a lot of other ladies in LA and everywhere else in the world. Very, very badly. As Ethan told me when we met, "I think a beautiful crocodile bag is not just something you buy for one season, but it can be passed down to your daughter. It's a forever bag."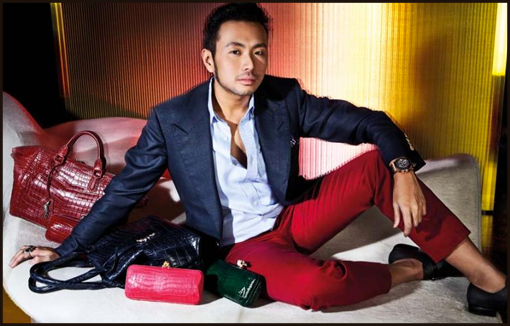 Ethan K
So what makes them so special? (and I was not expecting to have such a heart palpating response to the line)? Each one is literally one-of-a-kind. As Ethan explained to us, he "felt that the luxury market had become too mass market. Everywhere you went you were seeing all the same brands. " He want on to explain that " there was this special group of women around the world that I could cater to in their 20's, 30's, and 40's that has everything in their wardrobe but when they want something special, they always come to me."
The special details include his unique high-lustre Bombé Shine Crocodile Glazing achieved with a secret polishing-heating technique using agate stone, never off the shelf clasps sourced from artisans, and to finish off each bag, Ethan embosses the buyer's initials and bag's creation date. By the way, you can order a bespoke bag anyway you want it and in any color.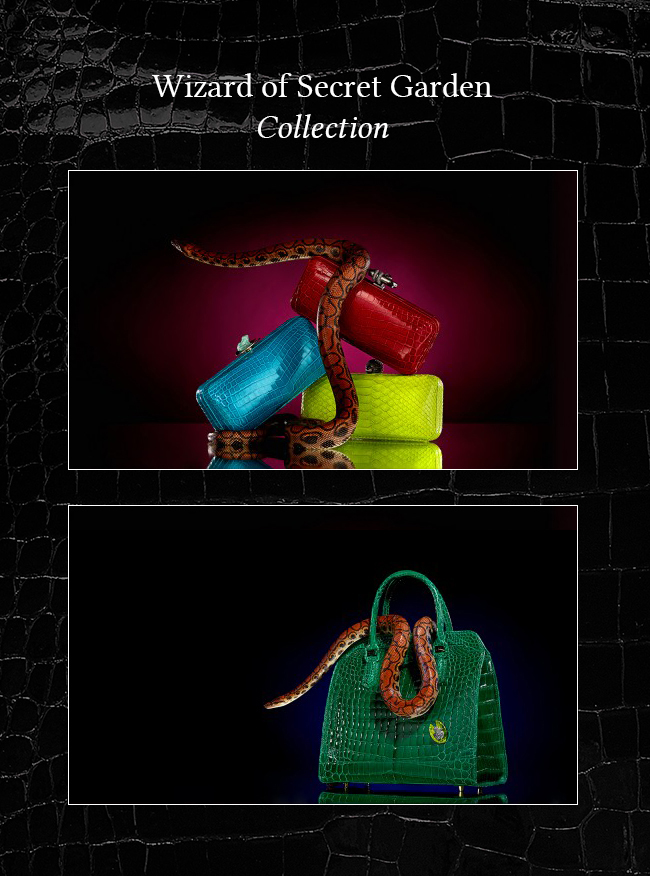 Ethan K's New "Wizard Of Secret Garden Collection" is inspired by his childhood storybook. As he lifts the cover, he recalls the story of a wizard running through the magical garden beyond the walls of his home. As Ethan explained, "He hears the sound of a girl trapped in a tower and on his journey to rescue her he encounters familiar creatures, the lucky frogs and the adventurous hedgehogs as well as stumbling upon the Bumblebee, freely flying to her hive and the Mandarin ducks, lifetime lovers. When he reaches the tower, the wizard gives the girl an orb freeing her. Ethan is the wizard of the secret garden where his magical creatures live.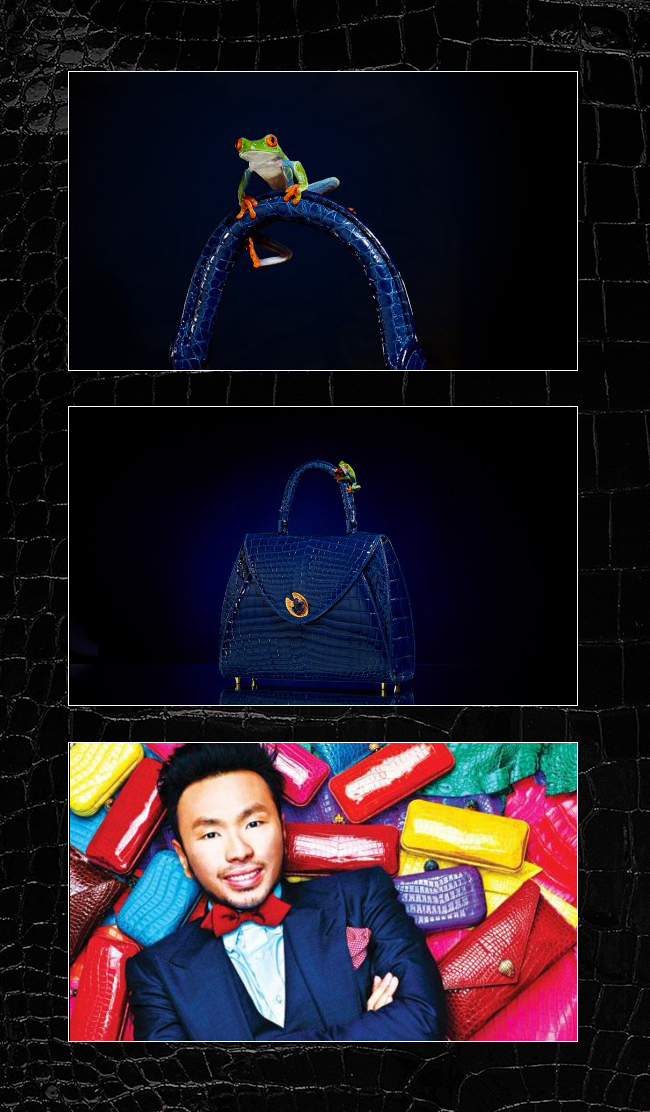 Colorful Custom Clutches and Clasps Are His Trademark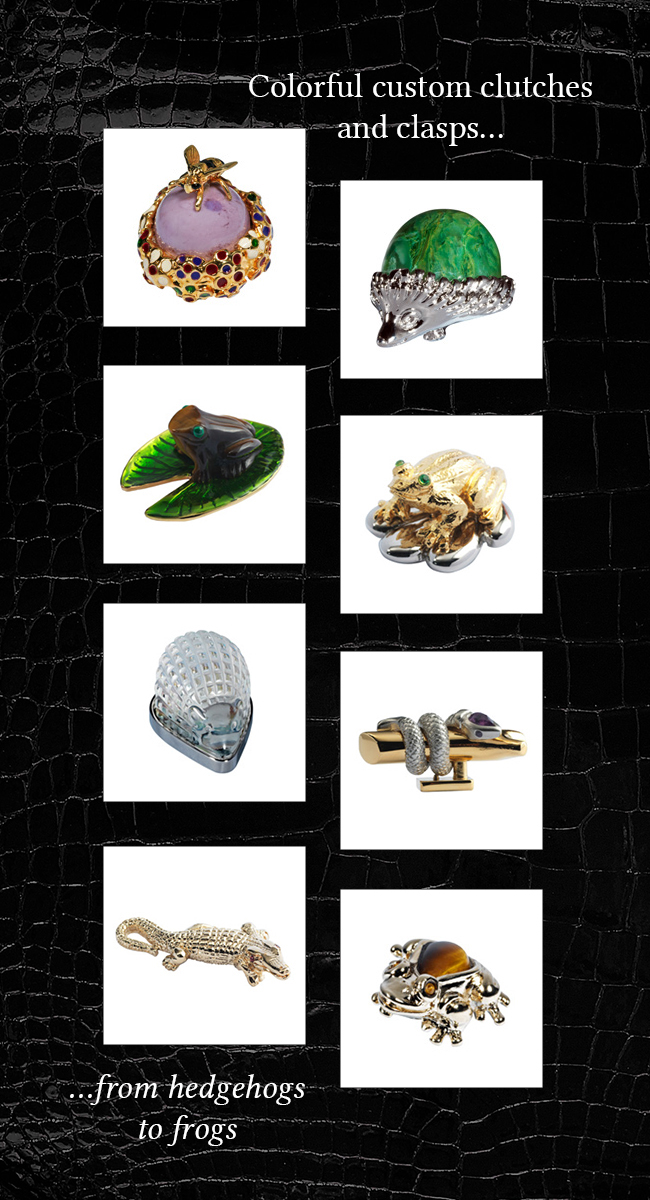 Ethan K then took me through the line explaining many of his iconic shapes including the "Marigay" Bag, which is luxurious and functional for today's modern working woman on the go. The "Marigay" bag was originally designed for Marigay McKee, previously Chief Merchant of Harrods, now President of Saks Fifth Avenue, who literally chased him on the streets of London after spotting him carrying one of his custom totes. The rest was histroy as she brought the line to Harrod's and now to Saks in th U.S.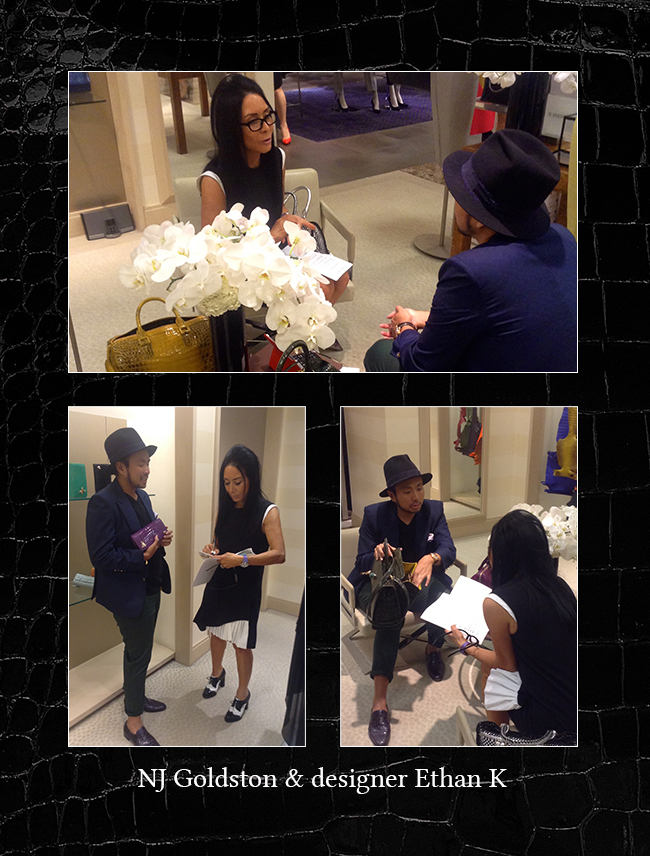 We talked for over an hour about his design philosophy and what today's women really wants in a bespoke bag.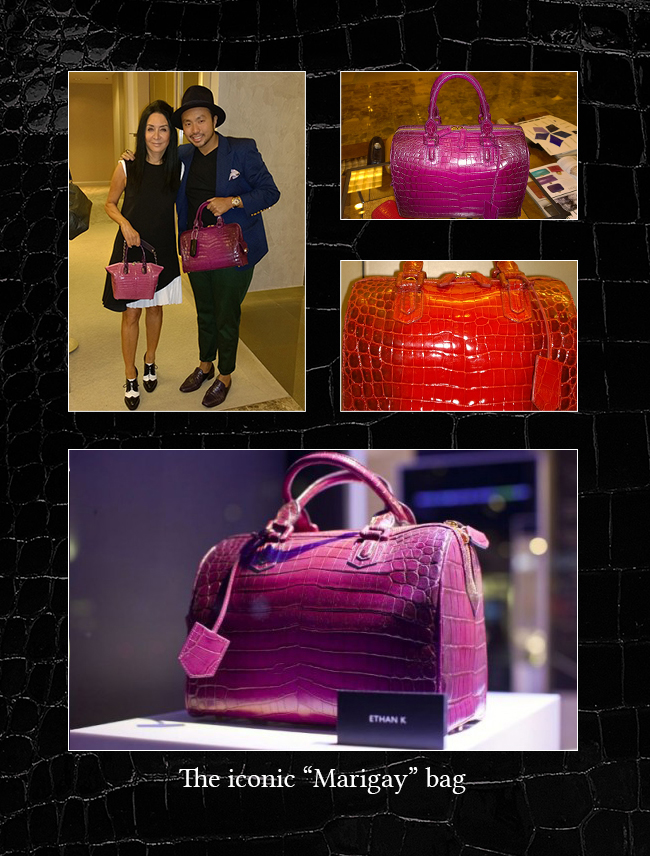 We also asked Ethan to help us zero in on the right style depending on your age. Ethan advised, "For 20-somethings, get a mini bag for going out! In the past everyone use to think big is good, but now your not as restricted with technology, you don't have much to bring with you. Mini bags are so in right now, no matter what the age, or go for the "Tonello'" Tote for work."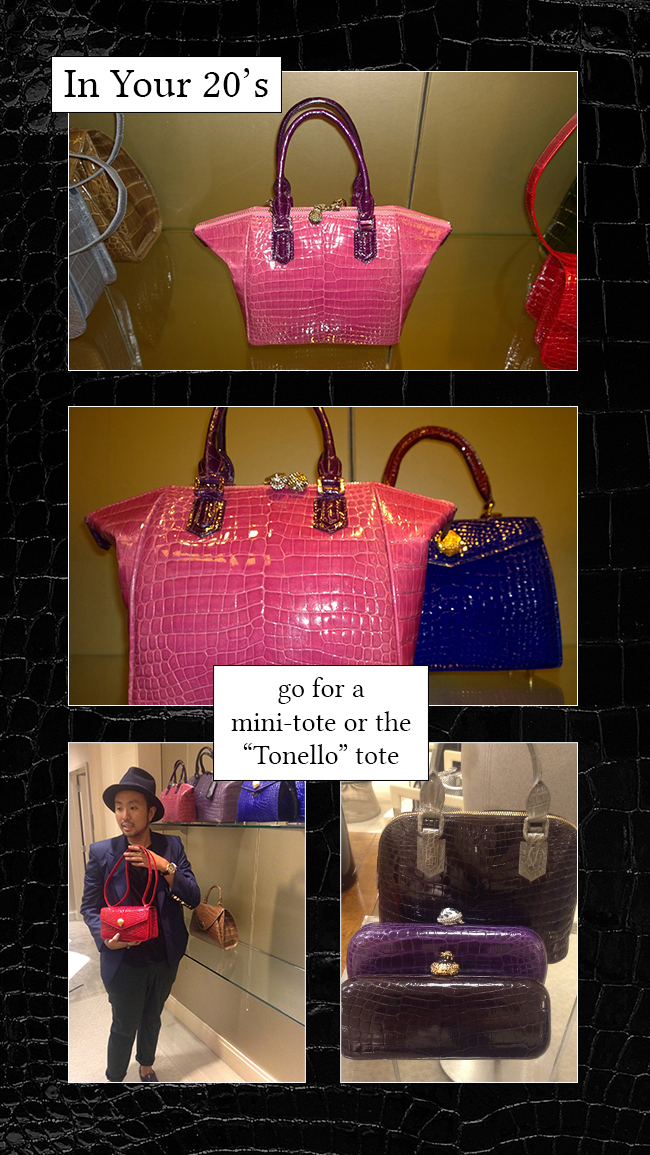 More of Ethan's Great Style Tips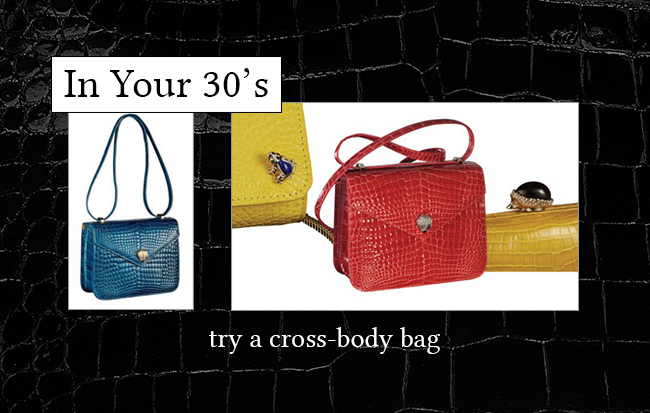 Okay so thirties. Ethan told us, It's almost like you can break it down and have one for dressing up and one for work.
He e;elaborated, "Well it's all about personalities, but I would have to say that cross bodies have been very trendy in the thirties demographic. Its very functional and whimsical."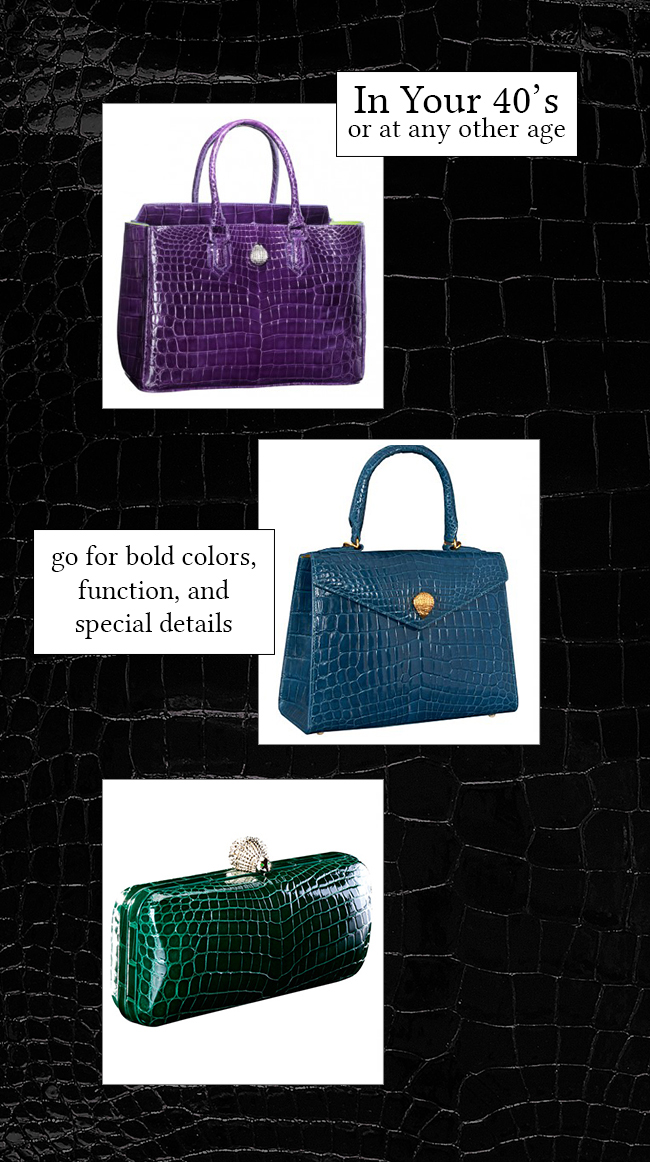 Finally, we had to ask Ethan K , what bag was his personal favorite. It's from his newest collection'The Wizard of the Secret Garden.' and he told us, "First of all I love purple, it's very royal. My favorite is the purple 'Rapunzel Clutch' it's very whimsical. It shows me as a magician, and holding my wand facing the frog about to go find a princess trapped in a tower and that is where it's name came from."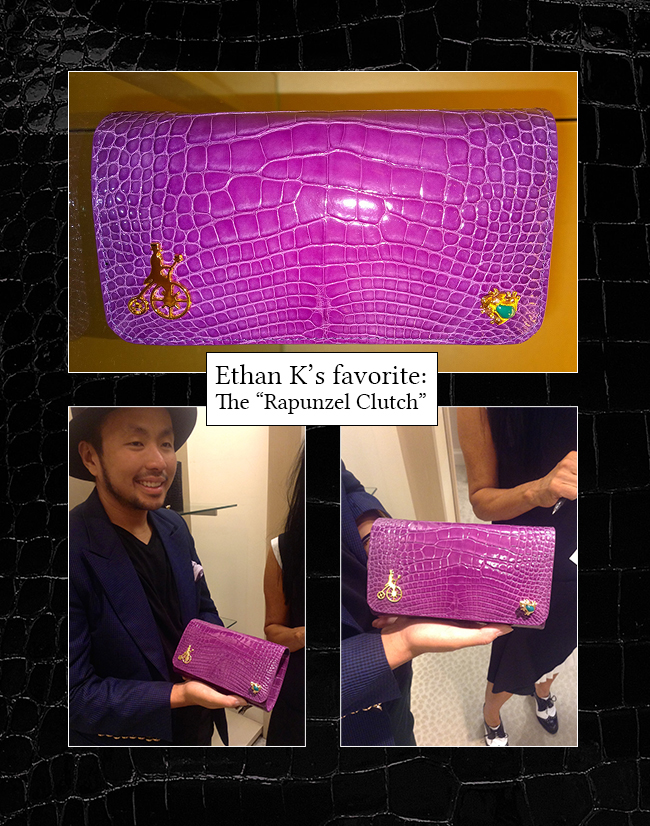 My Personal Favorite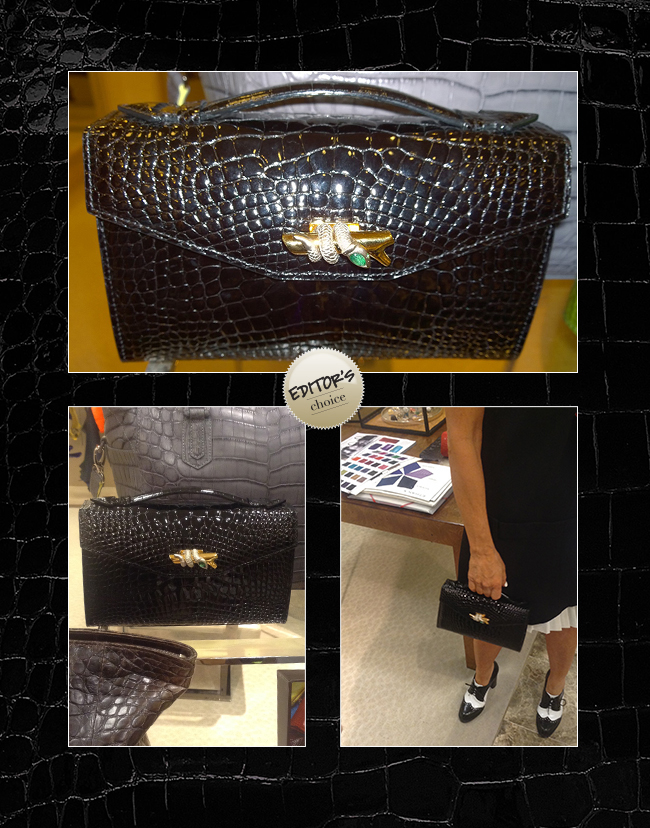 Finally, my personal favorite . It's his little black croc evening bag with the custom clasp. I many not be able to live without it. The line is available at Saks Fifth Avenue online and go in-store to order a custom bespoke bag. In the U.K. at Harrods. Prices start at about $2,900. Who doesn't want to own one forever?
With Love From LA,
NJ Goldston, The Brunette. and Lauren Cheek, The Blondette