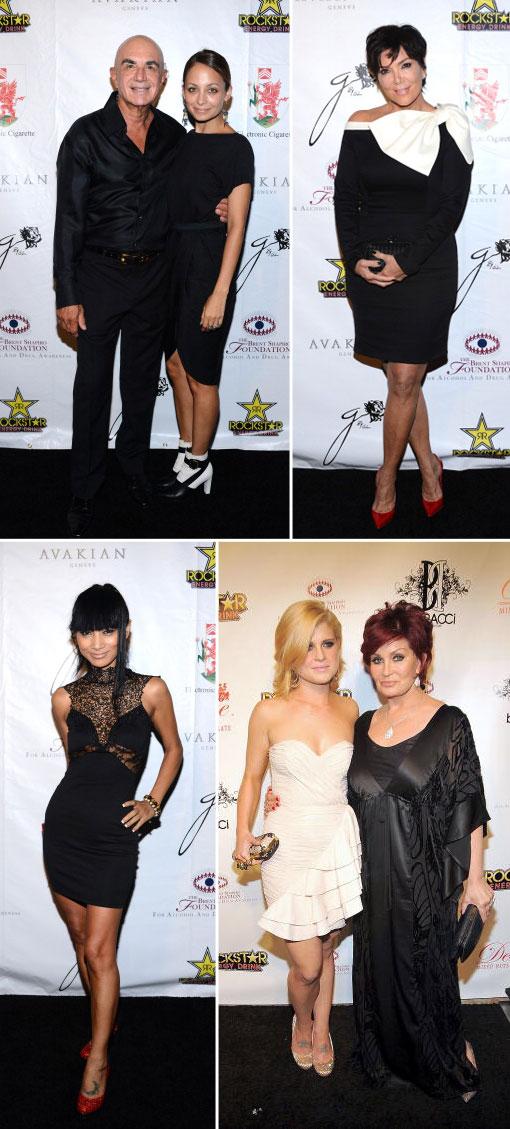 Attorney Robert Shaprio and Nicole Richie; Kris Jenner; Bai Ling; Kelly & Sharon Osbourne. (Photo by Getty Images.)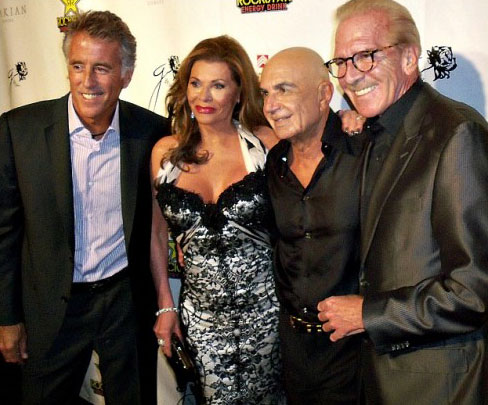 Honoree Christopher Kennedy Lawford, Linell Shapiro, Attorney Robert Shapiro and Pat O'Brien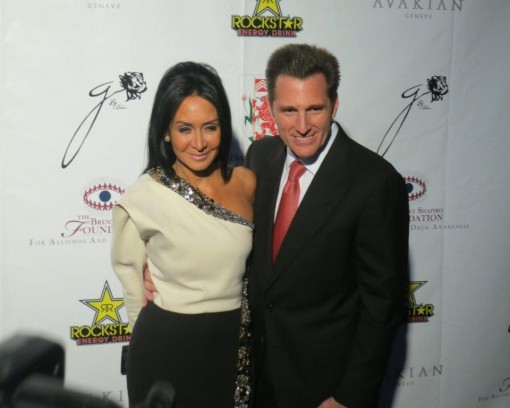 Nancy Jane Goldston and Mark Goldston
The Hollywood A-List turned out to support the Brent Shapiro Foundation. Founded in 2006 by Los Angeles attorney Robert Shapiro, who was one of O.J. Simpson's lawyers, and his wife Linell and son Grant, the foundation honors the memory of their beloved son and brother, Brent, a USC student who died suddenly in 2005 after drinking alcohol and taking ecstasy. The organization creates awareness about addictive diseases including chemical dependence and finds ways to help halt its spread which continues to be an "epidemic". It's always a gorgeous and moving night. This year was no exception with the evenings stunning black, white and red theme as the cocktail attire dress code.
The 7th annual "Summer Spectacular" unfolded as more than 700 good friends and supporters gathered on the grounds of Jeff Greene's five acre palatial estate high atop Beverly Hills to support their tireless effort. Hollywood celebrities Robert Duvall, Ryan O'Neal, Bai Ling, Richard Grieco, Kelly and Sharon Osbourne, Catherine Bach, Drew Seeley, Nicole Richie, Gloria Allred, Kris and Bruce Jenner, Shawn and Larry King, and the evenings MC, Pat O'Brien helped raise more than $500,000. Entertainment included performances by America's Got Talent winner Landau and X Factor finalist Chris Rene, who said he too was a recovering addict. "Sixteen months ago I was doing drugs," Rene told the audience. "I'm doing well now and love being clean and sober."
That was the message. It takes courage to acknowledge addiction, especially if you are in the public eye, and take the steps to change your life. We heard this many times during the evening and each time it was uplifting. Some of the most poignant remarks came from Christopher Kennedy Lawford, the son of the late actor Peter Lawford and Patricia Kennedy, whose brothers included President John F. Kennedy and Senators Robert and Ted Kennedy. He was awarded the Spirit of Recovery Award, which was previously given to Kelly Osborne and Sugar Ray Leonard.
Lawford said he has been sober for 26 years, and now is a full time advocate for issues of substance abuse and the need for awareness. He said he came from a family of addicts. "Legend has it that right after my birth my parents went straight from St. Joseph's hospital to the Beachcomber bar in Malibu," said Lawford. "That was the start of my alcoholism."
The bottom line is the foundation is making huge strides from celebrating the passage by the state of California of the '911 Good Samaritan Overdose Response Act' (AB 472), to provide protection against arrest for minor drug law violations for anyone who summons emergency medical assistance to prevent a fatal overdose.They also announced the launch of "Brent's Club". Teens who stay clean and sober will attend events where top DJs will play music and they will receive tutoring to help prepare them for school, encourage them to go on to higher education and potentially receive college scholarships.
To learn more, or if someone in you family needs help, contact www.brentshapiro.org. They will help.
xo
NJ Goldston, The Brunette