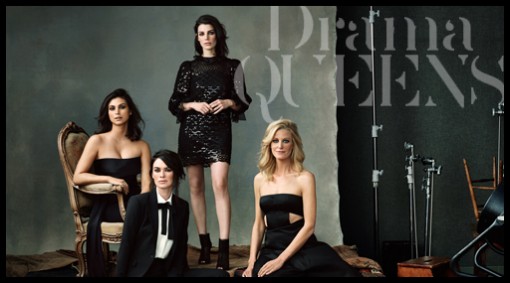 With the Golden Globes happening this week in LA, four of Hollywood's up and coming leading ladies are the latest Net-A-Porter cover stars for The EDIT. It's a stunning group that are breathing life into the most fascinating characters in a generation, ushering in a new golden age of television. The cover shoot, photographed by Bjorn Iooss,was something of an event itself, when these hot TV actresses – Jessica Paré (Mad Men), Lena Headey (Game of Thrones), Morena Baccarin (Homeland) and Anna Gunn (Breaking Bad) – gathered in LA to choose eventwear to reflect their personal styles and seeking out the chicest event pieces – a jumpsuit for a special lunch, a sharp cocktail shift or a cool take on a classic floor-sweeping gown.
In the end, they got ready for their red carpet close-up in looks by selecting Dolce & Gabbana, Adam Lippes, Maison Martin Margiela, 3.1 Phillip Lim, Halston Heritage, Gianvito Rossi, Roland Mouret, Jason Wu, Victoria Beckham and more. When asked about her Dolce & Gabbana shirt and pants look, Headey admitted, "This is perfect, I'm such a guy," while Baccarin revealed that Italian designers were "just right for my body".
As the four took their places in their chosen pieces and posed for the camera, it seemed as if they were preparing for red-carpet moments for years to come. If you want a moment of your own, and we suspect we'll be seeing these designers looks on Sunday evening, check out Net-A-Porter's fashion pages for new-season. Chances are pretty good that you'll see high-impact hits from Jason Wu, Christopher Kane, Michael Kors and more on the Golden Globes Red Carpet. That's how I found all my gowns for last year's award season and The MET Gala.
With Love From LA,
NJ Goldston, The Brunette