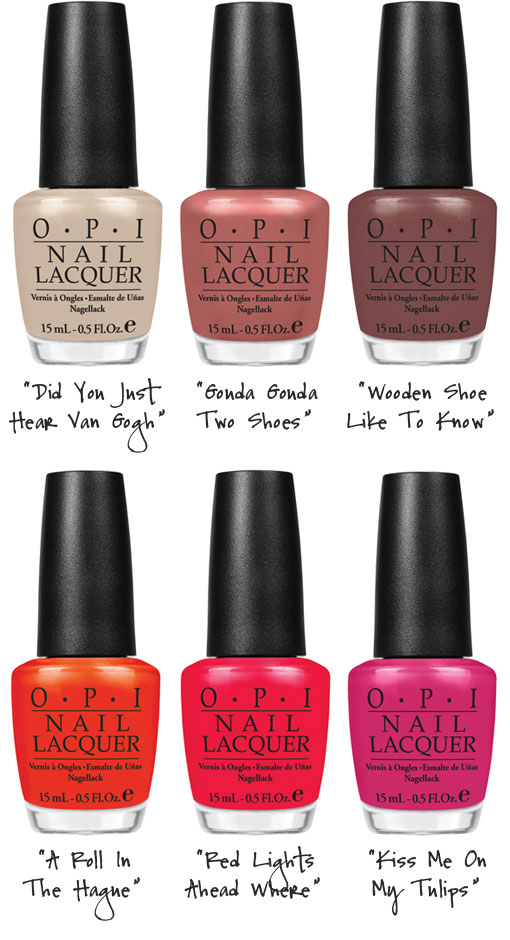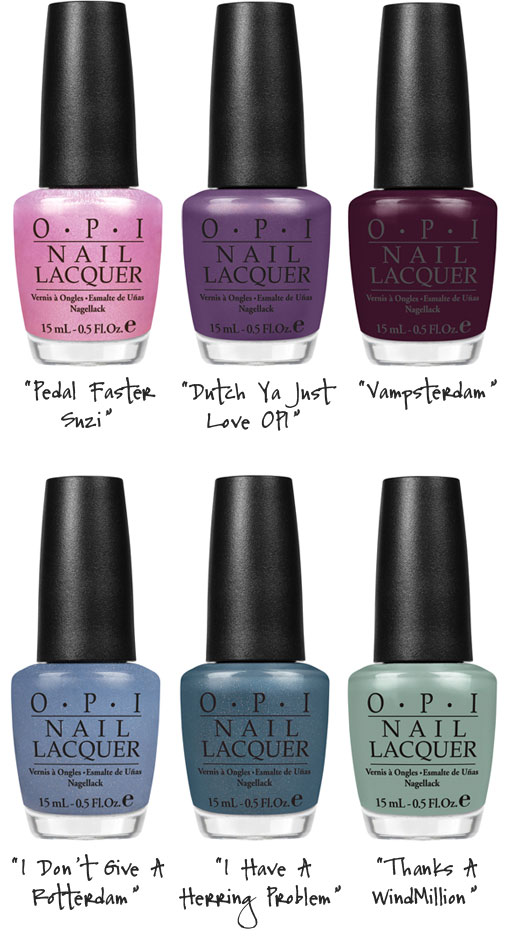 The Blonde & The Brunette have to stay ahead of the curve when it comes to polishes, right? On February 8, OPI is releasing its Holland Collection for Spring/Summer 2012. It's a special way to dabble with color inspired by the country's range of stunning shades-inspired by vivid tulips (and the largest flower market in the world), windmill-dotted hillsides and bustling canals.
According to Suzi Weiss-Fischmann, OPI Executive VP & Artistic Director (she's the moving force behind the amazing OPI team). "Spring is the season of color. Wearing these colors on fingers and toes is the perfect accessory for the season's hottest trends." We agree.
The collection's twelve polishes offer a mixture of sophisticated neutrals and highly-pigmented brights. Choose from pink, coral and orange hues, neutrals in new variations, like red clay and sea green, along with a sequence of electric brights, including a sun-lit orange (A Roll in The Hague), a hot coral-red (Red Lights Ahead…Where?) and two perfectly pretty pinks (Kiss Me on My Tulips and a light-catching Pedal Faster Suzi!). There are two "cooler counterparts", in hues of glistening purple, (Dutch 'Ya Just Love OPI? and Vampsterdam), three elegant neutrals (Gouda Gouda Two Shoes, Did You 'ear About Van Gogh? and Wooden Shoe Like to Know?), two two shimmer-laced blues (I Have a Herring Problem and I Don't Give a Rotterdam!) and a creamy sea green (Thanks a WindMillion).
Holland Collection nail lacquer shades are $8.50 ($9.95 CAN). Check it out at OPI. Let us know what you think of the collection and if you have a favorite color. Of course, we do!
– NJ Goldston, The Brunette