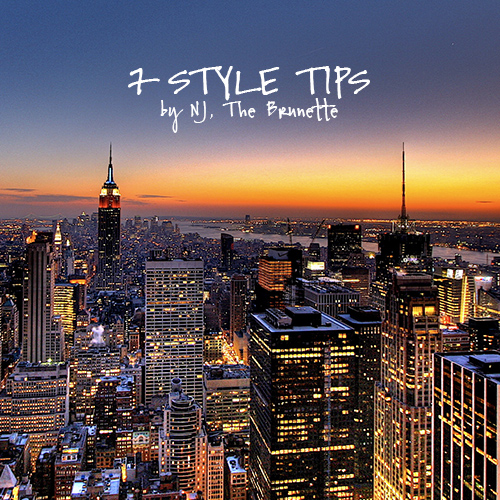 About two weeks ago I had a whirlwind fashion week From LA to New York City. I was determined to not wear just black which is my signature go-to look. I had the time of my life from The Met Gala to visiting Net-A-Porter and Giorgio Armani U.S. Headquarters. I organized my clothes in advance around 7 right now trends which I thought it might be fun to share.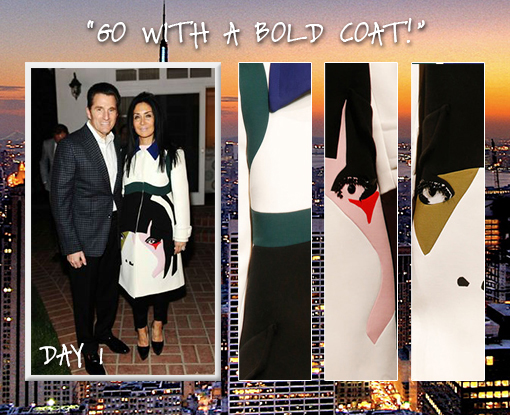 April 29/LA /Business Attire/ We we invited to the intimate P.S. Arts +Vhernier Private Dinner. It was held outdoors and called for business attire. I changed after a long day of work in about five minutes for this intimate outdoor event. I went with black satin pants and my Prada S/S 2014 "Mural" coat to add some attitude to my outfit (and keep warm, yes, it's cool in the evening) on a day when I was very, very, very tired. photo credit: Stefanie Keenan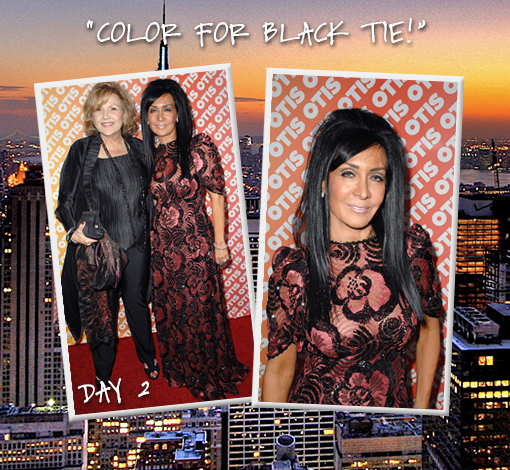 May 3/LA/Otis Black Tie Gala/ We're big supporters of Otis College of the Arts and I am on the Annual Benefit Committee. I went with color in this red and black sequined Marc Jacobs gown from his S/S 2014 Collection. I even met one of my favorite actors of all-time, Brenda Vaccarao, sat with designers Isabel and Ruben Toledo plus the amazing Todd Oldham thanks to Benefit Chair Shelley Reid. I love this gown and can't wait to wear it again and again./ photo credit:Patrick McMullan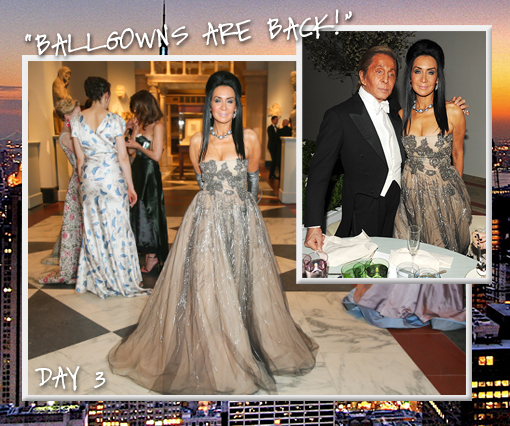 May 5/NYC /Met Gala/White Tie & Decorations. I am still obsessing about this special evening. Attending and reporting for The Hollywood Reporter at the same time was tricky. I fell in love with this Valentino vintage couture gown and also had the honor of actually having a photo op with Valentino! photo credit: Billy Farrell/BFAnyc.com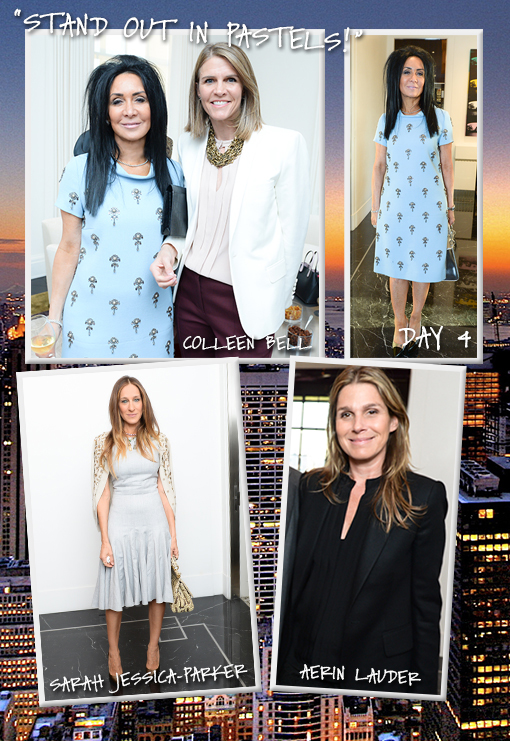 May 6/ NYC/ Cocktail Attire/ The night after The MET there is always a special Costume Institute Cocktail Party at the residence of Jonathan and Lizzie Tisch. This year the hosts included Sarah Jessica Parker, Aerin Lauder and Oscar de la Renta. I have one Oscar de la Renta dress in my wardrobe and it's baby blue. So glad I did . It was perfect and SJP looked SO stunning as always. I was still exhausted from the night before so my hair is kinda of a mess. I'm with Colleen Bell who is soon to be our next U.S. Ambassador to Hungary. photo credit: BFAnyc.com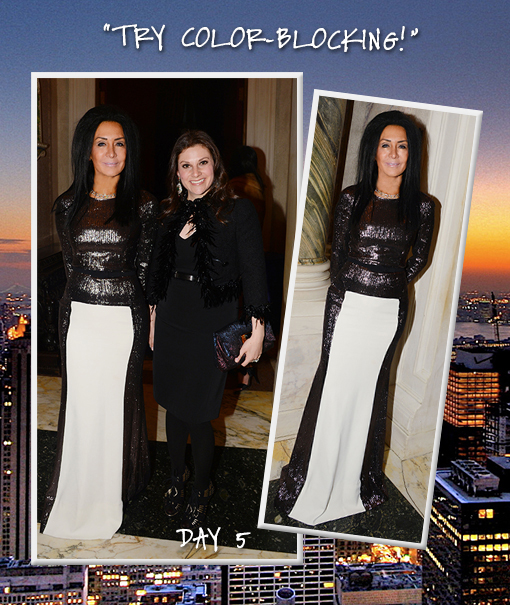 May 7/NYC/ Black Tie/ A White Tie night followed two days later by a Black Tie night. Wow! Held at the Morgan Library, I decided on an elegant Roland Mouret, which the style experts at Net-A-Porter.com , for the 10th Anniversary National Jewelry Institute Dinner. I was seated at the Louis Vuitton table with Nicole Weiss (above) and ran into my Chanel and Armani buddies as well. If you haven't noticed, I'm adding some color and shine, or at least white, combined with a metallic into my wardrobe. Note to self. Go with a bolder lipstick! photo credit: Patrick McMullan/PatrickMc Mullan.com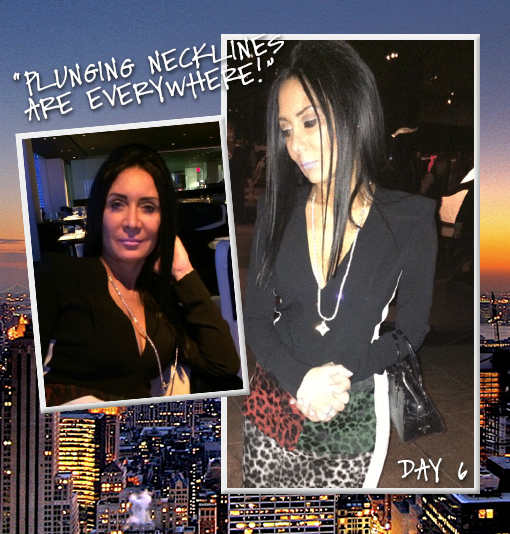 May 8/ NYC / Festive Attire/ Another celebration at The Met for The Costume Institute but I've finally gotten some rest! My good friend from Giorgio Armani, Gil Cueto, joined me and then we went on to the famed Armani Restaurant for dinner. I've got my signature black on but I did a plunging Roland Mouret dress with leopard print and white paneling. I also wore it over the holidays to the Lady Lux Xmas Party in downtown LA.

May 10/NYC/ Business Attire / When you get invited to NET-A-PORTER.com headquarters you better look sharp! Pants and pantsuits are back in a big way. I went with an ACNE pantsuit in black with tiny straight stud silver anchors. Take a close look at the pics. Their headquarters are gorgeous from the reception area, personal shopping area, the communal spaces and all their great tech pit-stops.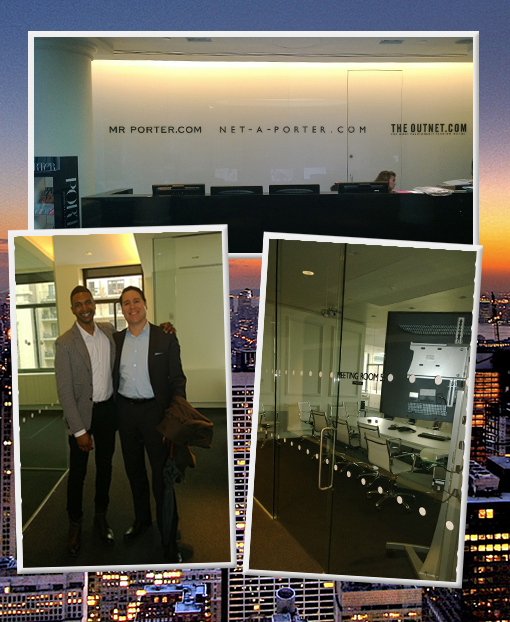 Two of my favorite NET-A-PORTER.com experts, Manuel Suero and Matthew Banks, gave me a great tour and the inside scoop on how it all works at my favorite online fashion destination.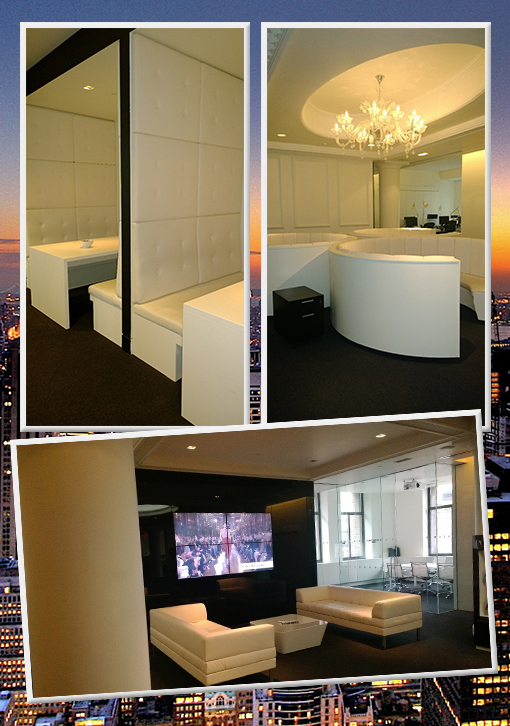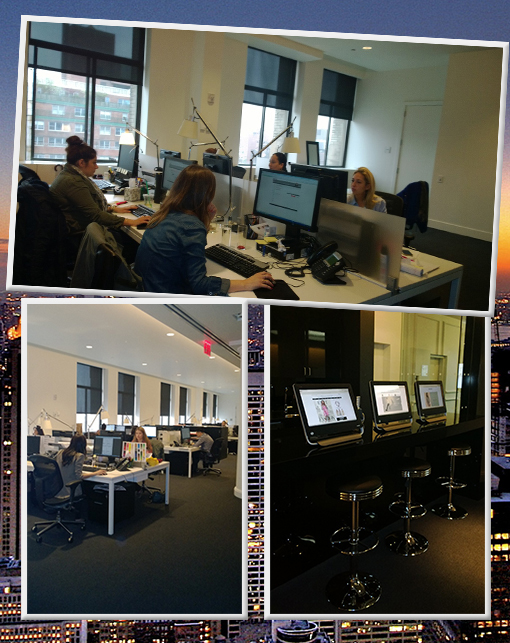 May 10/NYC/Business Attire/ I couldn't think of a better way to cap my week than downtown at Giorgio Armani Headquarters with Gil Cueto and the Armani crew. It's fascinating how the space works from an expansive floor for showing collections to top retail buyers, a VIP room where celebs come for fittings or to get dressed for the Red Carpet to special rooms displaying the newest collections.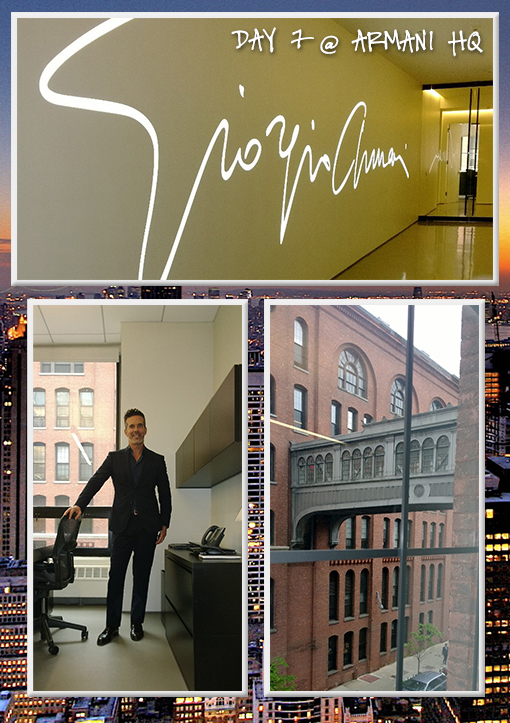 Gil Cueto and the view from his office at Giorgio Armani NYC Headquarters. Love downtown NYC!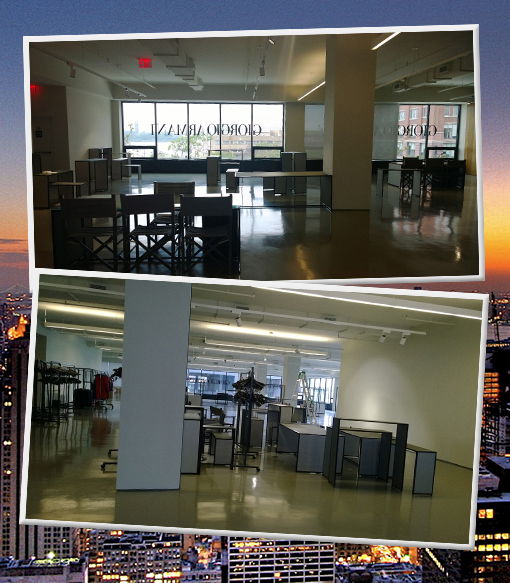 The "buying" floor (above) about to be staged for market week, (below) the secret stash of exclusive Armani goodies, and the super exclusive VIP room with a shower!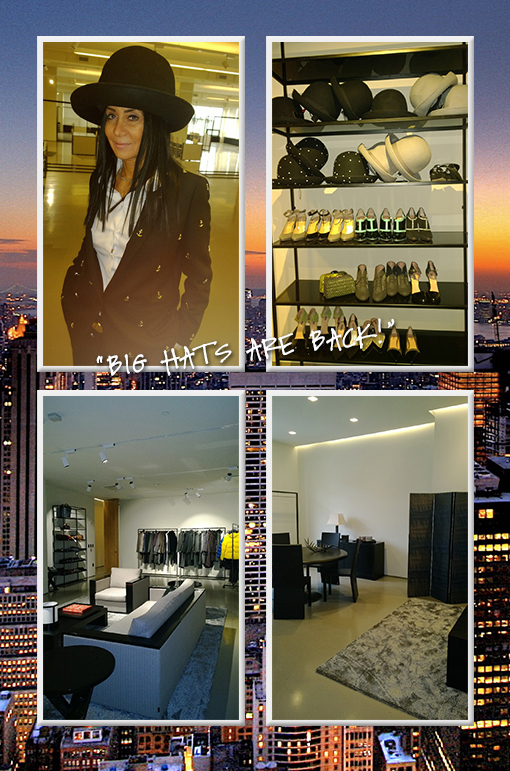 I literally topped off my week when I spotted this Fall 2014 hat, which seems like the an amazing girl's version of Pharell's' mountie chapeau, at Armani. I want it! It's not in stores yet but I'm holding my breath until it arrives. I don't care that it's probably even a bit too overpowering on me. I want it!
With Love From My LA and NYC Fashion Journey
NJ Goldston, The Brunette