Photo by Alvin Valley.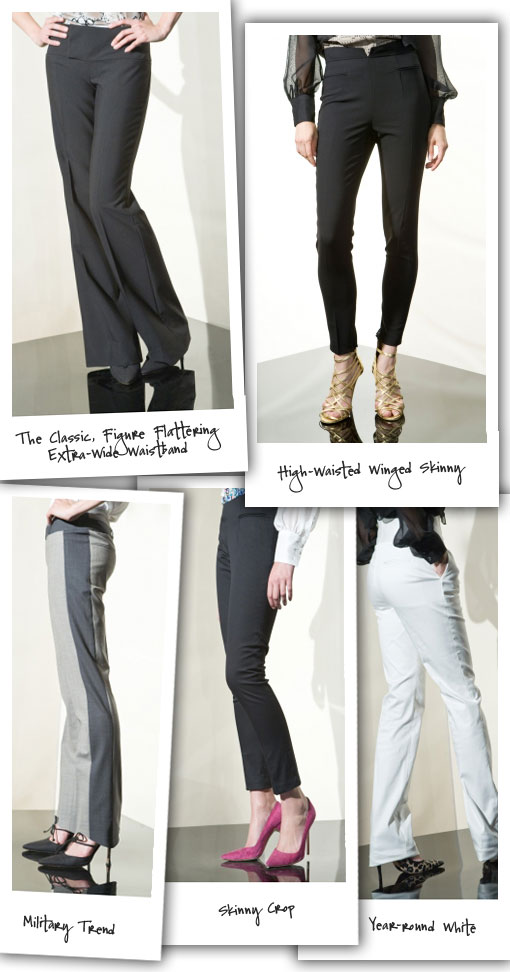 Heads up!If you don't know about Alvin Valley, you should. His nickname is "The King Of Pants". Circa 2000, he was hotter than hot as the designer who knew how to cut a pair of pants for the female form better than anyone on the market. Now he is making a comeback after a decade that saw him losing his business due to over expansion and the introduction of a lower-priced line. Mourn no more. He's back with 36 new signature styles including his take on the little black pant, a year-round white, the best skinny's, capri's and a stunning, trendy military look.
Why all the fuss? His claim to fame secret was (and still is) the fit of his classic wide-legged pant with its patent pending technology: a wide band of fabric cut on the bias to hold everything in place inside the waistband. Valley readily admits this classic was "inspired in part by Bridget Jones." You can relate, right? This is why I still own a pair and will never, ever give them away. As in never! Best of all there is absolutely no constriction sensation à la Spanx.
a) The Classic (and universally famous) Extra Wide Alvin Valley Waistband Pant $235
b) High-Waisted Winged Skinny $295
c) Two-Tone Military Trouser $195
d) Skinny Crop $235
e) White Super-High Banded Pant
Alvin Valley's website is now in beta format with his entire line available for the first time at alvinvalley.com . Prices start at $195 and many styles are available in over 10 colors. The King is back.
xo
NJ, The Brunette