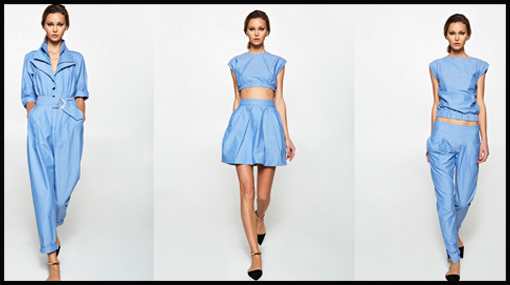 We adore designer Amber Sakai. Her line, designed and produced in Los Angeles, is a true women's Ready-to-Wear brand that encapsulates her mutual passion for art and travel. Translation. She's a women always on the go. We totally relate. Everything she does is just the right amount of cool, meets classic. From the simple, yet detailed silhouettes, to the edgy fabrics and patterns used, Sakai just gets women.
We went to her recent trunk show and her Autumn/Winter 2014 Collection blew us away! We think it's her strongest one yet. Everything is very wearable, fits right into your everyday lifestyle from things to wear to the office, to a night out on the town. Favorite looks included her interesting shapes and tone on tone black fabrications, high-low hemlines, asymmetrical treatments, her lovely take on the crop top, a great romper (so now right now), a two piece leather mini-dress and stunningly unique textile choices.
Don't miss out. Amber is quickly becoming the Queen of Statement Basics. Her collections usually sell out q-u-i-c-k-l-y. The collection is available at Church Boutique in LA or Contact Amber to place your order. That's pretty special, right? Just like the designer.
With Love From LA,
Lauren, The Blondette & NJ Goldston, The Brunette