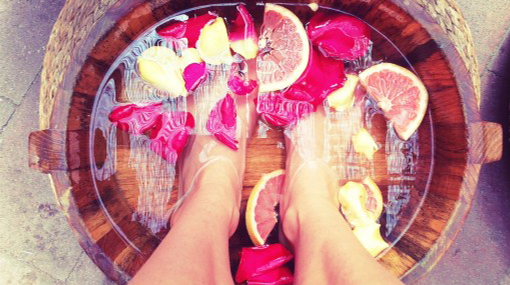 Willow Spa, a hidden gem tucked away from the busy streets of Santa Monica just celebrated their 10th anniversary. I'm celebrating the fact that after years of living in the neighborhood, I finally stumbled upon this secret haven!
Willow Spa is an Asian influenced Wellness Spa, offering personalized, effective and unique treatments that can't be found anywhere else in Los Angeles. The spa provides a tranquil escape from the burdens of everyday life, and their first priority will always be to provide the best quality treatments for their clients. From my first hand experience this past weekend, I'd have to say they are doing a killer job!
Their treatments include : Massage (Thai, Deep Tissue, Couples) Facial, and my new favorite spa experience, the Enzyme Bath! I have to embellish as to what this "Enzyme Bath" is, because before this weekend, I too had no idea!
The deep heated Enzyme Bath was originally developed in Japan for the athletes in the Olympics. It is a dry bath that consists of a combination of finely cut wood shavings, rice bran, and fruit and vegetable enzymes.

When I arrived at Willow Spa, I was provided with comfortable loungewear, and then taken into the garden for hot tea, cold tea, an enzyme shot, and an exquisite foot massage! I was then escorted to the Willow Cabana where I changed into my swimsuit, and was immersed into the "bath". While immersed, besides my heart rate speeding up, and my face began to sweat, and my muscles begin to relax. Every five minutes, my masseuse came in to check on me, pamper me with a cold compress for my face, and administer water through a straw. After 20 minutes, I was finished (I don't think I would have been able to last another minute if I wanted to!) After my bath, I showered off, and was taken to another room inside the spa where I got the BEST 15 minute Thai stretch, followed by a zen massage to end the session. I cannot begin to express how rejuvenated I felt walking out of Willow Spa, not to mention, even now… 7 days later! The Enzyme Bath was a perfect way to detox my mind, body and soul just in time for summer. I can not recommend it enough!
The Willow Enzyme Bath has been voted Best Spa Bath in LA Magazine, featured as an Editor's Pick in Sunset Magazine and considered a Top pick for spa experiences in Angeleno Magazine . Willow Spa has the only enzyme bath in Los Angeles.
This month, between April 12th – May 12th, they are having some Instagram fun! All you have to do is snap a photo of the spa and share it on Instagram with the hashtags #willowspa and #mysteryenvelope. When you leave, show the receptionist, and they will give you a mystery envelope with a surprise gift. Guess what was in my envelope… A FREE 60 minute massage! – They are NOT skimping on the awesome gifts!
Perfect for a girls day, couples retreat, mothers day gift, or why not do what I did and treat yourself to a "ME" day!
For prices, directions, and a list of their services, head to : www.willowspa.com
Xx Jadan Huter