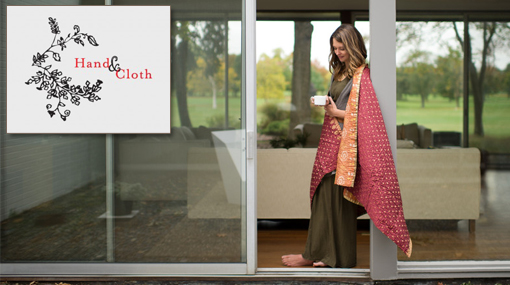 Baby, it's cold outside! Even in LA. So we found a stylish way to bundle up at home. Perfect for the couch potato time of year. Movies, fires and a drop of junk food. When I first laid my eyes on Hand & Cloth's gorgeous throws, I couldn't tell if they were wearable textiles, or just merely a work of art. You decide. First, there's a story behind each blanket and a lot of it has to do with giving back.
Each "kantha" blanket, which is a term for embroidered hand-stitched quilts, is made in Bangladesh, a country where sex trafficking is prevalent. Using the artistic skills and gifts the women in this area already possess, Hand & Cloth protects women in the region by providing dignified work. Through their vendors, the women are paid fair salaries and are able to send their children to school.
How do they do it? Each blanket is created by sewing six layers of vintage saris together in an intricate pattern. Along with a respectable job, these blankets are a quiet form of self-expression—keeping a tradition and personal pride alive, while helping these women receive literacy training and childcare during the day.
Take a peek at Hand & Cloth's website to learn more about their incredible story, and give your eyes a colorful treat as you peruse through over twenty plus beautifully bright kanthas! These one-of-a-kind quilts make for the perfect gift to yourself or a loved one, not to mention, you can rest in the comfort of your new quilt knowing you've helped support a family in need. The name of the artisan is also included with each "Every Good Gift" throw. Hand and Cloth.
Xx. Jadan Huter