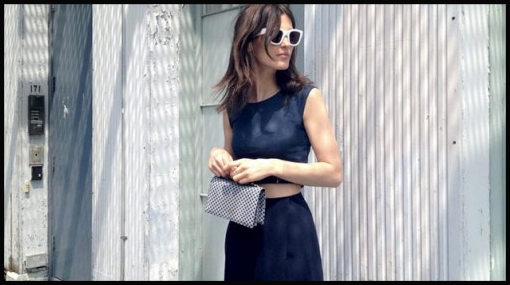 Once a dreaded trend, and now my closet staple… Crop tops !
It's funny that only a month ago, I winced at the thought of a crop top. I didn't understand the appeal, and why all of a sudden they were popping up EVERYWHERE! OK, maybe Rihanna wearing one at The MET Gala.
It then became my mission to nail this trend without feeling like a 90's teeny bopper or spending 24 hours a day at the gym.
Would you believe it if I told you crop tops could actually become one of your most flattering wardrobe stables too? Get in on my little secret… Pair it with anything high-waisted! This way, the crop top is still relevant, yet you're only barring a classy cut-out. It seems to be the new chic, sexy and sophisticated version of the classic dress. It's hard to deny how flattering this look makes a woman's silhouette.
A few tips for first time crop shoppers :
1. A halter-style top will lend a '90s vibe to your ensemble.
2. A crop top plus a circle skirt makes for a particularly girly pairing.
3. High-waisted pencil skirts and bra crops are a match not to be messed with. Pumps are the perfect way to dress up the look.

4. Go with neutral, ladylike or understated accessories to complete the look.
Xx. Jadan Huter