Here at The Blonde & The Brunette, we love to celebrate all artists. We, ourselves, are an eclectic mix of creative artists in multiple different capacities and we gain a lot of inspiration from the creative eyes of women in all industries. A dear friend of mine named Arushi Kumar is an up-and-coming fashion designer who currently resides in Manhattan. Not only does she create incredibly beautiful pieces, but she is also a beautiful soul that wants, ultimately, to use fashion to change the world for the better.
In an attempt to inspire our readers who dream of following passions of his/her own, I interviewed Arushi about the fun (as well as the challenges) of starting in the fashion world. Here is what she had to say –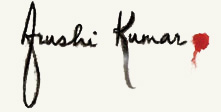 Kate Gaffney for B&B: What is your role in the fashion world?
Arushi Kumar: I am a designer who recently moved to the fashion mecca of the United States, New York City. I am steadily working towards owning and operating my own label.
B&B: What is your background in fashion?
AK: I have a degree in Conceptual Design from The School of the Art Institute of Chicago. I was trained to develop my design ideas from researched concepts and maintain the integrity of those concepts in finished garments. I have worked with independent designers, have created and sold my own collection, and have been a designer for a non-profit company empowering women from the slums of India by training them to support themselves through garment embellishment and construction.
From Arushi's Graduate Project Piece "Invisible Suitcases"
B&B: When did you begin designing? Why did you start designing?

AK: Officially, I would have to say I began designing in high school. Unofficially, I grew up in India where we had a lot of our clothing tailor made. Needless to say, my mother had to deal with a ridiculously picky 8 year-old who refused to wear pink, plaid, or anything itchy.

I consider fashion to be the most fluid and influential artistic medium (with the exception of maybe performance art) to get a creative message out into the global market and contribute to popular culture in a very current way. Fashion is also, more so than anything, a business. I aim to change the way that business operates.
B&B: What designers influenced you the most?
AK: I make a conscious effort to not look at a lot of fashion magazines or trend reports, etc. It's important to preserve one's own voice in this business so I try not to be influenced as much as possible. However, if I have to name a few favorites, I love Jean Paul Gaultier, Martin Margiela, Bruno Pieters and Haider Ackermann for their love of great cut and construction and, for Gaultier and Margiela, a sense of humor about it all.
B&B: What was the best advice you were given from a colleague, professor, designer, or friend about what you do?
AK: Fashion is not a job, it's a lifestyle. Owning your own label means being consumed by it 24/7. You spend your days working out the minute details of your vision and you spend your nights dreaming about how to solve problems you encounter during the day. If you can't commit to it 200%, do something else.

And, it's true. I keep a notebook by my bed to jot down solutions that come to me in dreams, for example, how to sew a tricky detail or clean finish some element of a garment.
Me and Arushi in India 2009 (notice, she's in red)
B&B: What makes you most excited when creating?
AK: All artists are trained in "hard skills," meaning we have the ability to put something new and tangible out into the world – an object, a painting, a garment, a song. What fuels me is that I have the constant opportunity to create a consciousness about something never previously considered and that I can make something utilitarian that can also be a piece of art.
B&B: In what cities have you lived? How has that influenced how you create?
AK: I went to school in Chicago, lived briefly in St. Louis, and try to take frequent trips home to India. My education in Chicago was very pure and uninfluenced by trends and the compulsion to chase after placing big names on my resume, forces that one might succumb to in New York. So, what I take away from that experience is the drive to blaze my own trail in the industry while being equipped with the tools to do so. St. Louis was where I created and sold my own 30 piece collection of high-end women's wear in collaboration with embroidery artists in India. This project grew out of the necessity to keep the creative juices flowing in a city that is not exactly a "hub" for fashion. With this project, I was given the assurance that I can sustain myself and manage my own label again when the time comes.

Now that I am in New York, I am taking in all the experiences I can to prepare for exactly that. Trips home to India fuel my aesthetic direction, add to my knowledge of fabric and embellishment techniques, and inform my business plan as I intend to produce my line there. All in all, I would have to say that my roots in India are what drive my creative process the most.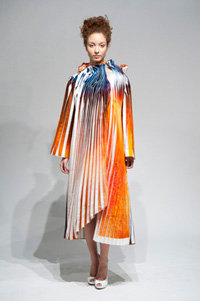 From Arushi's High-End Conceptual Collection
B&B: What would you tell a budding, young designer about the industry?
AK: Don't ever hesitate to innovate. There is no industry in the world that cannot gain from improvement and we, as young designers, have the opportunity and responsibility to do just that. One might say that fashion is cyclical and everything has been done. This is simply not true! When an ancient art form like Origami can constantly evolve, clothing as a reflection of our society can certainly evolve, too. Not to mention that the business of making garments has room to grow by leaps and bounds insofar as how efficiently we produce things, reducing our carbon footprint, improving the working conditions of our labor forces, and considering the end goal to be bigger than just a profit margin.
B&B: What do you hope to change for the better in this industry?
AK: It is massively important for me to put something of myself out into the world. It is equally as important to improve/honor the quality of life of the people producing my goods in the process. These people are an integral part of achieving my vision, so they are entitled to a high-level of consideration from me and everyone in fashion. I intend to translate that sentiment into a fair wages/fair labor business model that empowers and incentivizes my workforce with health, education, and social benefits. This is the only way I can personally feel fulfilled in fashion. As much fun as it is to make beautiful things and to profit from this creation, it is not worth the sweatshop culture so many people in this industry have come to embrace.
Dress From Arushi's Experimental Conceptual Series "Winzeler Gear"

Those are my long term goals. In the short term, I hope to raise awareness about an issue we encounter as young designers in the States – unpaid internships. Fashion is one of the few industries that cultivates an environment where long hours and lack of compensation are accepted in exchange for experience (read: brand name on resume). This is definitely a case for exploitation by the "employers", but the responsibility for this also lies on the shoulders of those of us who sustain the system by choosing not to fight against it. We should be demanding compensation for the skills we spent both time and money acquiring! This must change or the voices of many young designers will never be heard.
B&B: What is your favorite color? Your favorite season?
AK: Red. I wear it when I need to feel powerful, it's a tool not to be overused. And the season is always spring.
B&B: Who do you wear the most?
AK: The answer to this should be "me"! A shocking number of designers spend their days in white t-shirts and that broken-in pair of jeans. I have my equivalents to those and I am very loyal.
So, here's to you, young artists! No matter what medium you choose, you can do it. Regardless of the the field you choose to explore, you might want to check out some educational resources that can help you follow Arushi's path and blaze your own trail to success. Even Michael Kors had to start somewhere!
For more information or to view some of Arushi's collection, please click here!
– Kate, Arts and Entertainment Editor