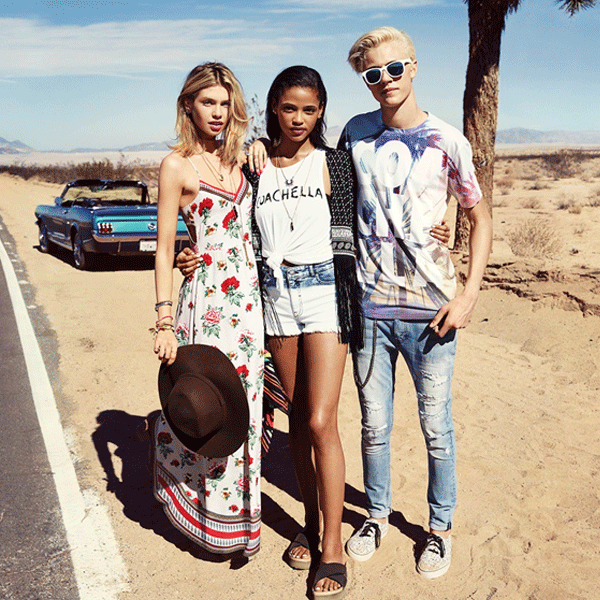 Everyone knows it's coming up to that time of year. Festival Season. If you were lucky enough to grab a ticket to Coachella this year before both weekends were sold out (in a record breaking 40 minutes, might we add) you might also be lucky enough to be attending H&M's first pop up shop selling exclusive merchandise on the grounds at Coachella this year! Coachella has become recognized for it's fashion trendsetting just as much, if not more than its musical performances (and art installations for that matter), so it's only fitting the festival partnered up with just the right fashion retailer to bring us a festival inspired collection that officially launches today!
We love H&M and we love Coachella, and this being H&M's s sixth year as a Coachella sponsor, it seemed about time they'd partner-up with the music festival in an even bigger way. We're so glad they did. Prepare to fall in love with the boho-chic inspired looks. The collection is full of floral maxi's, lace tops, rompers, graphic tops, crop tops, rompers, fringe, wide-leg pants for the ladies; T-shirts and shorts for dudes. Oh my!
The collection just launched online today and keep your eyes peeled on March 26th as that's when it hits stores.
The best part? As festival prices skyrocket each year, it seems looking good in Indigo just got a lot more affordable as not a single piece in the collection is over $50. Prices range from $5 to $50 and starting today you get 20% off online purchases and free shipping until March 22 at H & M.
Don't worry, if you're not able to make it out to the desert this year, at least you'll be able to dress the part.
Xx. Jadan Huter