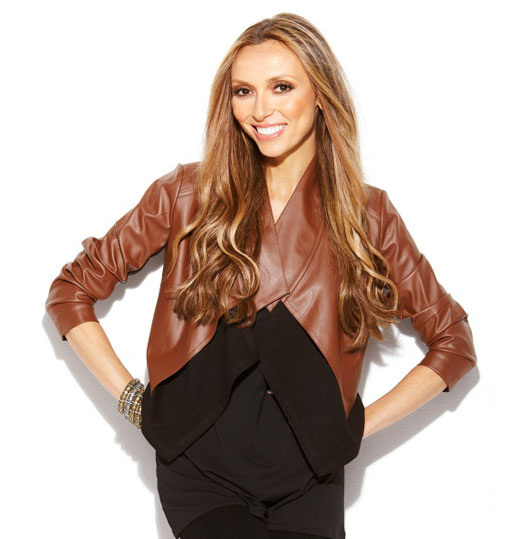 Last week, with her newborn son cuddled safely in her arms, The Blonde and The Brunette spoke telephonic-ally with beloved modern day superwoman and fabulous fashinista Giuliani Rancic. A true role model for our generation, she co-hosts E! News Live with Ryan Seacrest, has successfully battled breast cancer, stars in a Style Network reality show, Giuliana & Bill, with her husband, season one Apprentice winner, Bill Rancic and regularly appears on Fashion Police. She just launched her stunning new clothing collection, G by Giuliana Rancic, which makes its big HSN television debut tonight from 9 PM to 10 PM and again at 10 PM – 11 PM. You know it will be fun. So tune in. As always, we did get the inside scoop on Giuliana's affordable HSN (priced $29.90 to $129.90) print-heavy collection that features separates and outerwear that are designed to "flatter the body and highlight a woman's best assets." One more thing, she is also the founder of FabFitFun, a woman's health, beauty, and fashion site that is all about "Life Well Lived". How does she do it? Read on!
B&B: Thank you for taking time to speak with us. We're big fans and so are our readers. You are a wonderful role model for women everywhere. First, as a mom, Congratulations! We're thrilled for you. We know you are enjoying this very special moment in your life with your new baby, Edward Duke Rancic, and being a new family.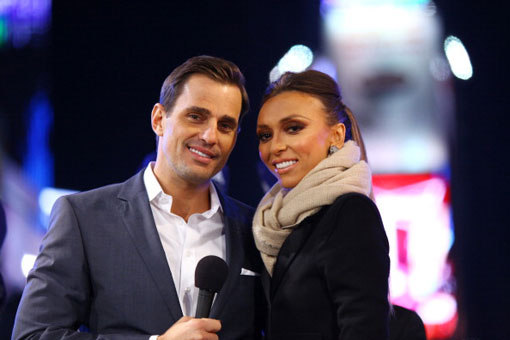 B&B: Let's talk about your other new baby, the upcoming launch of G by Giuliana Rancic clothing line at HSN (today!)
G: Creating G by Giuliana Rancic is my dream and I am so excited to be bringing my collection to HSN. My designs are all about fit, function, and of course fabulous style… three things that every woman needs in their wardrobe.
B&B: You're such an inspiration, we have readers tell us they want a style change and don't know how to get started. What's a great first step to trying to change your style or your look?
G: I think style is really important; when you look great, you feel great. I went through Breast Cancer, and the past year I went from hair and makeup on the Red Carpet and then looking at myself in the mirror and I looked sick, I felt sick. I remember two weeks after my mastectomy, I finally got dressed to go shopping with my husband. So I put on a cute fedora, heels and boots, looked in the mirror and said to myself "she's back". Confidence is being able to conquer anything. When I look like myself and looking good, it made me feel good. Everyday, style can empower you. I take that extra few minutes, to put my hair in a cute pony tail and some lip gloss. Instead of a pair of sweats and flip flops, I put on a cute pair of jeans and sandals. Its those little extra things I do that make me feel put together and it makes me feel good. It puts me in a better state of mind.
B&B: What inspired you to do your new line?
G: I grew up in a very stylish household, my dad was a master tailor since he was ten years old. He was always making major stylish suits. My sister went to work for Versace. Even though I grew up in this household, I didn't have a natural instinct for fashion. I loved it, but I made a lot of style mistakes, and took a lot of risks. I am busier than ever, having the most important job in the world; being a mom so now more that ever, I can't spend a lot on fashion and can't spend a lot of time on fashion, so it has to be attainable, easy and affordable. I can do something with HSN that everyone can afford and one item from my collection can make one outfit pop.
Photos by Patrick McMullan.
Photos by Getty Images.
B&B: This is such a trend-forward collection from skinny jeans, the leather jacket and pencil skirts, chic dresses, stylish leggings, and faux fur vest. What was the thinking behind these choices? Tell us a bit about the color story and the fabrications?
G: I just wanted a collection that if I had one of these pieces I knew I would look great. I wanted the pieces to be versatile, when I designed this line, I made sure that each piece was something I wanted to wear. It has to be on trend; the color pieces are on trend for fall, but more importantly it had to be a representation of who I am. Just one of them will add a lot of oomph to an outfit. I always wanted to create "Showstoppers" and pieces where people really said "where did you get that?" Sizing was important too. It's very true to size and I wanted the measurements to be right on.
B&B: If you had to select one piece from the line as the "must have" item for fall?
G: One of my favorite pieces is a leather ponte cascade jacket. It's such an easy piece, really edgy and cool.
B&B: What was the biggest challenge you encountered putting the collection together?
G: It takes a lot of attention to detail. The hardest thing I had to do and to learn was to say "no". I had to say "I don't like that" and I had to have the confidence to say "no". That was the hardest thing to do. Putting my name on this I had to stay true to myself. Tiger J (the manufacturer I worked with on the line) was so amazing. Especially when I said I know that this will sell well, but I would not wear it so I can't sell it. They were so cool about it and they loved that I cared so much and have my heart and soul into the line. Going on HSN was the biggest dream of mine. They are the end all be all!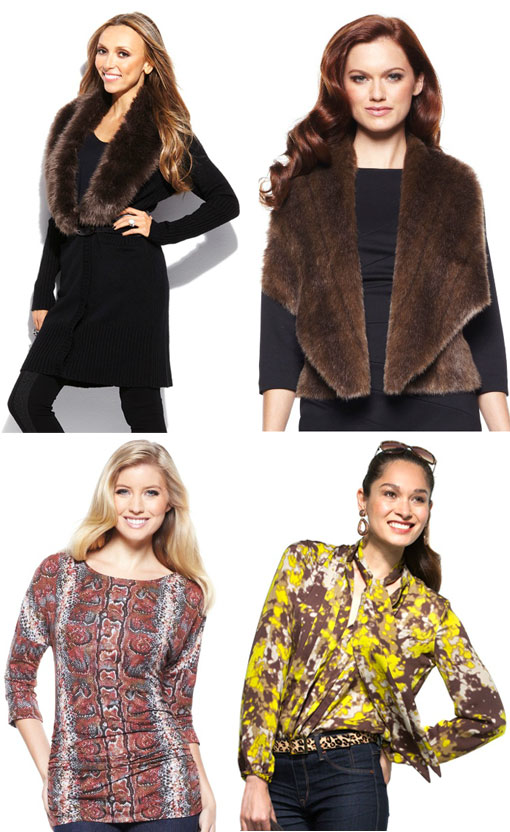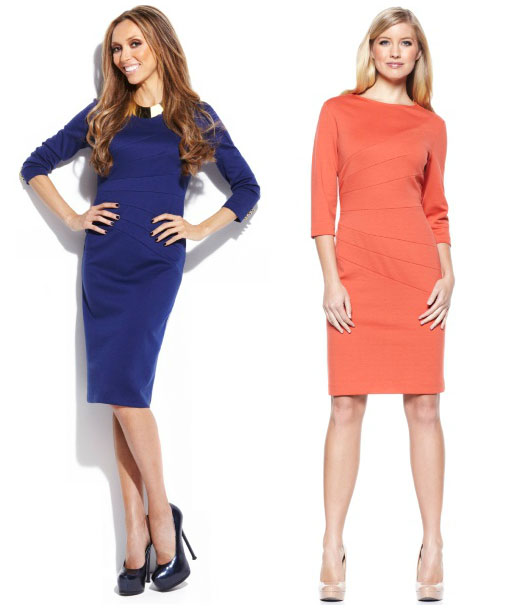 The G by Guiliana Rancic Collection on HSN includes an ultra sophisticated leather ponte cascade jacket, pencil skirts, chic dresses, skinny jeans, sophisticated blouses and a faux fur vest.
B&B: This is a fabulous progression for you!
G: Between E! News and Fashion Police, and 6th season of my Reality Show, and addition to all the Red Carpets, I wear so many outfits throughout the year, this felt like a natural progression. It was the next step. People are always asking me what I am wearing, so I had to pinpoint my style down into a line. With HSN we can keep prices down with high quality aslo thanks to Tiger J. And I can talk to my fans, they can call in. And I can have interaction with the viewers. I can also see how people receive my clothes and find out what they want! I just called HSN and told them to send a box to my celeb friends! I told them to send each one of them my cardigan with the removable fur collar. For fall that is one of my top three pieces. Everyone is going to love it!
Photos by Patrick McMullan.
Photos by Getty Images.
A few quick questions à la Jimmy Fallon…
B&B: What's the best way to go from day/office to evening if you can't go home to change?
G: Two things! In the trunk of my car, I keep black stilettos to go out in after my work shoes. And in my purse I always have a nice chunky necklace for night. Whatever I wear to work can go with my black stilettos and a chunky necklace for night. And at end of night I put my black heels right back into my car.
B&B: Your favorite bling…
G: My husband just got me the gold Cartier Love bracelet. And I will not take it off. In fact, you can't take it off. It's screwed on. I just love that.
Cartier.com
B&B: What's your must have beauty product that you can't leave the house without?
G: I use this bronzer—from my makeup artist's line—as blush, it's called Catalina Su Bronzer Blush Contour, $22, catalinasu.com.
catalinasu.com
B&B: Your favorite Red Carpet moment…
G: It was at the SAG Awards last year. I was interviewing George Clooney who had just done the Descendants, filmed in Hawaii, and I had a flower lei and I handed it to him and I said "George before you go–I just want you to know that I have always wanted to lei you! " To get George to crack up was quite a moment! He thought it was pretty clever and he let me know so that was pretty fun!
Photo by Patrick McMullan.
B&B: Tell us about your new dating series READY FOR LOVE on NBC, produced by Eva Longoria. What can we expect?
G: So much! It premieres in January! We have three matchmakers, and every week they are there with us, and the advice they hand out is amazing. Bill and I learn so much from them, and we have an amazing marriage. We learn from every episode. The show is beautiful. It is two hours every week and I can't wait for everyone to see it. The matchmakers are the best part!
B&B: And last, but not least our signature questions:
B&B: Who is your favorite Blonde?
G: Madonna is my favorite celebrity blonde! Since I was a kid! I was Madonna for Halloween and my Mom is my favorite blonde.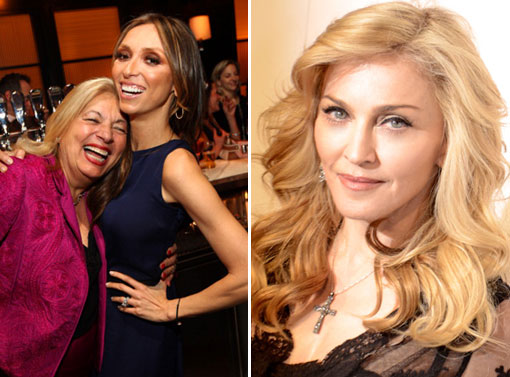 B&B: Who is your favorite Brunette?
G: Looks wise: Angelina Jolie, I love to watch her attitude. Victoria Beckham for her style, and my favorite Brunette, who I just love, is Kris Jenner. When I watch her show she still cracks me up every week!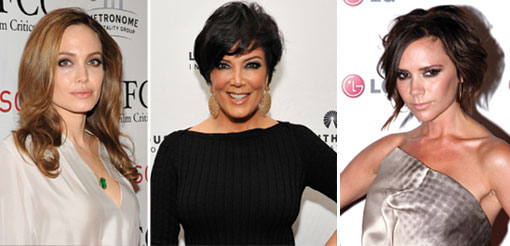 B&B: Anything else?
G: I would love people to call in or text to HSN. Call me with anything! I'm an open book. I would love to hear from people!
B&B: We wish you nothing but happiness in this special time and we wish you and Bill and Edward Duke Rancic all the best.
G: Thank you I'm looking at my son right now!
-NJ Goldston, The Brunette and Kathryn Lebo, The Blonde