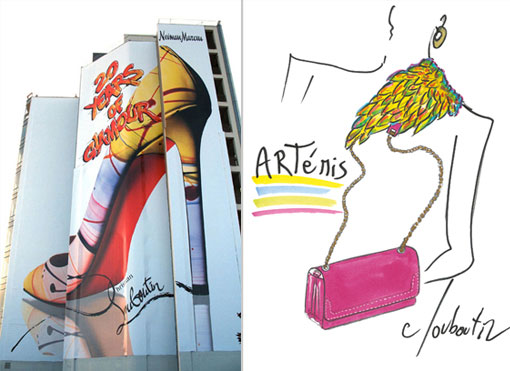 It's a milestone! If you happen to be in New York City today or LA on Friday, Christian Louboutin is making a special appearance to unveil his 20th Anniversary Capsule collection which includes 20 unforgettable shoe styles and 6 one-of-a-kind bags. Mr. Louboutin is at Bergdorf Goodman on 57th Street, today only, and at Neiman Marcus in Beverly Hills, in the Shoe Salon, on Friday, February 3rd from 2 to 4 PM. The designer will even sign his signature red soles if you buy a pair!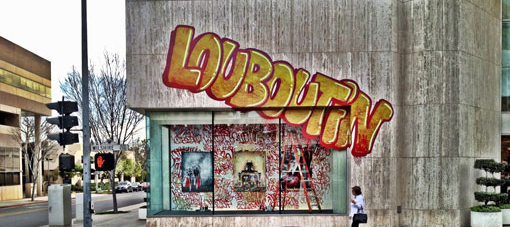 To manage the controlled pandemonium Bergdorf's has a countdown clock on its website and you can even watch everything live by just following this link . This is so crazy BIG, Neiman Marcus even commissioned renowned Los Angeles graffiti artist Galo Canote to create a massive billboard above Sunset Boulevard. Neiman's didn't stop there. Oh no. From my office overlooking Wilshire Boulevard, I spotted graffiti-inspired windows going up today. If you are lucky enough to attend the LA event, graffiti artists will also be on hand completing an art installation. I'm guessing this is all some kind of design foreshadowing.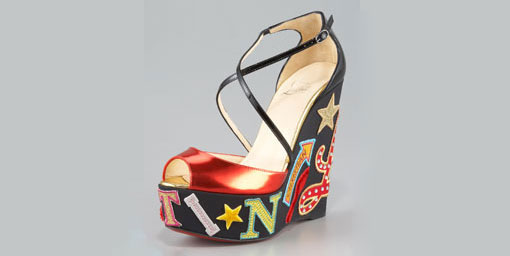 If you can't make it to the event, then maybe you want to celebrate online with Mr Louboutin's 5 1/2″ wedge heel, with signature red sole, Loubi Zeppa Crisscross Wedge which spells out the designer's name in distinctive letter patches. $1,095. They are sure to be a collector's item.
The Blonde & The Brunette will be tweeting from the LA event and we promise to keep you posted on all the details.
– NJ Goldston, The Brunette