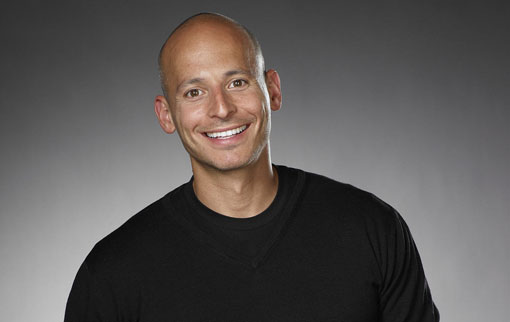 With swimsuit season around the corner, The Blonde and The Brunette started our search for an expert who might make a real and manageable difference in our health and fitness routines. We heard the same name over and over again. Harley Pasternak. A recognized fitness and nutrition expert, Harley has developed the key to helping people achieve weight loss goals and getting into the best shape possible. It's his 5-Factor system which delivers an attainable fitness lifestyle with access to secrets and tips to looking your best. Harley's methodology appealed to us because it is easily integrated into your lifestyle no matter how busy you are or maybe because you are not that busy and need a physiological push to get started.
Harley's list of celebrity clients, including notables from Lady Gaga, Halle Berry, Robert Pattinson, Robert Downey Jr., caught our attention too ! Of course, while we were doing our homework we discovered Harley is also sought after for his practical health and fitness advice, appearing on The View, The Oprah Winfrey Show, The Tyra Banks Show, Access Hollywood, Extra!, Entertainment Tonight, VH1, CNN, E!, Rachael Ray, and Next Top Model, as well as making regular appearances on NBC's Today show and ABC's Good Morning America. Harley and his 5-Factor have also received extensive coverage in publications as diverse as Cosmopolitan, US Weekly, InTouch, Shape, Woman's World, People, Glamour, Elle, Allure, Men's Health, Jane, Fitness, Seventeen, Marie Claire, Teen People, New York Post, LA Times, Star, Urb, and The Washington Post. He also currently hosts ABC's The Revolution.
With a Masters of Science in Exercise Physiology and Nutritional Sciences from the University of Toronto, and an Honors Degree in Kinesiology from the University of Western Ontario, Harley's books have been published in international markets in seven different languages.
We interviewed Harley Pasternak himself to get more of the scoop…and hear his no-nonsense approach to fitness.
B&B: Here at The Blonde & The Brunette, our readers want to know the skinny on being skinny for an individual body type and you are the perfect expert to ask! What are the fundamentals of the 5-Factor system and how do we get started?
Harley Pasternak: Everyone wants to look better so there is no excuse. It is the lack of action and excuses that prohibits people from getting healthy. You can say I don't work out because it is too cold outside. S o I would say, lets find a way for you to exercise indoors. You can do this in just 25 minutes a day. The idea is to change your routine and the way I've structured my program, we send you a new set of exercises every week and it literally doesn't become a routine. Anyone can find just 25 minutes. Think about it. I have my Harley's 5-Factor system online and readers should see for themselves that it is doable and achievable. get started today.
B&B: What are the best and easiest ways to start on a weight loss journey?
Harley Pasternak: Each snack should include a low-fat protein and fiber-filled carbohydrate. Smoothies are a great way to start. I have a smoothie every morning. Also start by walking at least 10,000 steps a day and get a pedometer to track your step count. Get a comfortable pair of shoes to make you more motivated to walk places. And then start to incorporate a little bit of resistance training; that will help keep the weight off and keep the fat burning going. Start gradually but just get started. Get started!
B&B: How does one prevent the yo-yo: weight gain and weight loss cycle?
Harley Pasternak: Find out what is not sustainable in your current lifestyle. Find a sustainable diet and exercise regimen. It is much easier to lose one pound a month than 40lbs in a year, so start small and you will keep it off.
B&B: What is the ratio of working out vs diet for real size dropping weight loss?
Harley Pasternak: For some people, starting with a good diet is the first step. Diet can be up to 75% of the battle to your goal weight. And following the 5 factor diet, with 3 meals and 2 snacks a day is the best way to lose weight.
Here are some quick facts from the 5-Factor System that we love:
Quinoa and grains are good carbohydrates.
Fruit or vegetables with edible skins or seeds are the best for you.
Dairy such as Greek yogurt and skim milk are great sources of protein.
Some of the healthiest countries eat dairy and seafood predominately in their diet.
Every meal must contain 5 key ingredients: protein, fiber, healthy carbs, a healthy fat, and a sugar-free beverage.
Eat 5 meals a day – Never feel hungry!
We enlisted in the program and swear, we are more motivated, feel better and not dreading the swimsuit season as much as before.
-Kathryn, The Blonde and NJ, The Brunette