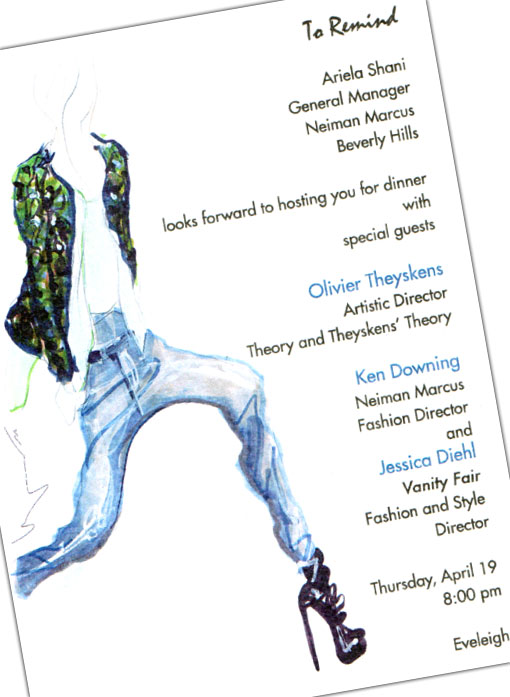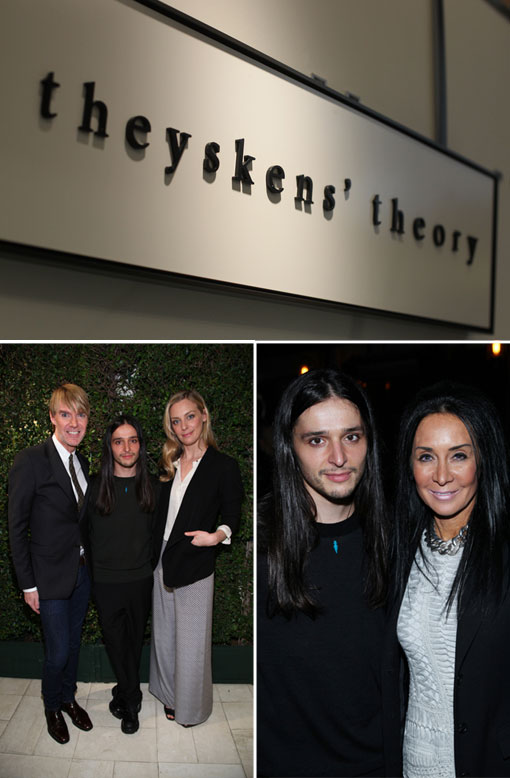 Olivier Theyskens & Sky Ferreira. Caroline de Maigret & Olivier Theyskens. Thomas Whiteside & Valentin.
Jamie Burnes, Caitlin Suzuki, Sable Yemane & Eileen Ilic. Catherine Palmieri & Stacy Kim. Emily & Nick Kousouis. Dang Bodirat & Berry Borin. Jessica Mallers & Marianne Gold.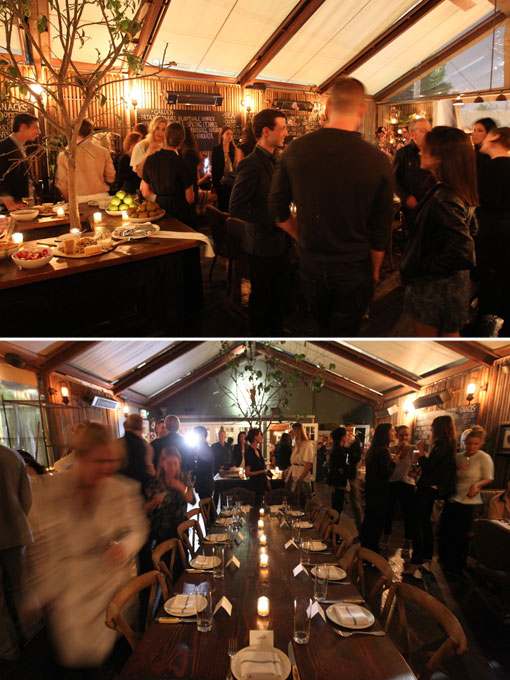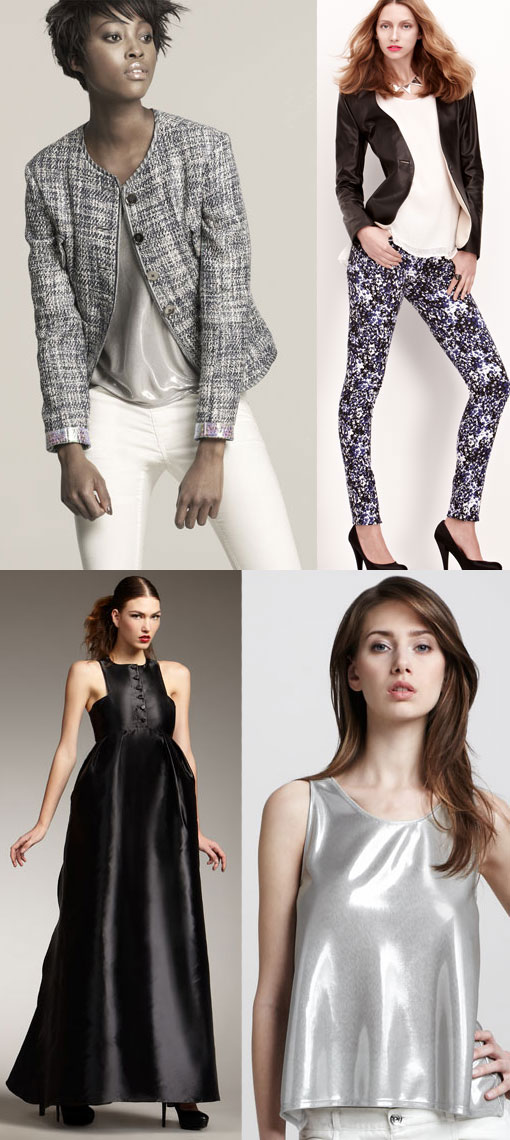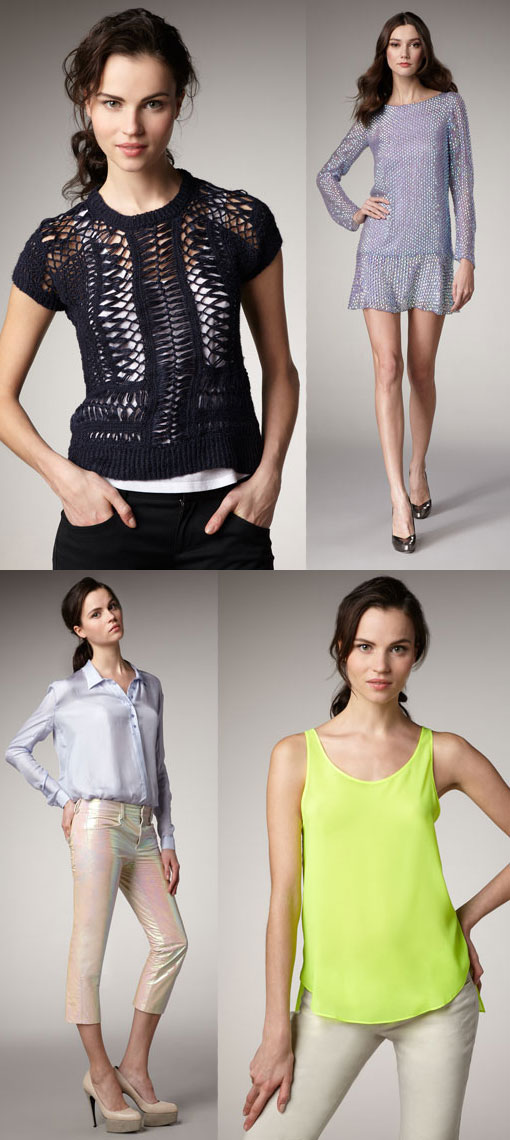 Last Thursday, Belgian sensation, the ever "adorable" Olivier Theyskens, Artistic Director of Theory and Theyskens' Theory, touched down in Beverly Hills for an exclusive Neiman Marcus fashion presentation and dialogue with Ken Downing, Neiman Marcus Fashion Director extraordinaire, and Jessica Diehl, Vanity Fair's super savvy Fashion and Style Director.
Dressed in his trademark black jeans and long-sleeved "T" (there's a theme building here), Theyskens, well-known for his signature good looks, mane of glossy black hair, and his ever-enduring modesty, was carefully or not so carefully, coaxed to the stage by Ken Downing. He joined Diehl and Ken for a very funny and honest discussion about Olivier's "TT Brigade" fashion philosophy. What? Just say that carefully and I'll explain in a moment.
Somehow the discussion started with Ken referencing the famous photo of Olivier strategically naked in front of his fireplace, in his unfurnished, newly purchased Paris apartment. With not a drop of furniture, what is an Artistic Director going do? What else? Choose the most dramatic location for a shockingly memorable photo. With that, Ken went on to explain how Theyskens, formerly of Nina Ricci fame and known for his spectacular "drama dresses", was carefully chosen almost two year ago (and unknowingly endorsed by Ken himself) to bring "the attitude of today" to the Theory look.
How does he do it? Olivier shuttles between his New York and Paris bases just as he does between the Theory and Theyskens' Theory studios housed next to each other in New York. Bringing his couture technique to sportswear, he has built a strong following by giving each brand its own distinctive "creative twist". Theory perhaps designed more as the must and Theyskens' Theory conceived as a bit more of the lust. If you are wondering how he double checks every look, the models wear flats and if the design looks great without heels then Theyskens knows it will really work once you add that hint of height.

Now referred to as the Theyskens' Theory (or "TT") Brigade, you might recognize yourself in this group as someone who has fallen in love with his vision of "creating forever but totally of the moment style". For this spring, Olivier has been building "the cool into all his clothes" by injecting everything from gold and silver lurex details, metallics, neon greens and yellow, boucle tweeds and updated denim to play on our ageless love of great sportswear. For now and Fall 2012, Ken, Jessica and Theyskens' espoused a jacket as the key look to totally reshaping and defining your look. The trio encouraged the crowd to return to the concept of building your wardrobe around a statement tuxedo jacket or embrace Theyskens' upcoming military look for fall. The way to make it work is to layer a jacket with everything from a jumpsuit (yes!) leather separates, dresses or selecting one of his suits to use in multiple ways.
As the discussion came to an end, Olivier came down from the stage and mingled with the audience including a fun photo session. He immediately noticed I was in my beloved Theyskens' Theory silver open-knit sweater dress, from this season, which I styled with platform heels just as he envisioned. Olivier's other big love is combat boots with anything. So pull them out of the closet and it will add edge to any look.
Then it was off to the very intimate dinner hosted by Neiman Marcus Beverly Hills General Manager, Ariela Shani in honor of Theyskens. Held at the ultra-trendy Eveleigh restaurant (how did I not know about it before!!) on Sunset Boulevard in West Hollywood, guests included many of Olivier's good friends from model Caroline de Maigret, Sky Ferreira, George Kotsiopoulos, from E! Fashion Police, to co-honorees Ken Downing and Jessica Diehl. Fortunately, I had rushed to my car and made sure to throw on my black Theory blazer over my dress. I follow fashion directions like a pro. It was the perfect look as Olivier unexpectedly grabbed me for my big photo op because "we are both a bit gothic with our long locks." Loved it!
As we were all seated Tuscan-style for dinner, I was lucky enough to be next to Ken Downing and across from Jessica Diehl. We talked fashion all-night as well as how Olivier had brought "a new energy to Theory with his edgy, rock-n-roll vision" making Theory suddenly "very chic again." The evening was capped with huge platters of mouthwatering sugar coated donut holes and cookies. We ate every last drop. As we said our goodbyes, there was no doubt, I was happy to be part of The TT Brigade.
NJ, Goldston, The Brunette