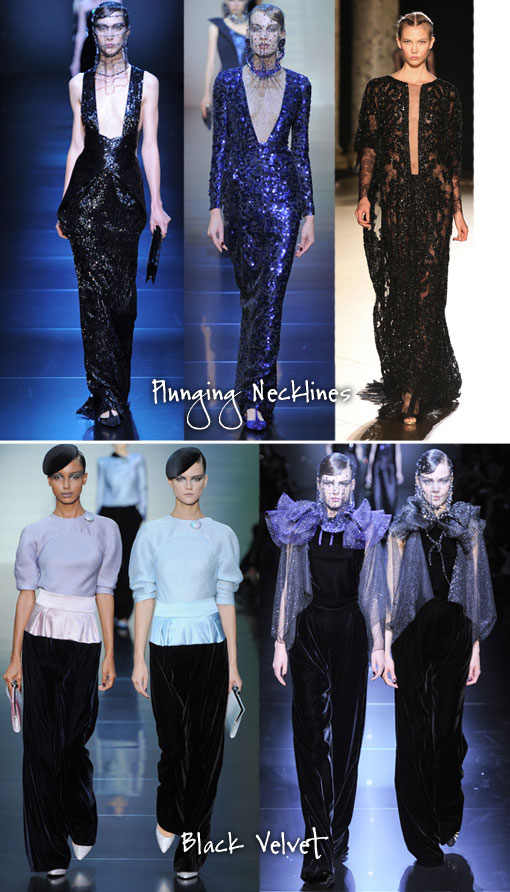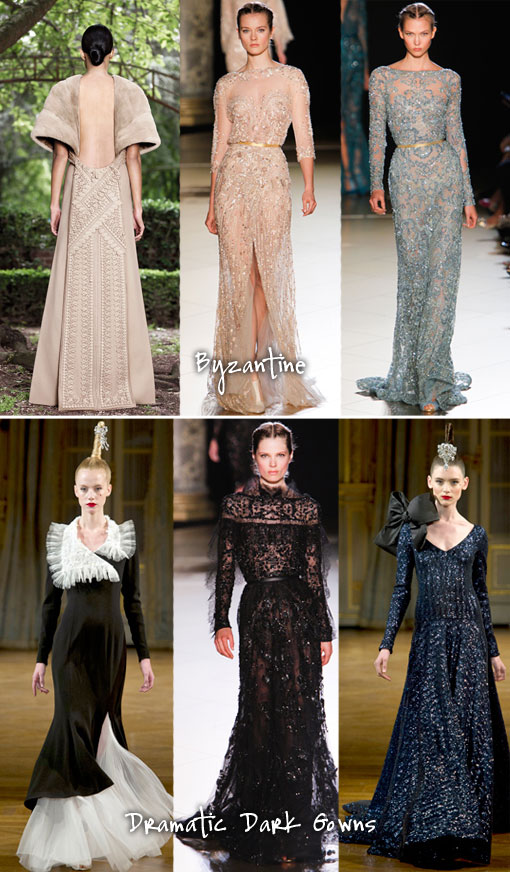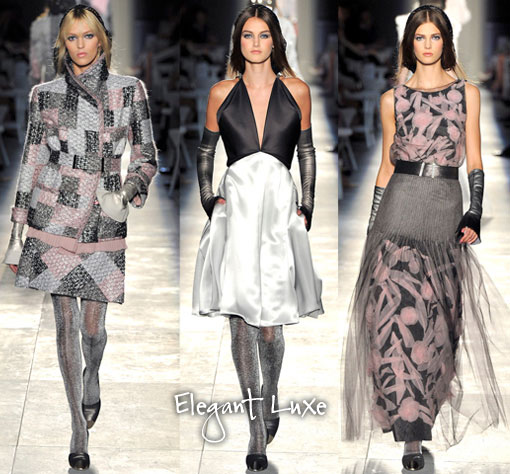 If you've seen The Devil Wears Prada, you know trends trickle down.Usually it's a down pour from the Couture shows but this time, it seems like partly cloudy with a chance of rain, except for Dior. That said, here's our take on a few great trends we spotted from the runways.
Spectacular plunge necklines reigned with many accented by sheer panels. Our favorites were from Armani Privé and Elie Saab, but the secret to wearing them may or not being less endowed or the strategic placement of your assets. Anne Hathaway recently showcased this look at a movie premiere to absolute raves.

Sometimes it can be dowdy. Not this season. Velvet has suddenly made a big comeback for Fall/Winter in either black or in beautiful shades of midnight blues. Actress Marion Cotillard showcases this look on the August Vogue cover in a stunning Dior Haute Couture navy velvet jacket and in a crushed blue velvet Balmain dress. Armani Privé (above) thought runway gal pals was the best way to get the message when matched with pastels or jewel tone accents.

The Byzantine trend, heavily influenced by Chanel in previous seasons, is back in full force with Givenchy being one of the major influencers. Along with it, came daring backless gowns, nudes and icy blues that seem especially perfect for brunettes.

For any very special occasion, dramatic dark gowns have become especially memorable this season, with a more is more approach, using massive amounts of embellishments or tulle accents.

Always in a class by itself, Chanel and Lagerfeld focused on an elegant luxe that is intended to be out of reach except for the select few. Even if we admire the collection from a distance, you cannot help by continue to admire the beautiful craftsmanship.
Just a few more quick style tips for Fall that we loved. Three of our favorite take-aways are sleek hair with a middle part for evening, thin to medium-size satin belts to highlight your waist and add an elegant accent to almost any evening gown, and, if you can find them, shimmering hose in metallic shades.
That's a wrap.
xo
NJ, The Brunette