Hundreds of thousands of evacuees have already rushed to emergency shelters with their loved ones, and your support is desperately needed to help us keep as many people safe after the storm. The Red Cross is always there and could use your support. Click here to make your tax-deductible gift to the American Red Cross right now.
With everyone's help, the Red Cross has already:
Opened shelters in 7 states, deploying more than 1,000 Red Cross workers to support relief efforts
Mobilized nearly 170 Emergency Response Vehicles to move at a moment's notice
Secured more than 230,000 shelf-stable meals
Readied thousands of supplies such as cots, comfort kits and clean up kits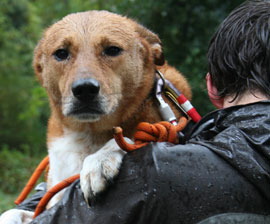 Disaster relief for animals is just as important and you can help by making a donation to the Humane Society of America. Through their rescue efforts, disaster response, mobile veterinary clinics,and five animal care centers, they directly care for thousands of animals—pets and wildlife—each year. With Hurricane Sandy the need is especially critical.
Please donate today. It will make all the difference.
Xo
The Blonde and The Brunette Team