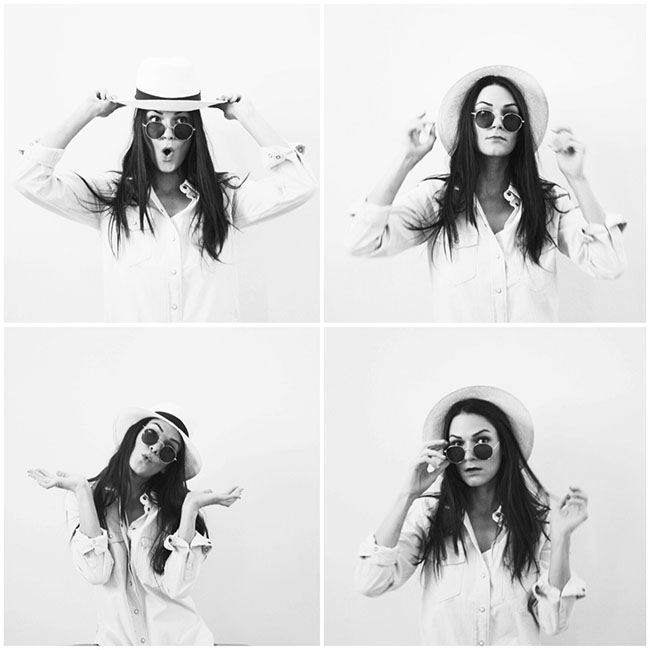 Like most girls, I love makeup. I love the process of putting it on and I love how it makes me feel. I started wearing makeup around the age of 16, so I guess you can say I've been perfecting my makeup bag for the last ten years. Segue to working as a fashion and beauty editor at The Blonde and The Brunette. People are always asking me to share my routines, favorite products, you name it. Last week, I realized I've never shared what's in my makeup bag. These are the go-to products I rely on day in and day out, they keep me looking fresh and feeling fine!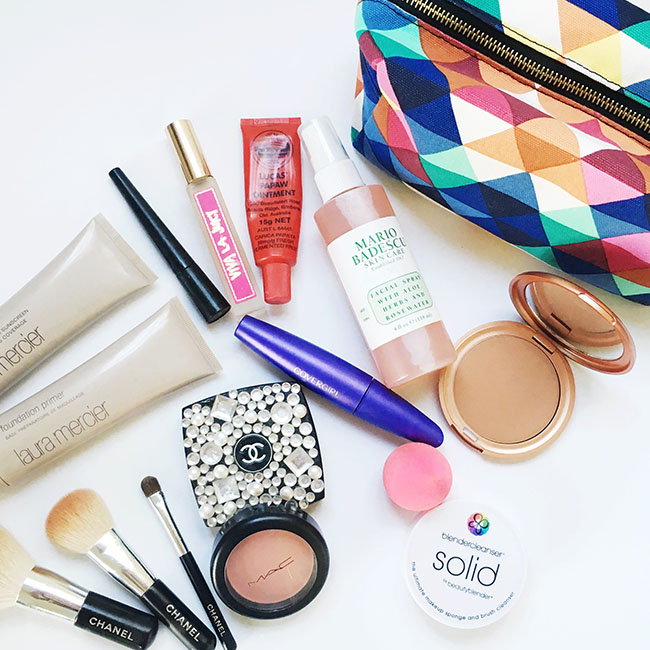 Now the important part. When I was younger, I would buy everything from the supermarket. it was inexpensive and got the job done. I quickly learned my lesson with inexpensive foundations. I immediately started breaking out. As I got older, I went to the opposite end of the spectrum, and started investing in really high-end expensive products. I felt like Goldie Locks and The Three Bears trying to find products that were just right in quality, price point, and performance. After ten years, I can finally say my makeup bag is just right!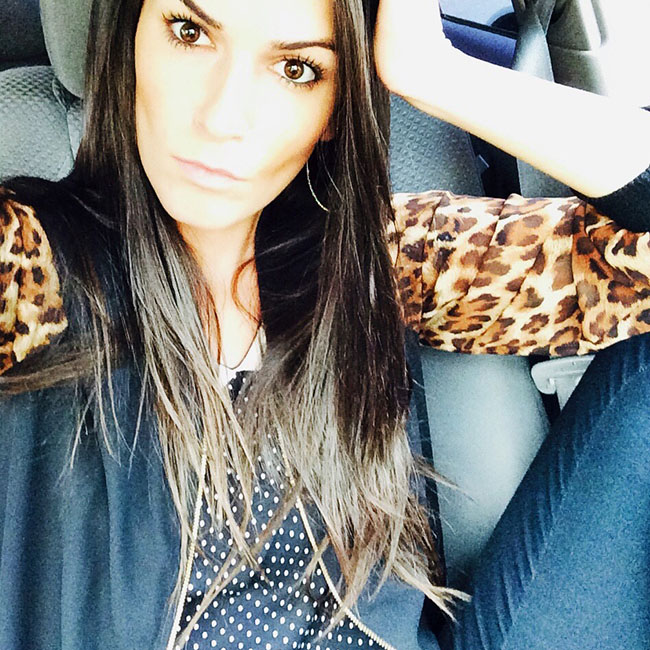 In all my trial and error, I've learned a few great lessons. Number one being that quality is the most important thing when it comes to finding a good product. Just because it's marked with a hefty price tag does not mean it's good quality. For example, Covergirl mascara is only nine dollars at the supermarket, but works better than every "high end" mascara I've tried, not to mention, less than half the price! Here's my go-to list. Check it out.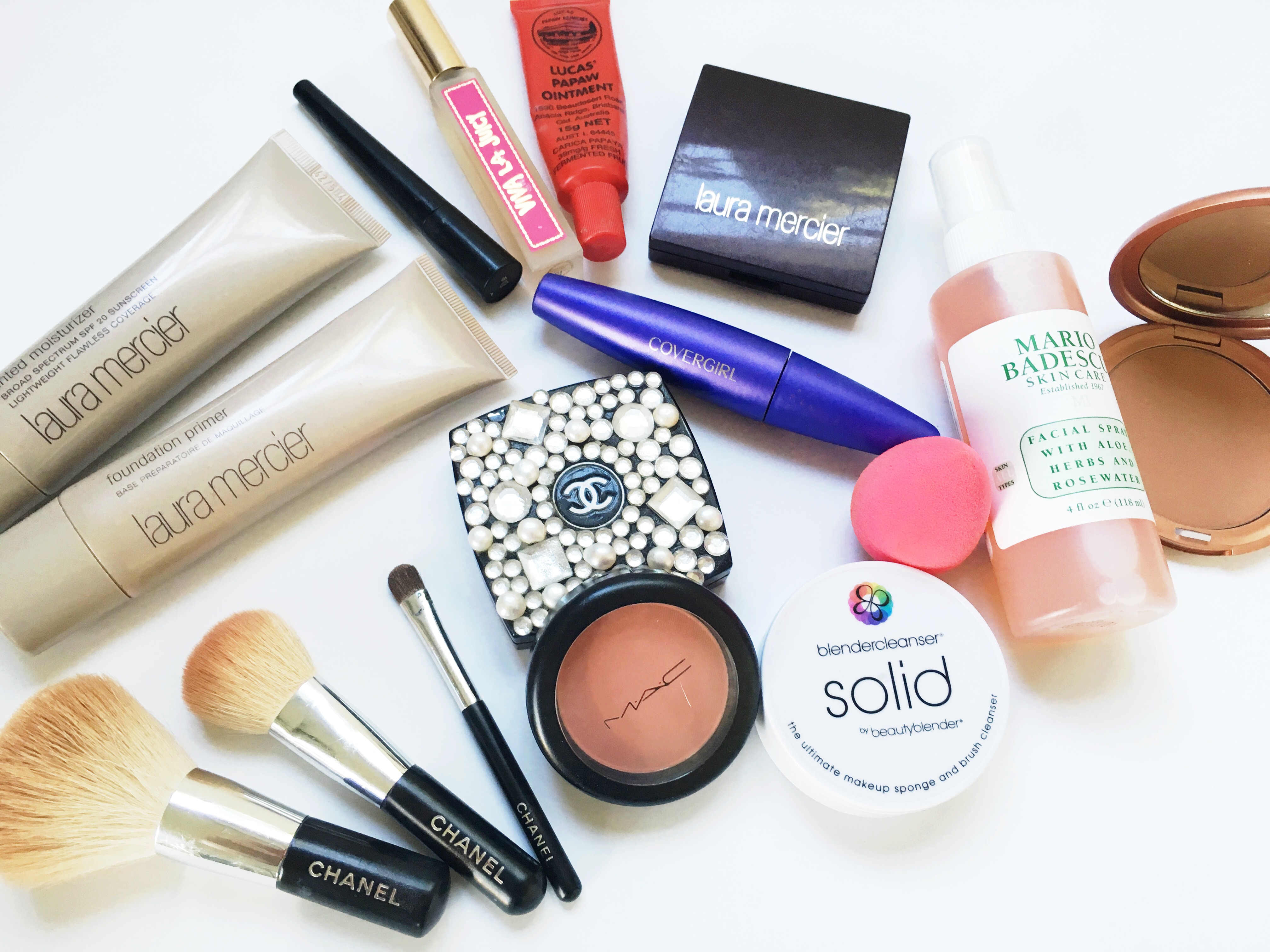 PRIMER / FOUNDATION / POWDER:
My skin's oily, and has gotten a lot more sensitive with age, so the all natural Laura Mercier products work beautifully on me. She offers a light foundation option, which is perfect, as I feel really uneasy when anything too heavy weighs down on my skin. Even though it glides on so smoothly, it still works great to cover blemishes. I usually apply the primer first, which keeps my foundation on for hours without having to retouch, and if I see any shine come through, the compact face powder works excellent! Most importantly, none of these products have ever caused me to break out or look splotchy. I honestly don't know what I'd do without them! In the winter months, when my tan isn't as strong, I use my fun Chanel powder, as it's a bit lighter than the Laura Mercier products, and also just because it's fun to carry around a bejeweled compact!
BRONZER/BLUSH:
To be honest, I only started wearing blush about a month ago. I opted for MAC, as it was the first blush I felt didn't make me look too red. I've used Stila bronzer since I was sixteen. No other product has come close to creating the perfect sun kissed look I get from Stila! Most weekends, I don't wear makeup, I just put on my sunscreen and a bit of Stila bronzer and I'm good to go!
LIPSTICK/LIPGLOSS:
I am still, and will probably forever be infatuated with the Chanel "Suzanne" Lip Rouge from the Limited Edition Chanel Rouge lipstick collection I wrote about a while back, it's the perfect hue for my coloring! I also can't live without my Lucas' Papaw. My Aussie roommate introduced me to it a few years back, and there isn't a day that goes by where I don't use it! Last, is my Chanel lip gloss. It glides on easy, goes with everything, and is great for my daytime run arounds.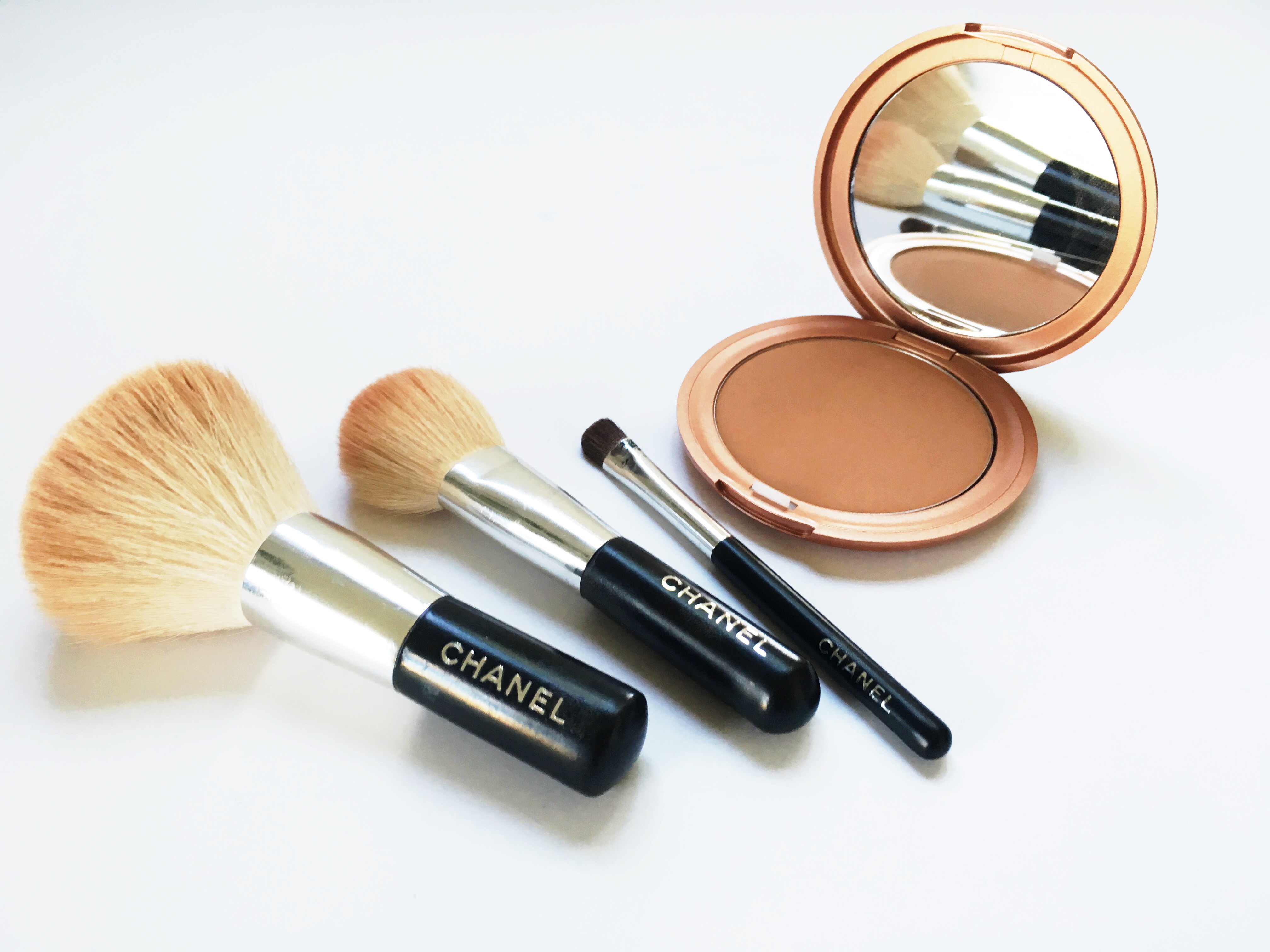 MASCARA:
I swear by CoverGirl LashBlast Volume Mascara. Enough said.
EYESHADOW/EYELINER:
I use an iridescent Sephora eyeshadow. You can't go wrong with Sephora shadows. there are so many options, they stay on great, and they're impressively inexpensive. I also use Sephora eyeliner. After trying nearly every liner Sephora has to offer, I always found myself coming back to the Sephora brand liquid and pencil eye-liner. They're easy to apply, stay on all day, and don't break the bank.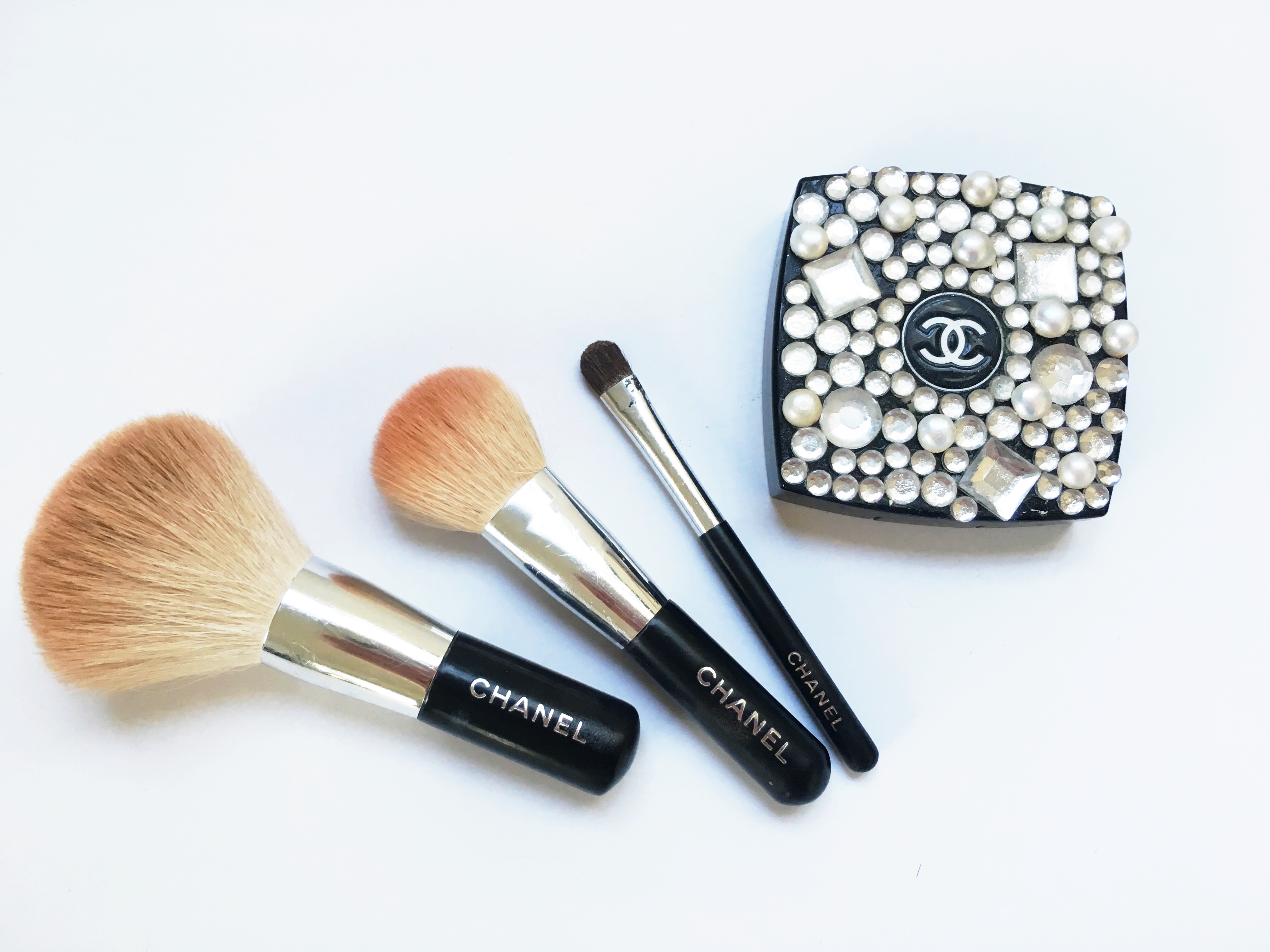 BRUSHES/COSMETIC CASE:
I love Chanel's brushes. A little pricey, but such great quality! I have no idea what most brushes are for or how they work, so I only had to buy three. A blush brush, a bronzer brush, and an eyeshadow brush! My makeup routine is fairly simple, so I don't need much! I use the Beauty Blender to apply my foundation, and my makeup bag was actually $5.99 from Forever 21. My makeup bags tend to get so dirty from all the product inside, it's tough for me to invest in a really nice one, as I'd rather just trade it out!
PERFUME/OTHER:
I've worn Juicy Couture Perfume (I know, what a shock) since my sister gifted it to me on her wedding day. It matched really well with my natural pheromones, and it's been my go-to scent since then. The last couple things I carry in my makeup bag are eyebrow tweezers, cause nothing is more important than a good arch, and Mario Bedascu Rose Water Spray, because it rejuvenates my skin & sinks into my pours before I start this whole makeup process.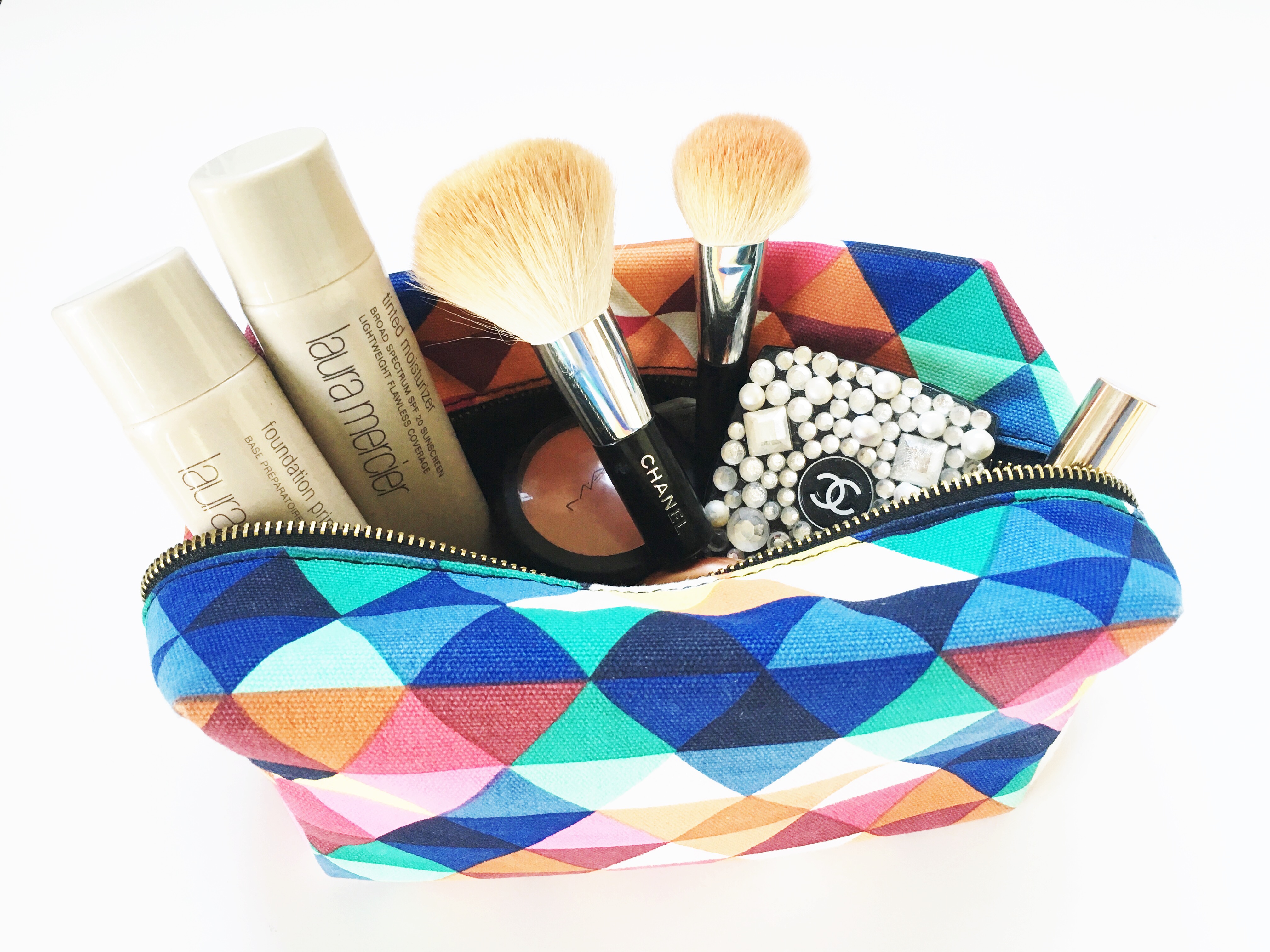 I set up a convenient shop page below in case you see something you like!

Check out another great read from
One Pampered Life
if you want more tips on this subject.
Xo,
Jadan Huter