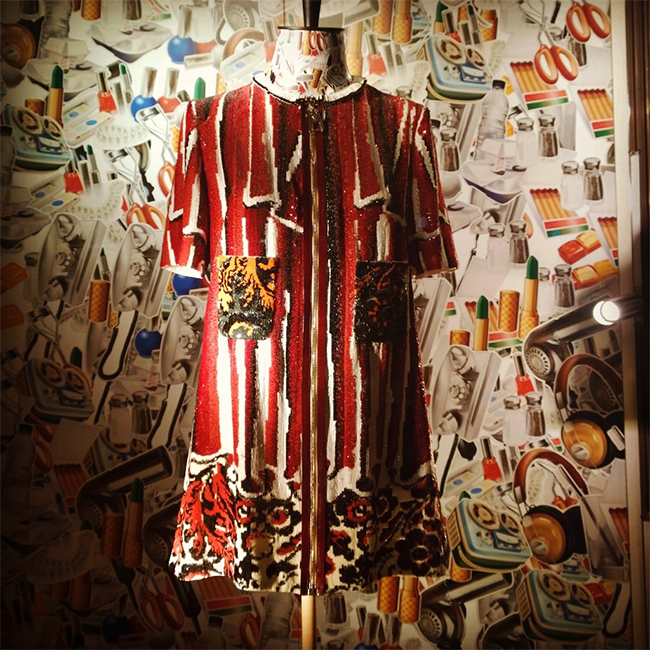 The retail paradigm just did a major shift in LA and luxury retailers better take notice. Louis Vuitton opened its revamped flagship Rodeo Drive Maison today and I was literally the first guest inside for a private tour earlier this week. O.K. Not the first. Elton John stopped by earlier the same morning. So officially, I was the second. It was by invitation only and the newly renovated Maison on Rodeo Drive has been envisioned as the "ultimate expression of sophistication and glamor" in an iconic interpretation of mid-century Hollywood style. That's a very sophisticated way of saying, it's absolutely stunning. Stunning.
Three years in the making, the new store at Rodeo and Dayton Way has just gotten a complete overhaul by famed architect Peter Marino and features an array of spectacular artwork, a three story open space design which allows for a very wonderful luminescent glow of California sunshine, a view of the Rodeo Drive and Hollywood signs through the massive glass windows, and best of all one-a-kind goodies just brought in from Paris exclusively for Beverly Hills.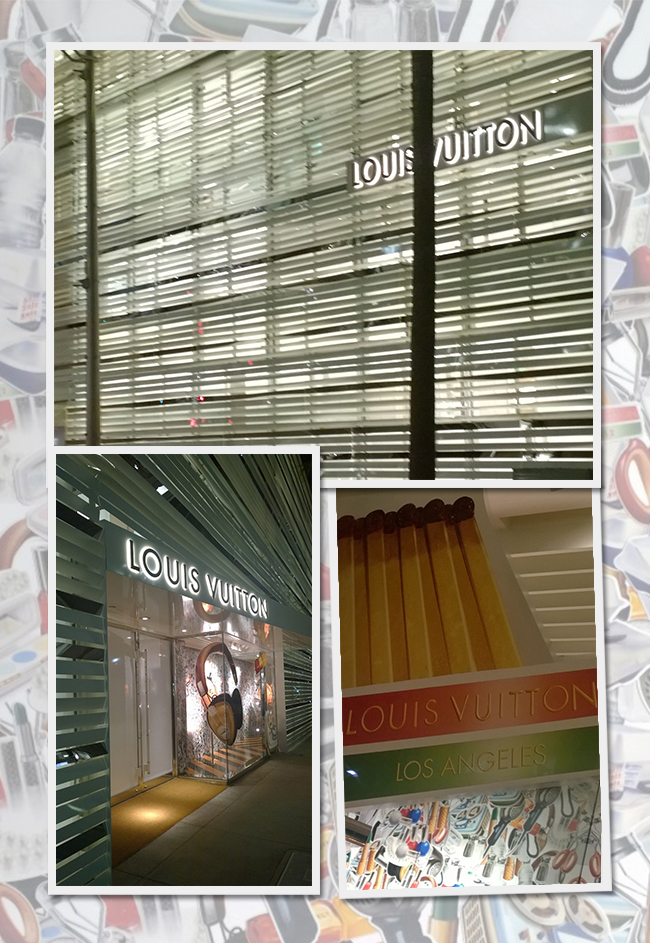 This is a spectacular achievement starting with the graphic facade comprised of three distinct layers ( a lot of symbolic three's happening here). It's so intricate you'll want to know exactly how they achieved the look. I know I did. The first layer is twisted stainless steel and lacquered ivory "ribbons" that ebb and flow to expose the second layer of double-height all glass windows. The design then undulates into to a collection of tiled sheer panels repeated in a random brick-like pattern hugging the entire right side of the store as the backdrop to the ever-present three-level linear staircase bedecked with LV leather handrails.
What's particularly striking is this thoroughly contemporary design is juxtaposed with so many substantive yet uniquely iconic LV touches. It's a breath-taking visual and architectural feat that guides you from the main leather goods and jewelry areas upward to the exclusive men's and women's second and third floor "universes". You eventually wind your way to a private third floor VIP shopping suite and the newly redone rooftop terrace (for entertaining). On the way, everything has been carefully laid out from the new bespoke made-to-order handbag salon, jewelry area, the multiple leather goods bars, watch, shoe and jewelry "bars" ( I made that up) throughout the store to a whole new ready-to-wear experience. You'll even see a display of custom LV trunks made for Wes Anderson's 2007 film "Darjeeling Limited" in a nod Hollywood. So take a little tour with me right now. They're all my own photos and I snapped many of these as they unveiled the windows and opened the store to special guests for the first time.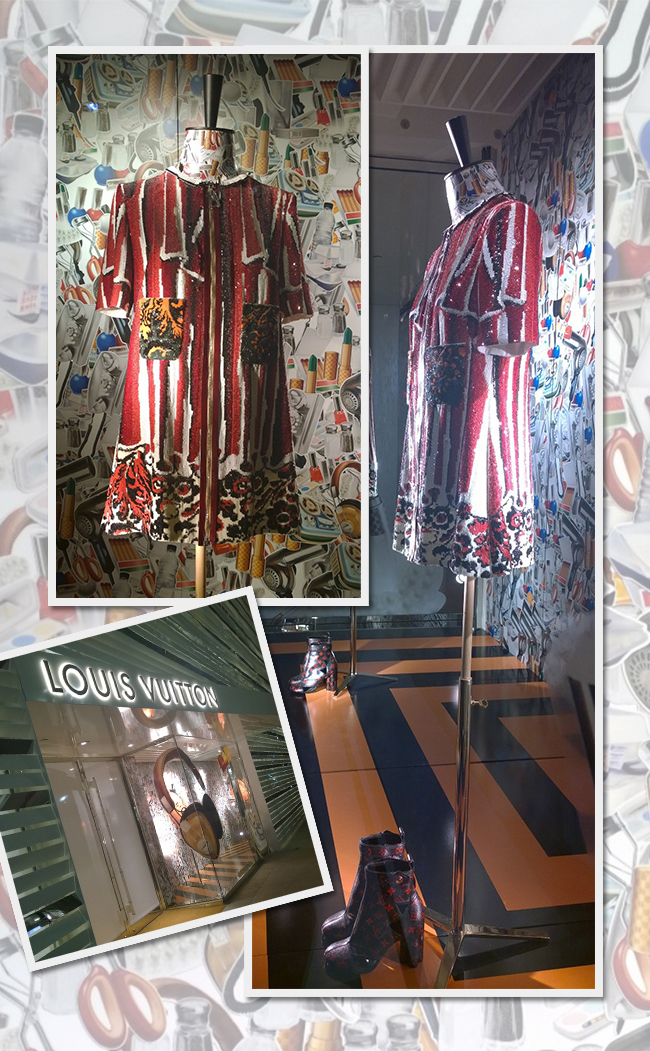 The experience literally starts at the front door with bold blown-up graphics of the absolutely amusing print of makeup, household appliances, and muscle cars from the LV SS15 Runway show. This is absolute design genius including one of my favorite touches of a matchbook with Los Angeles in huge type. Pay attention. The print even covers the mannequins displaying the magnificent densely sequined red zip-front mini-dress featured in the front window and an orange men's bomber jacket. Catch those booties! The booties with the monogram print in red. I'm in love. Just for BH, darlings.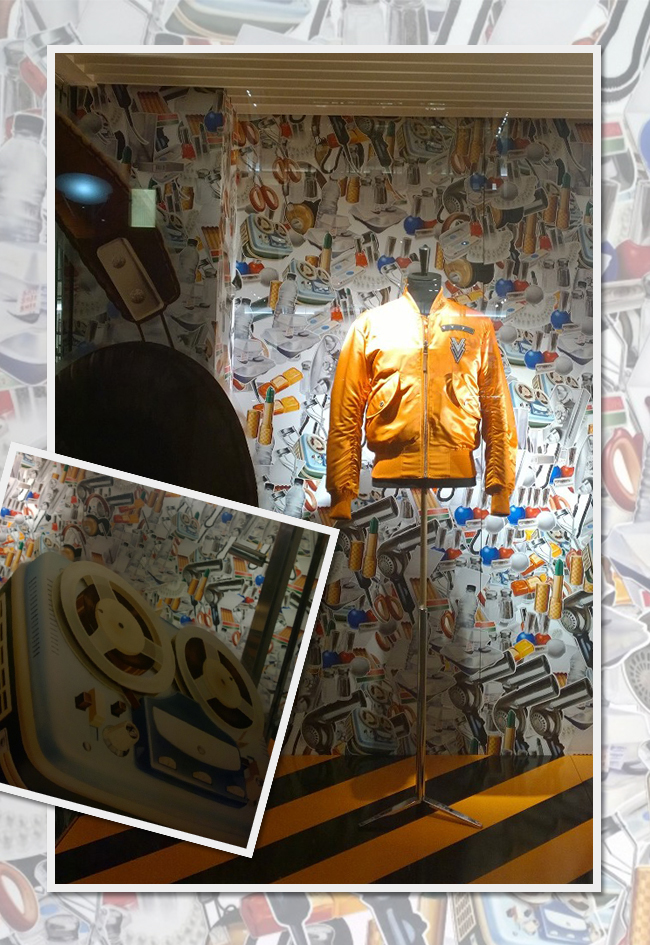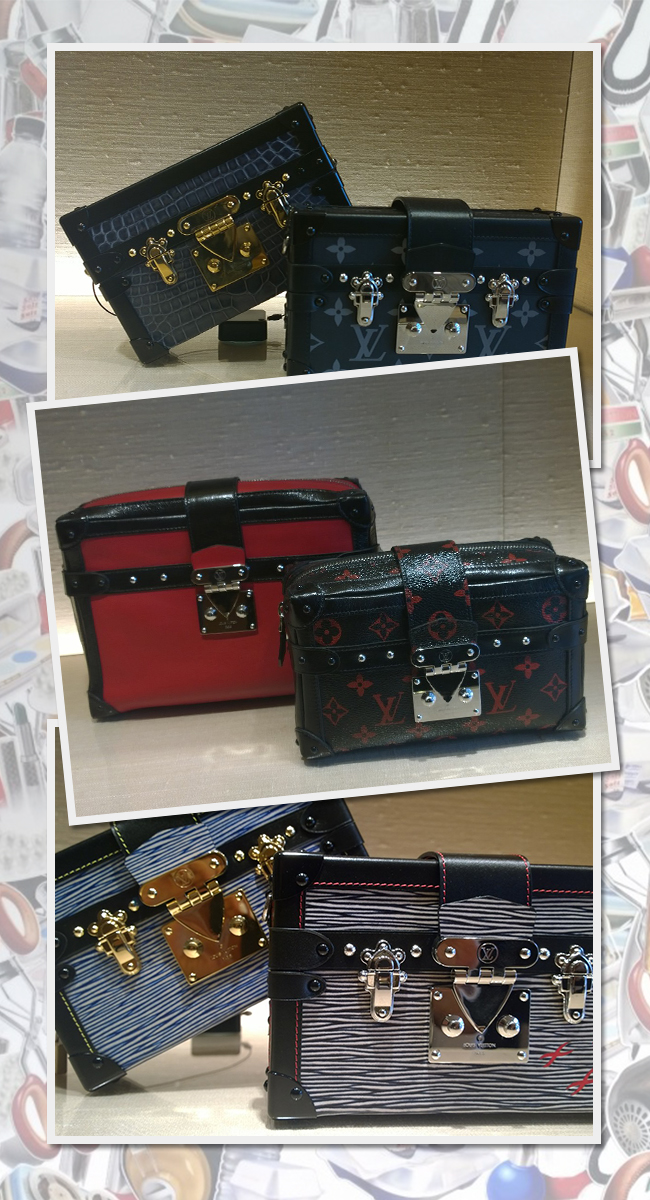 Things get even more delicious once inside. I spied the special collection of petit malles (above) brought in just for the opening from Paris including the new supple (or soft-sided) petit malles. The very special Rodeo Drive versions were in red with black trim and a red LV monogram on black. Most may even be gone by the time the store officially opens today. Sold to VIPS. But, don't worry, there are lots more styles and yummy new colors in almost every bag to catch your fancy including exotic skins. There's even one covered in fur on the third floor.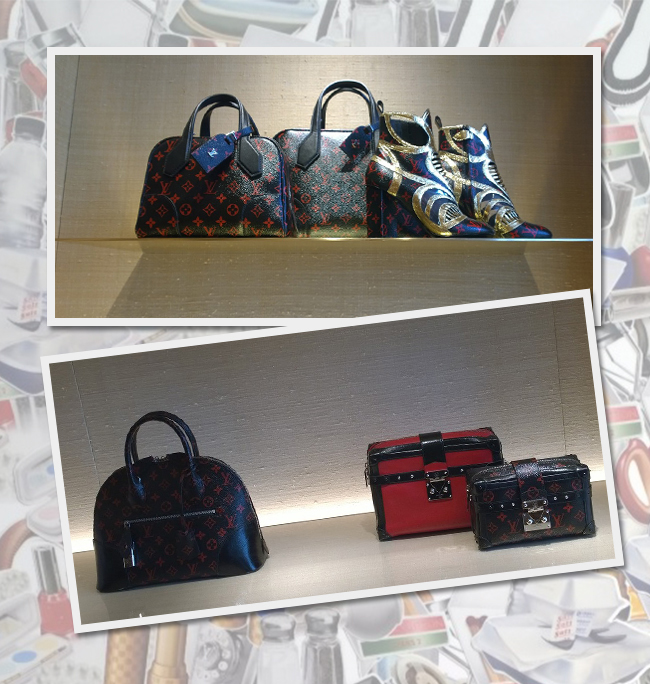 And trunks. Beautiful trunks in all colors and sizes including the one's from "Darjeeling Limited." A do not miss.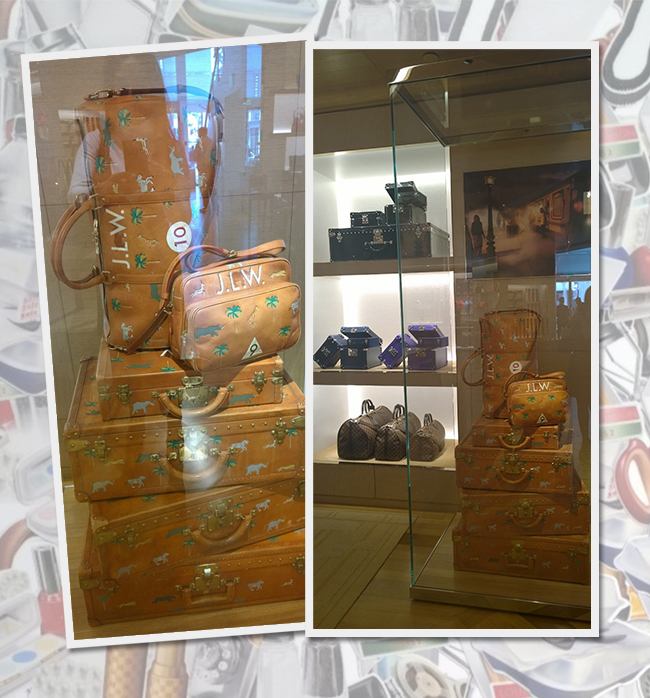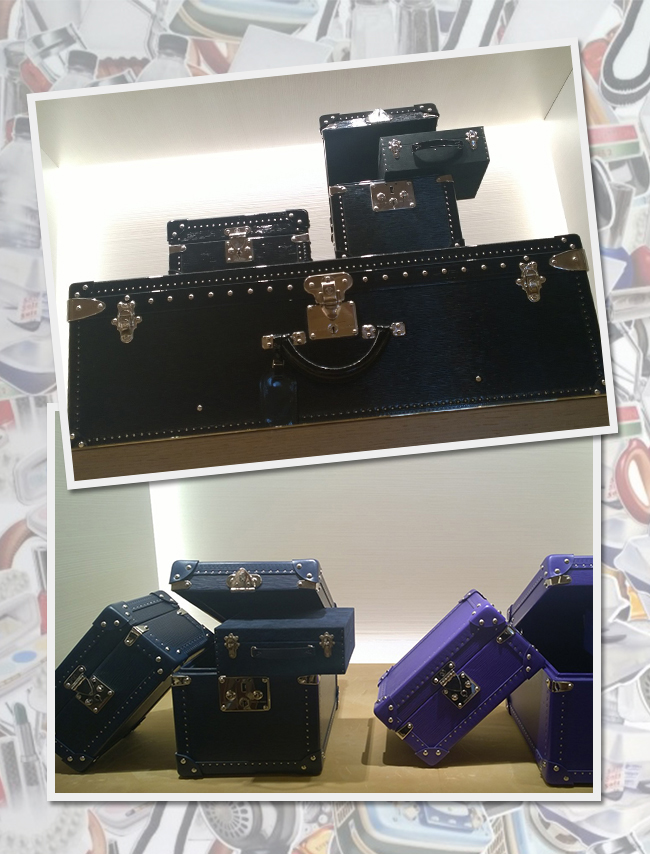 Then it's time to make your way upstairs. Literally pass the stacked Vuitton trunks that are a subliminal cue to the Masion as a destination experience incorporating art and cultural elements.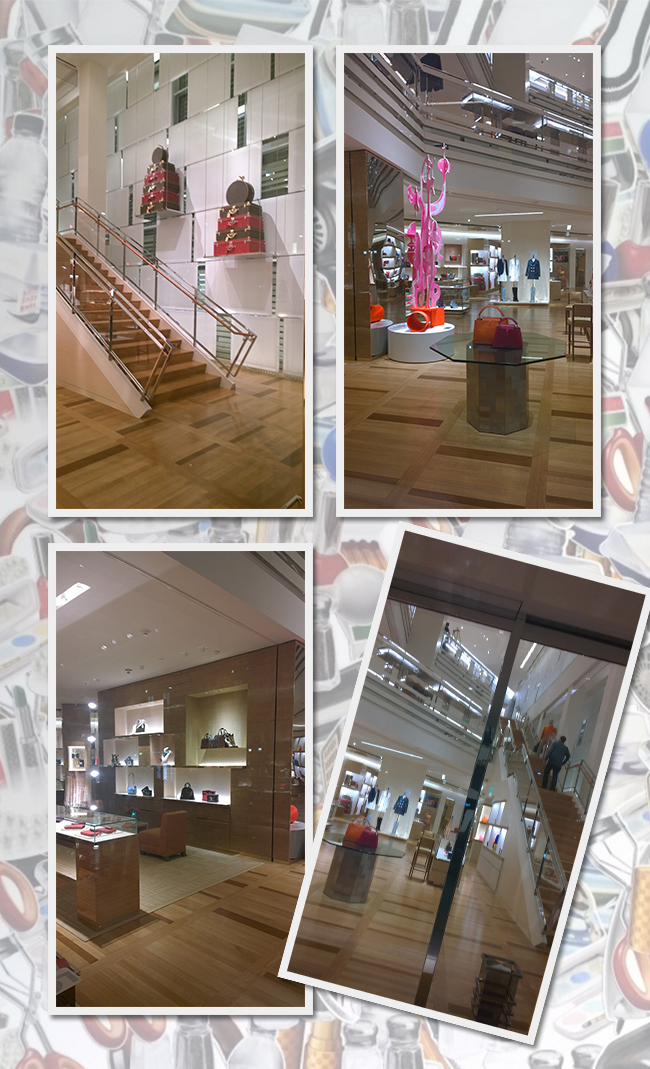 However, before you ascend the staircase with its stainless steel balustrade (that's a handrail) take in the brightly hued, mixed material sculpture by Aaron Curry and the massive aluminum and stainless steel two story hanging Ghostwriter abstract "palm tree" sculpture by Belgian artist Peter Rogiers (another nod to LA) . When you stand at the stop of the stairs and peer through the sculpture you'll notice it's been perfectly installed to see the Rodeo Drive street sign and the Hollywood sign in the distance.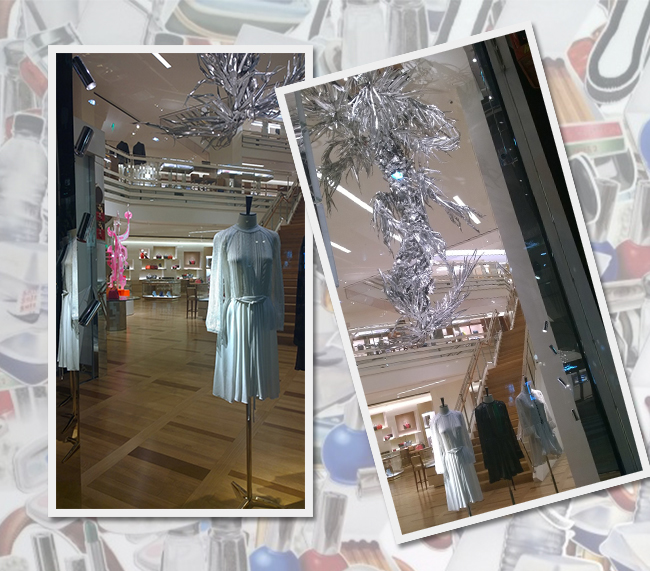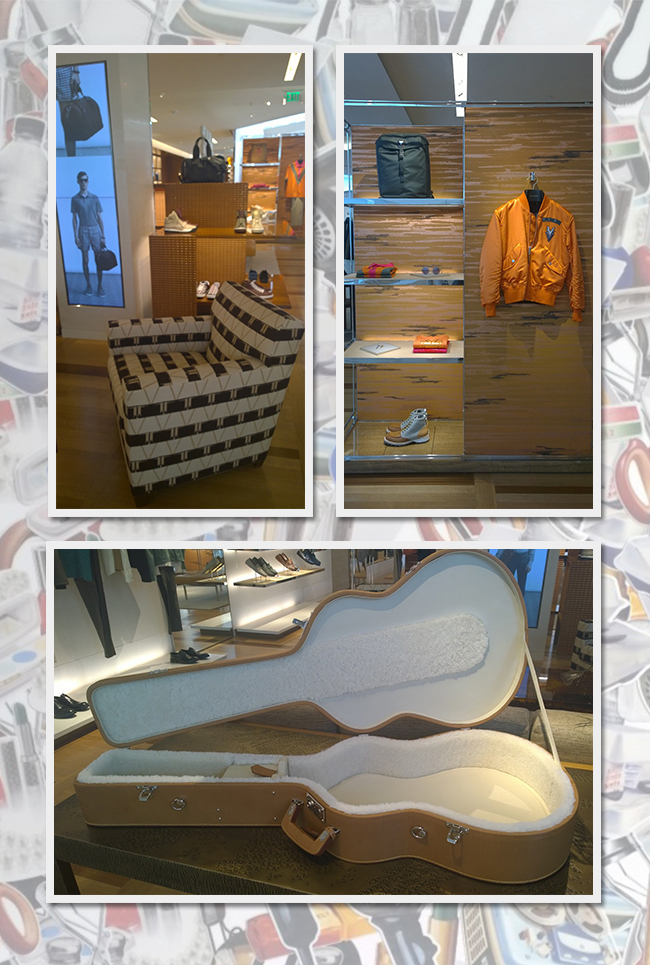 First up. The men now have an entire second floor loft-like universe which celebrates the art of correspondence by offering a limited selection of pens notebooks, agendas, a watch bar, made-to-order leathergoods, and a substantial menswear collection plus a do not miss custom LV leather guitar case on display. It's all been designed for the fellas (finally!) to have their very own spot to comfortably hang and shop while you're in your own universe. Smart. Very smart. Then it's time for graphic boots, bejeweled shoes, and flats at the LV shoe bars on the third floor " universe." This is the stunning new home to women's ready-to-wear and shoes.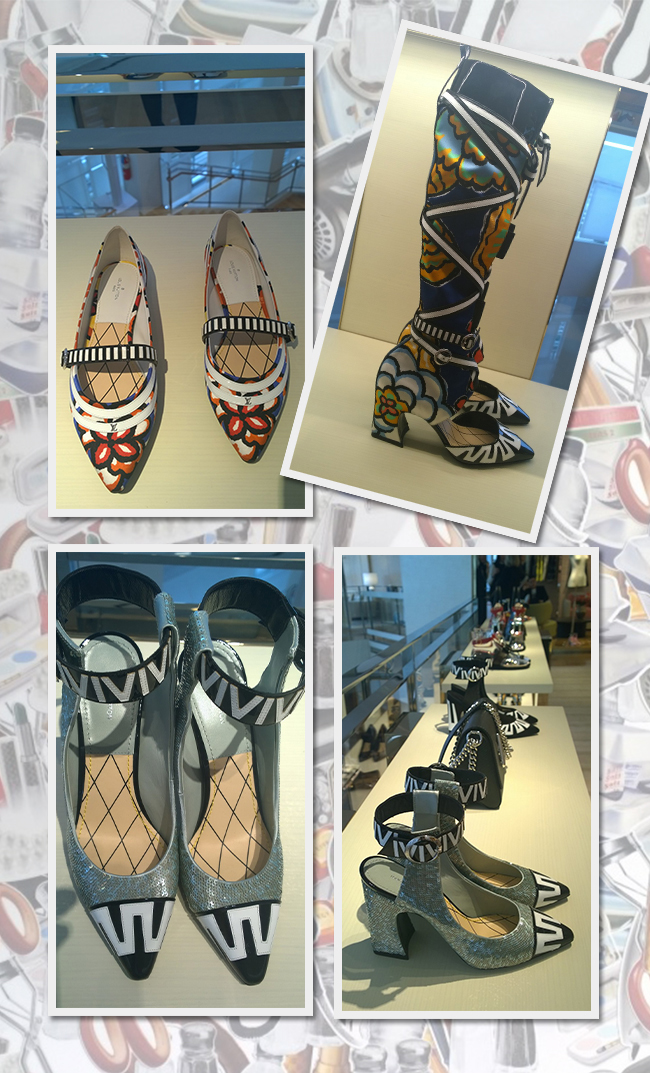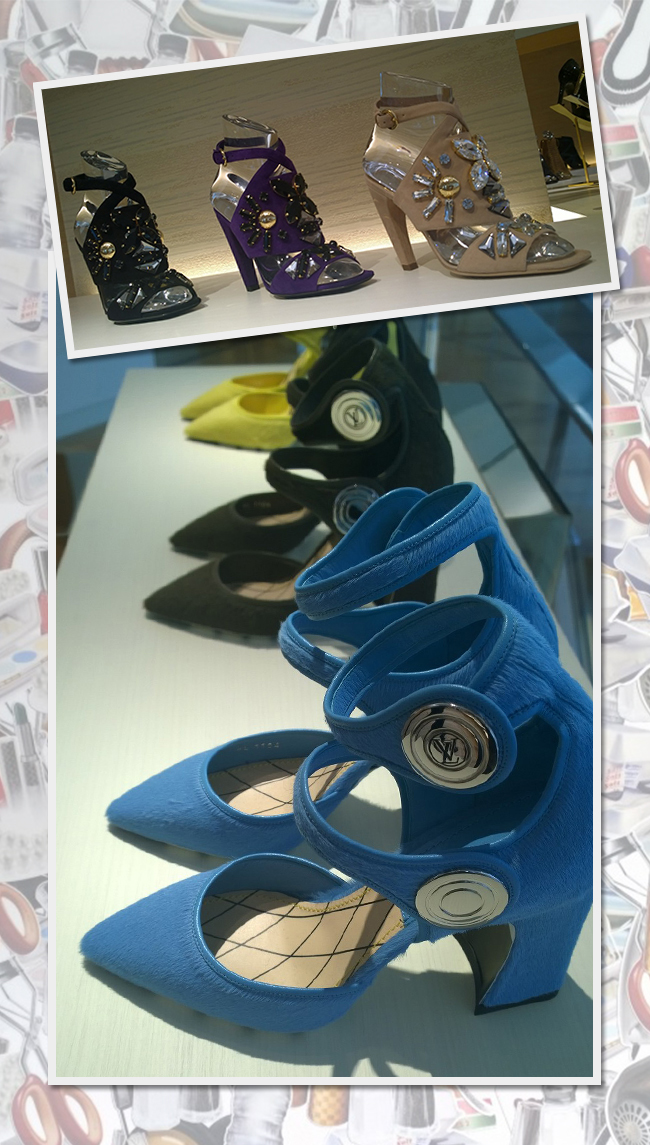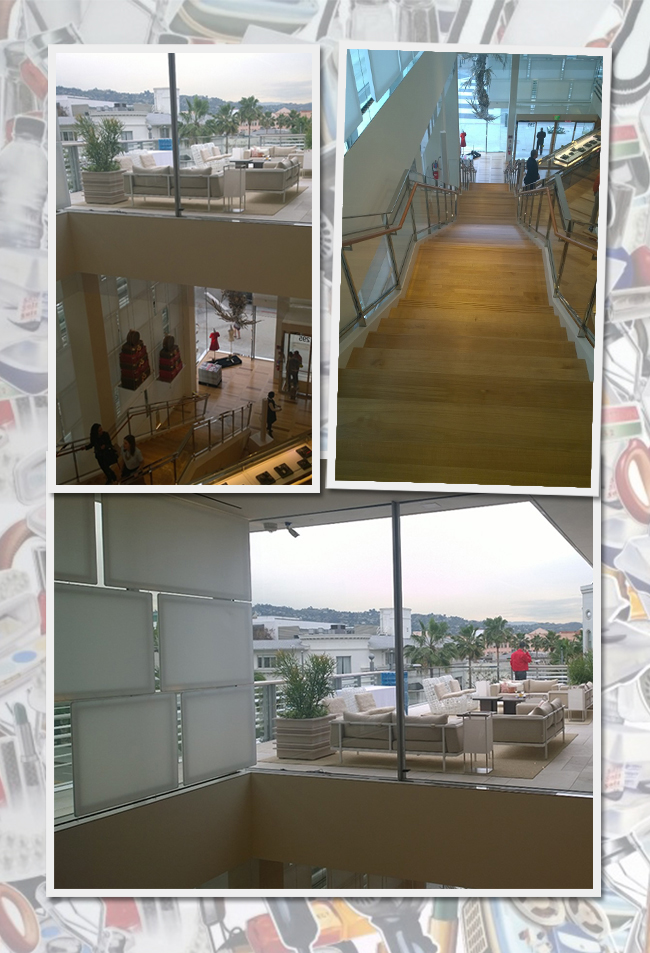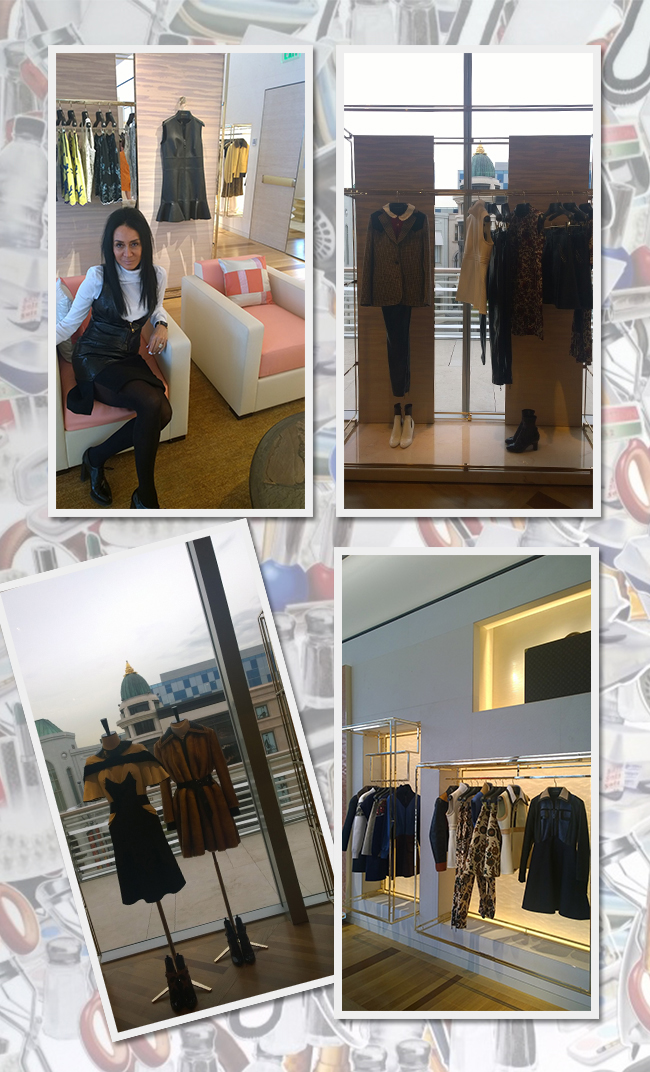 The women's floor is now filled with a yummy, curated assortment of designer Nicolas Ghesquière's first cruise collection for LV along with the worldwide launch of the Spring/Summer 2015 Women's Collection. This is where you'll find those truly special pieces. You know the ones. The ones in the print ads.
There's so much more. I don't want to spoil all the surprises for you. Starting today you can make your way to Rodeo Drive. I will too once again. I'm totally obsessing over the red sequined dress in the window. It's a work of art just like the store.
With Love From Rodeo Drive
NJ Goldston, The Brunette
Louis Vuitton Rodeo Drive/295 Rodeo Drive /Beverly Hills/90210/(310) 859-0457/10 AM-7 PM
Editor's Note: Louis Vuitton has also chosen L.A. as the first destination for its "Louis Vuitton Series 2 — Past, Present and Future" exhibition. A nontraditional interpretation of its spring 2015 women's ready-to-wear collection, the multiroom exhibit, in a warehouse space in the heart of the Hollywood art and media district, allows visitors to explore the creative process behind the collection through a series of distinctive thematic spaces that share creative director Nicolas Ghesquière's influences and inspirations as well as the excitement of a traditional fashion show experience. The exhibition will run from Feb. 6 to 22 at 1135 North Highland Avenue and will be open to the public daily. It's another do not miss.