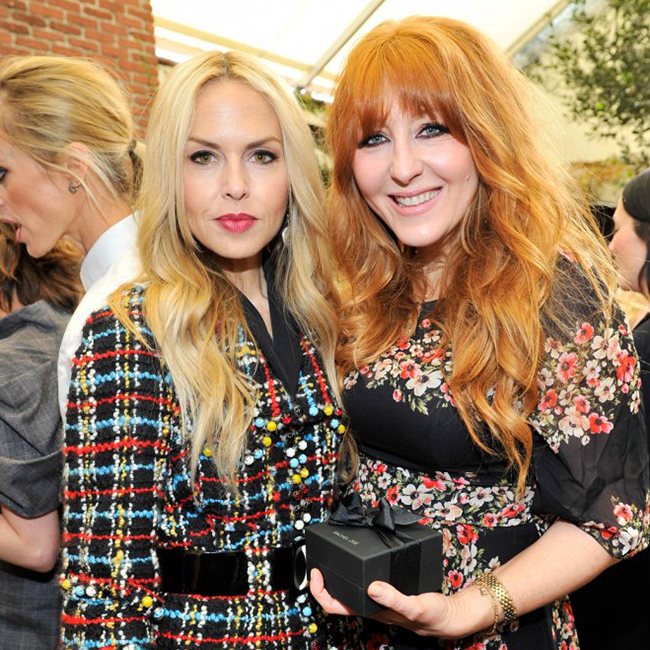 I'm still catching my breath. Last week after returning from NYFW, and in the midst of the Oscars and Tom Ford festivities, Net-A-Porter feted one of my favorite make-up artists of all time, Charlotte Tilbury. Held last Friday at the A.O.C. garden, Lucy Yeomans, Editor-in-Chief of PORTER magazine and NET-A PORTER.COM, invited an intimate gathering of celebs and L.A.'s most fashion forward crowd from Ashley Greene, Rachel Zoe, Gela Nash Taylor, Pamela Skiast, Rosetta Getty, Liberty Ross, Poppy Delevigne, Rachel Roy, my buddy Monique Lhuillier, and about every editor from the likes of Merle Ginsburg of The Hollywood Reporter, Jennifer Hale of C Magazine (both great friends) to moi for the ultimate power luncheon.
The timing couldn't have been more perfect. As the world's number #1 makeup artist, Tilbury would normally be ensconced in London Fashion week. Not this time, she was here (and rightfully quite excited about it) to do friend and Oscar nominated actress Sienna Miller's makeup for her many appearances including the Oscar Red Carpet. It was my first time meeting Charlotte but she took one look at me and said "The Rock Chick." Yeah, baby. She nailed it. I was wearing one of her ten signature make-up looks.. More on that in a minute – but I wasn't the only one, I spotted Charlotte's make-up on so many of the guests from the nude look, to the bold lips.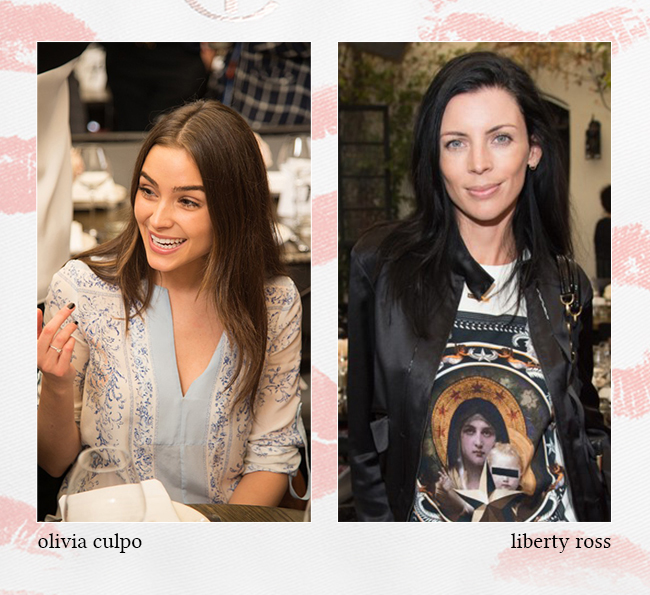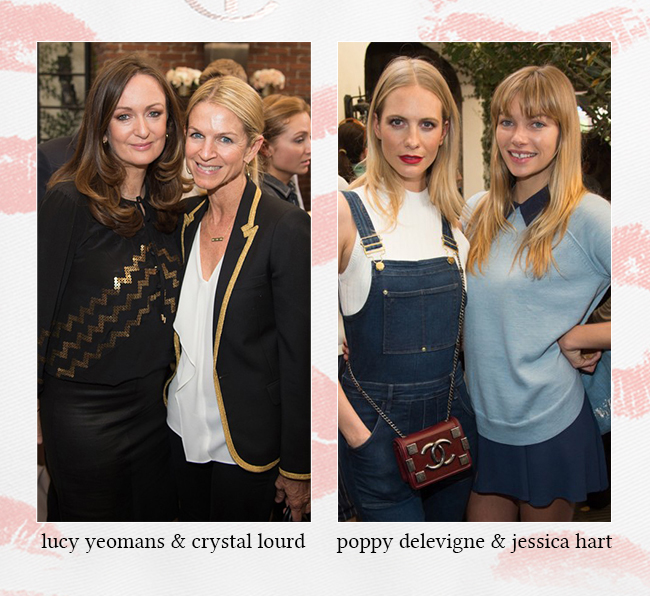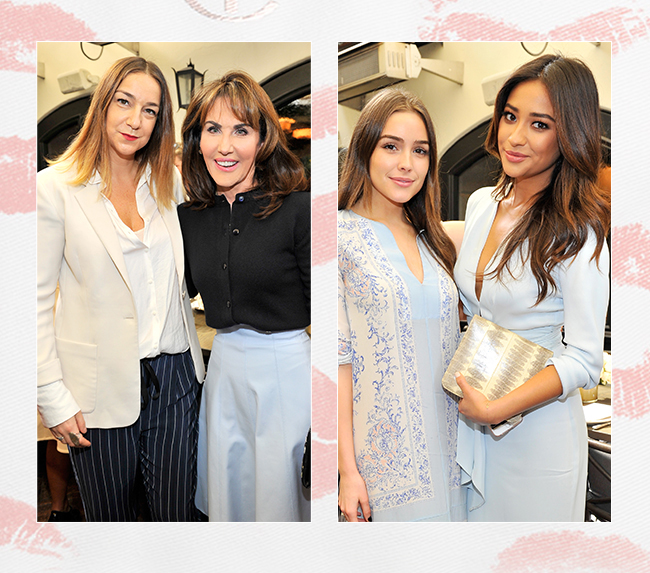 Lupe Puerta, Global Head of Personal Shopping for Net-A-Porter, was there (top left) along with the stunning Ashley Greene (bottom right) of Twilight fame. Many guests were in shades of blues, creme, the latest denim, military, and cropped top looks after spending a frigid week completely bundled up during NYFW.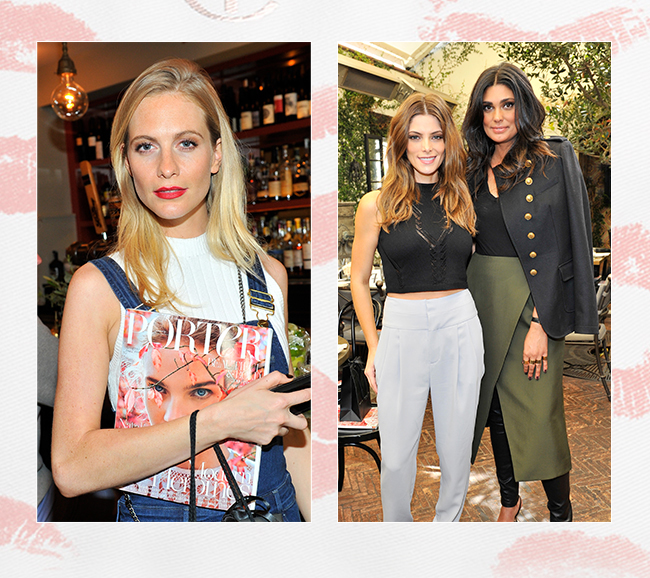 After lots of mingling we sat down to a beautiful luncheon including so many of A.O.C.'s signature tapas dishes. Then it was time for a beautiful tribute to Charlotte. Editor Lucy Yeomans shared she's known Tilbury for a decade and that every brand, stylist, makeup artist and most every actress wants to work with her. The crowd got the inside scoop about how Charlotte approached her good friend, Net-A-Porter CEO Natalie Massanet first when she was thinking about launching her line. Actually Natalie may have elegantly encouraged Charlotte quite a bit on getting this endeavor off the ground. They brainstormed and Tilbury took it from there. The result is beauty history. The first place the line launched online was Net-a-Porter. The timing was perfect and Charlotte recently created an exclusive Red Carpet Ready Set just for Net-A-Porter. After all, if the models and the celebs get to look great, why can't we?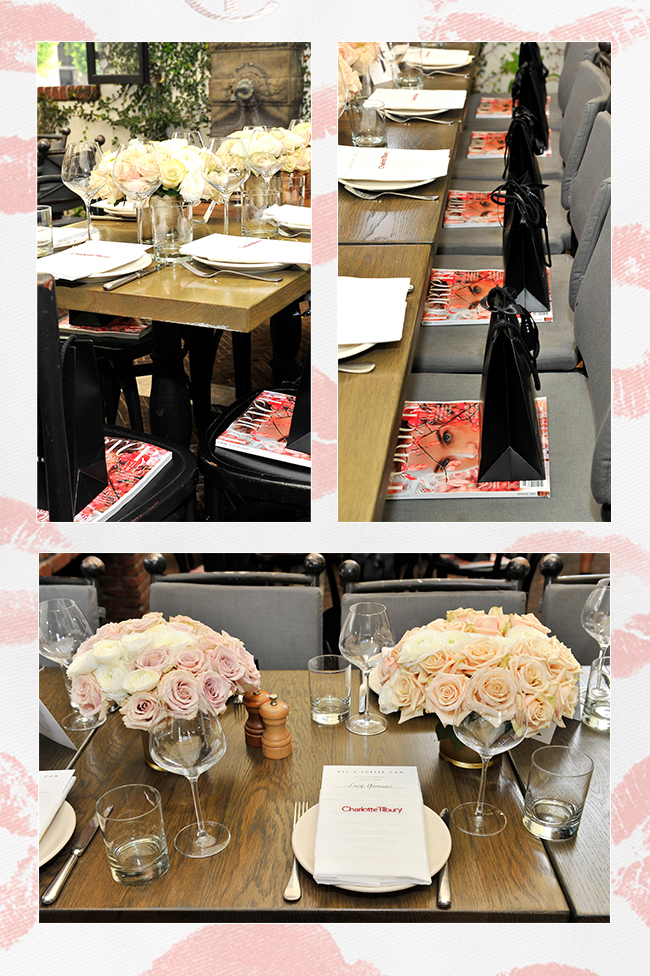 Since we all can't get Charlotte for ourselves, the next best thing is to select one of her ten looks (and that's one model transformed into ten different looks below) and you'll be just as Red Carpet Ready. Tilbury is so clever she has every look combined into an individual kiss-covered make-up bag and your ready to go including instructions.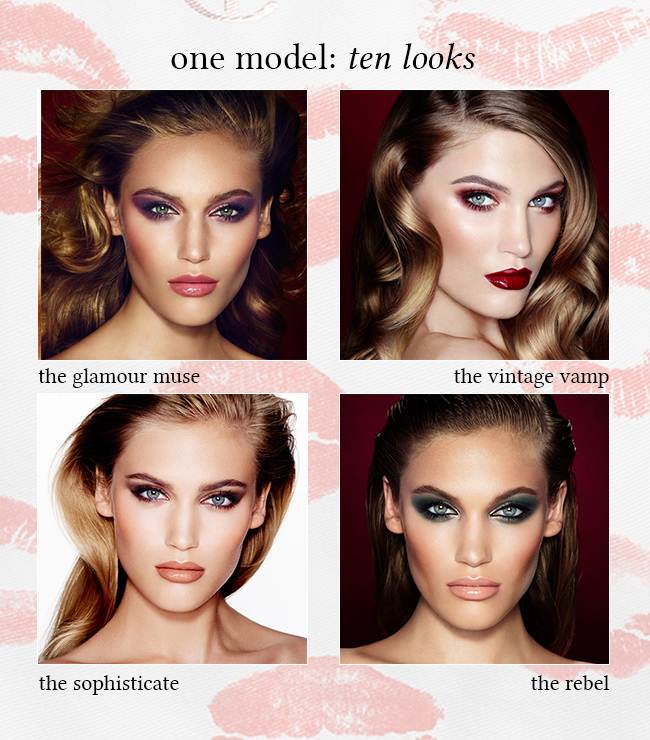 Depending on your mood select your look. Favorites are The Golden Goddess as summer approaches and The Rock Chic and The Rebel as looks from the 60's and 70's are taking off on the runway. If you like the more nude look go for The Ingénue or The Uptown Girl. For evening, get dramatic with The Bombshell.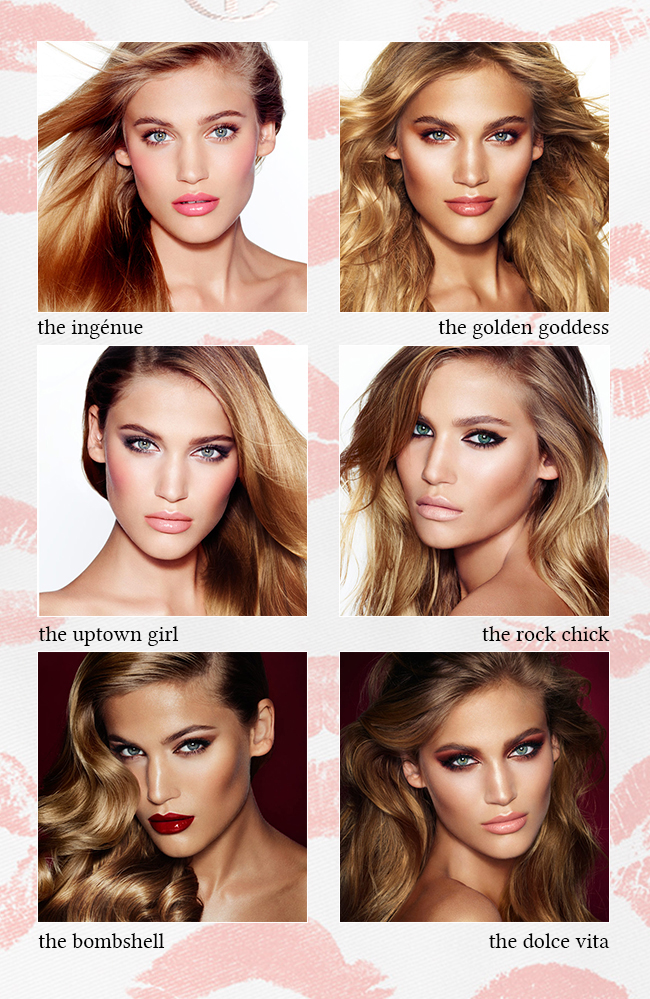 She does have two other secrets which I swear by and so does every model in the industry. Charlotte's Magic Creme and Wonder Glow. Use them both before you apply your makeup and your skin will be absolutely radiant. In fact, when I walked into the event, friends were asking me why my skin looked so great, and the answer was Charlotte's Magic Creme.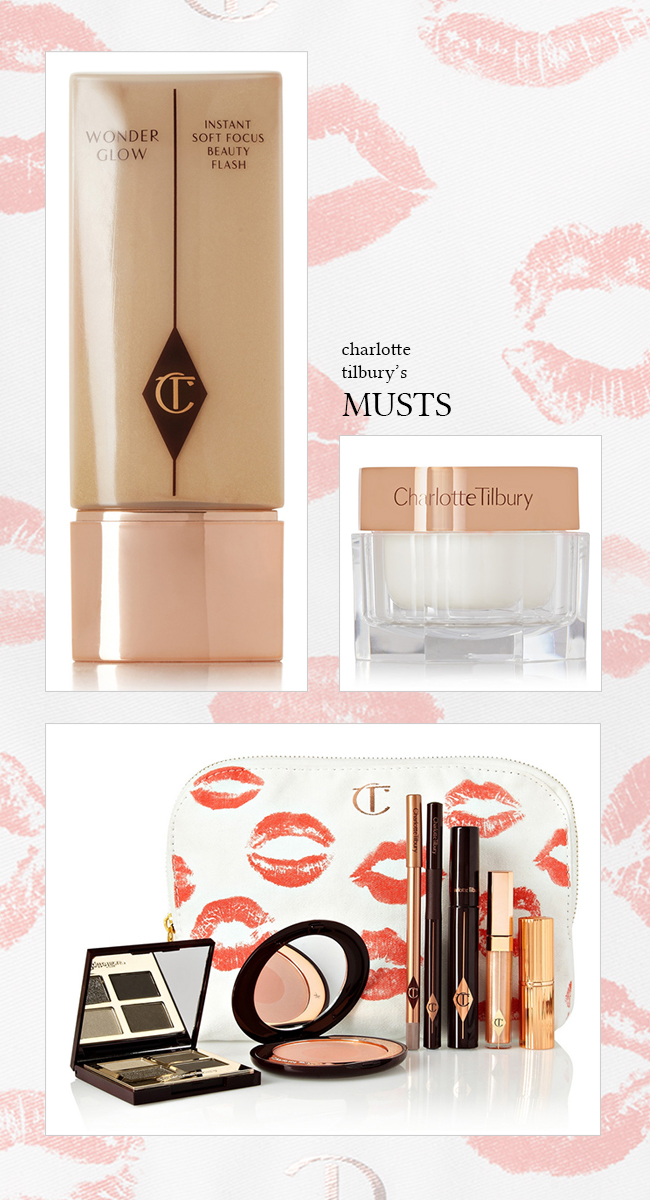 Finally, her signature sexy lipstick print cosmetic bags are so worth coveting and perfect for wedding season.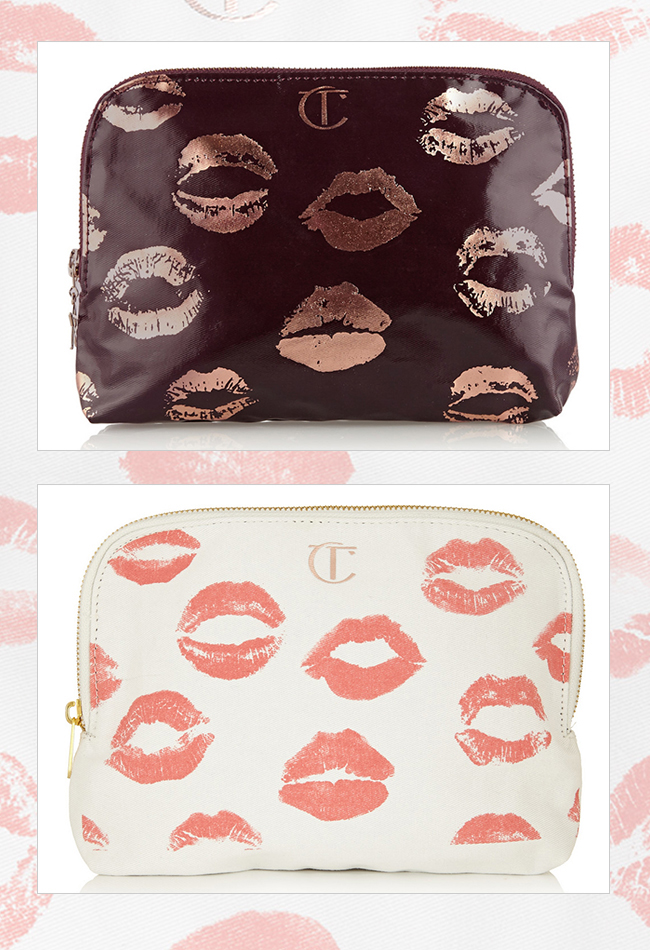 Check out the entire collection including the exclusive Red Carpet Ready Set and Deluxe Bigger Better Eye Set. You'll know why everyone is literally clamoring for Charlotte Tilbury.
Thank you Net-A-Porter. Thank You Charlotte.
With Love From Hollywood
NJ Goldston, The Brunette