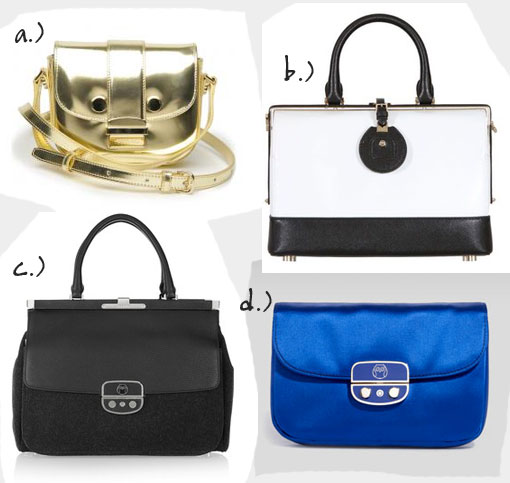 Born in Taiwan, brought up in Vancouver, Jason Wu learned pattern and sewing on dolls. At age fourteen he goes to Tokyo to study sculpture. He creates doll clothing as a freelancer by age sixteen. After finishing high-school in France he follows this stint attending the famed Parsons School of Design in New York. Not wasting anytime , Jason founds his brand by 2006. His work is inspired by Jacques Fath's and Charles James creations and the pictures by Richard Avedon. Now he is emerging as a new force in accessories and design including his Target collection. His bags all have a signature, subtle owl theme. Here are four of my favorites. Tell us if you give a hoot. I'm in love with the black and white Melodie bag. In love with his tote that does everything a tote needs to do including great style with the perfect clasp. We're on the search for the new "It" bag. He's on our list.
a.) Jason Wu Mini Miss Wu Bag $1,395
Metallic calfskin shoulder bag with top flap, belted-clasp closure.

Adjustable shoulder strap.

Fully lined interior with single zip pocket.

Dimensions: 5.5″H x 7″W x 2″D. 24″ drop.
b.) Jason Wu White and Black Leather Melodie Handbag $2,505
With his signature but subtle owl them and clasp. A hoot.
The white combined with the black for winter is so fresh and I can seeing it working all year round!
One 11.5″ long black leather handle; one 48-52″ long adjustable removable black leather handle. One zipped pocket inside.
Lined with grosgrain.
Dimensions: 7.75″H x 10.75″W x 5″D.
c.) Jason Wu Miss Wu Large Tote $2,495

Charcoal felt, black textured-leather top handles and front flap, internal zip-fastening and pouch pockets.
Owl-detailed push lock fastening at front pocket, feet, silver hardware, fully lined.
Dimensions: 11″H x 13″W x 5″D, 6″ drop.
d.) Jason Wu Satin Miss Wu Clutch, Royal Blue $680
Perennial ladylike style, plus newfound decadence.

Royal blue silk satin with tonal topstitching and rose gold-toned hardware.

Miss Wu owl on push-lock closure on contoured flap top.

Dimensions: 5″H x 7 .75″W x 1.25″D.
– NJ, The Brunette