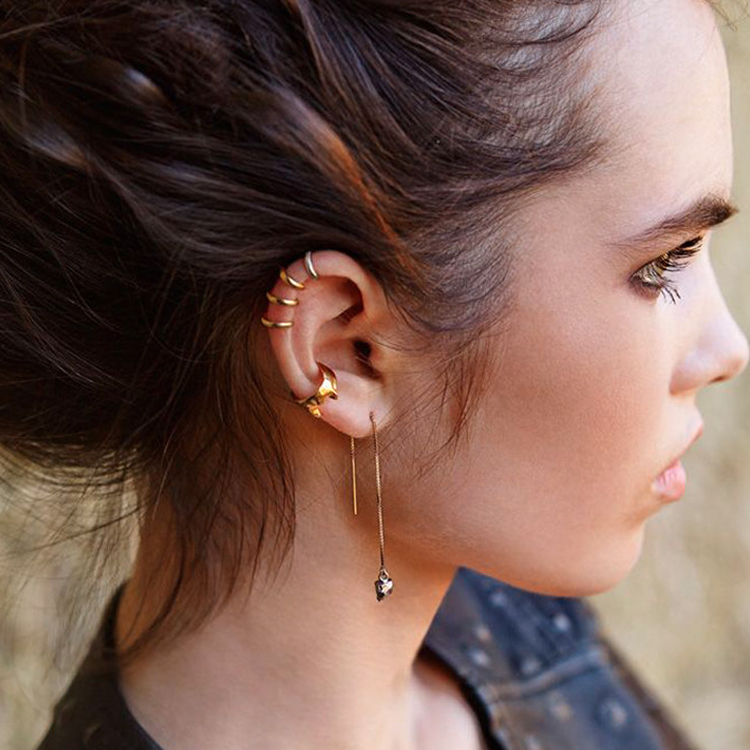 Since a young age, I've been enamored with piercings. If you're wondering, yes, I did the whole safety pin through the ear, and my best-friend is still responsible for the first three piercings I have on each ear. I think it's the code to surviving puberty. You know, break into your moms sewing kit, grab an ice cube for numbing and an apple for good measure and voila, you're cool. To be honest, I was always too afraid to get a tattoo and, and felt that a piercing was the non-permanent way to rebel.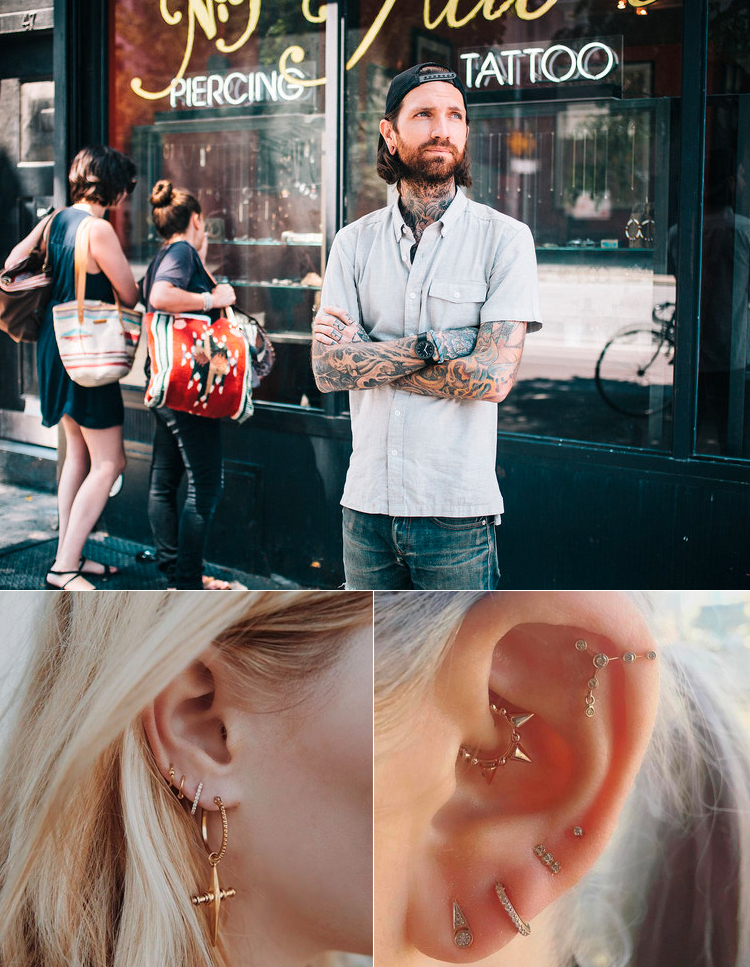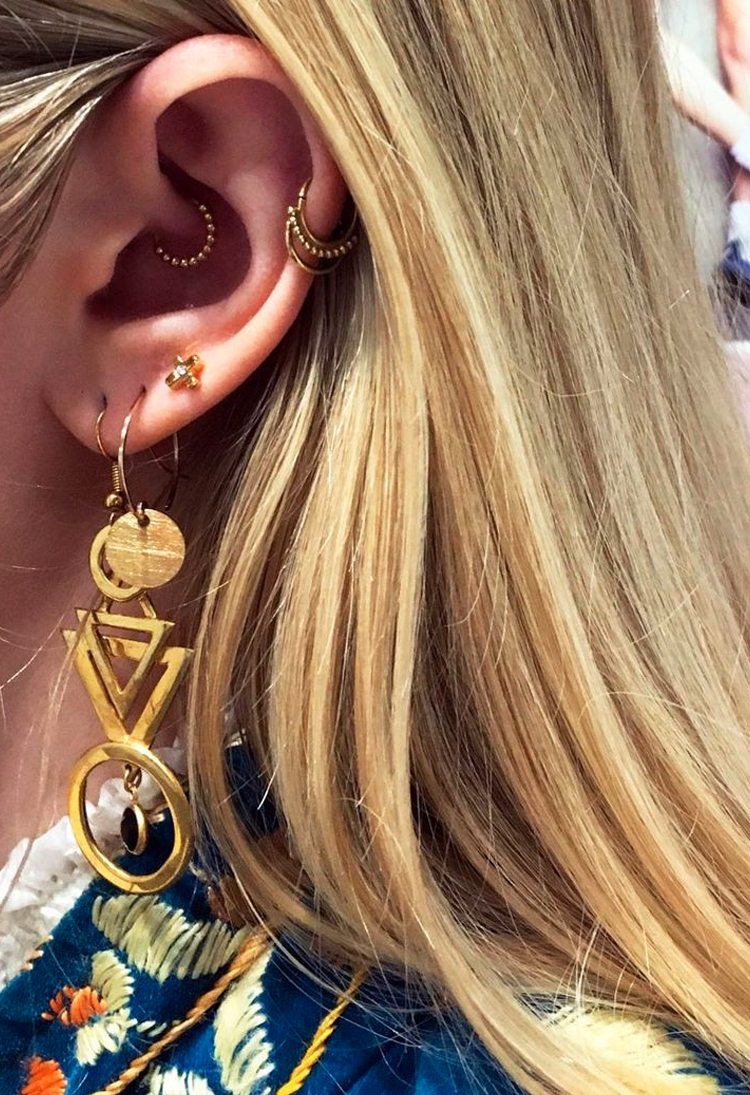 When most people think of piercings, I'd assume the punk rock era immediately comes to mind. While we still have to tip our hats to punk, for the introduction of safety pins, but it was J.Colby Smith who recently brought this trend to the high fashion elite. In the last few years, he began showcasing his work as a delicate adornment rather than a bold statement. That was the moment every model/blogger/editor came running. It's become a bit of a cult really. When you pass an ear with an arrangement of delicate gold hoops, diamond studs, and vintage gemstones, you know it's either recently been decorated by J.Colby, or they are otherwise, in the "know."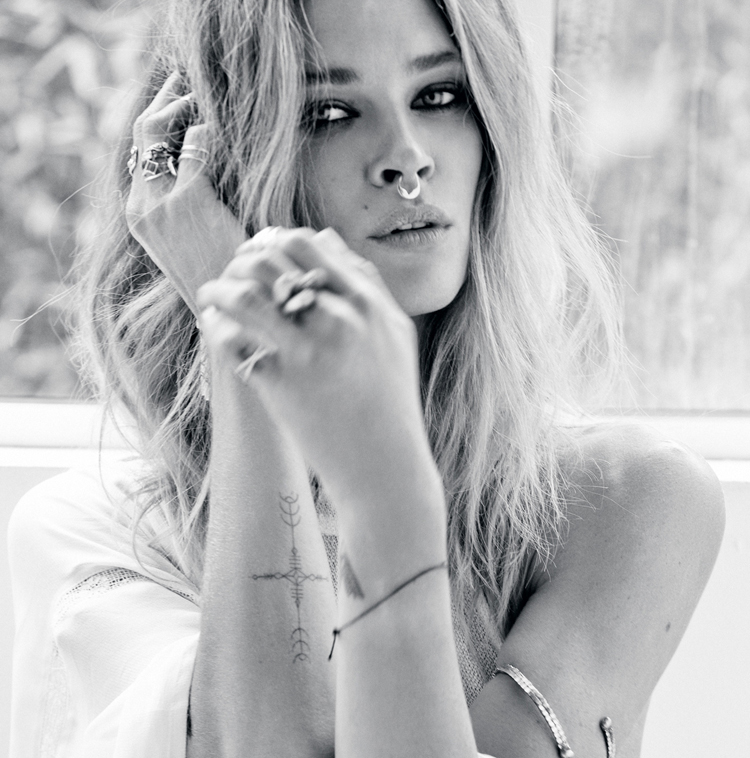 Colby, who started piercing in 2000 told Fashionista Online, "For years and years I would look at fashion magazines and see videos of runway shows. Fashion always seemed a bit edgy and wild and crazy to me but it for one reason or another piercings were stricken from the magazines and the runway," he said. "So for me, thinking that fashion was edgy and pushing the limits, I didn't understand why piercings weren't part of that. Every single girl has their ears pierced. I didn't see the difference between that an adding a piercing up higher or in a different spot. So I just went after it. I saw a void in the industry and I just wanted to fill it."
In the world of lobes, septums, rooks, and conchs J.Colby is just as famous as his clientele. Having pierced the likes of Zoe Kravits, Emma Stone, Julianne Moore, Rosie Huntington-Whiteley, Erin Wasson, and countless others, I'd say he's undoubtedly the industries go-to. If you'd like to join the delicately adorned ear club, make sure you keep up to date with his calendar, and book in advance next time he's in your city.
I already can't wait to go back!
xo,
Jadan Huter