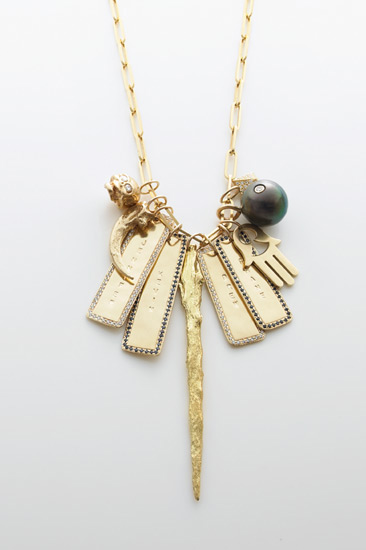 You know we are addicted to arm candy and here's a new favorite . Jennifer Fisher. She's a native of Santa Barbara, California, began her career in fashion, working in both Los Angeles and New York as a wardrobe stylist for numerous feature films, television shows, and commercials. After 10 years of dressing some of the biggest names in Hollywood she was inspired to start her own line after the birth of her son Shane.
Her design philosophy is simple. "I wanted to create jewelry that signified my own personal style, incorporated all things I loved, and could be worn all the time." Maybe that's why her work is so much in demand. Jennifer's jewelry has been seen on many celebrity moms such as Sarah Jessica Parker, Nicole Kidman, Naomi Watts, Liv Tyler, Uma Thurman, and Gwyneth Paltrow. Young celebrities, unmarried women and even men are all fans of the line especially the pendants which are representative of the commemorative moments they love in their life.
Jennifer Fisher Jewelry has been worn in many feature films and hit television shows such as, Sex and the City the Movie, Entourage, The Hills, The L Word, Weeds, Ugly Betty, and Gossip Girl. So if you want a little of that Hollywood glamour that's perfect for day and evening, she's your girl. Vertebrae Duff $1,250 available at Barneys New York or Jennifer Fisher Jewelry Online.
– Astrid, Style & Beauty Expert & NJ, The Brunette