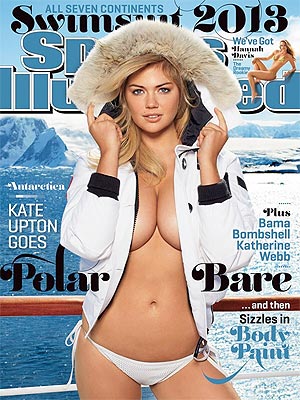 photo courtesy of LeTarte
We've been singing their praises and featuring their fabulous swimwear for more than a year and now the rest of the world can see why. LeTarte Swimwear has landed on the cover of the 2013 Sports Illustrated Swimsuit Edition. Their "white haute" sporty mesh tie side bikini is worn by the beautiful Kate Upton, on location, in chilly Antarctica with a hooded parka creating the perfect "Polar Bare" look.

If somehow you've missed the back story, the iconic Maui-based label – created by sisters Lisa LeTarte Cabrinha and Michele LeTarte Ross – debuted their elite swimwear designs, coordinating cover-ups and sportswear in 2000 . Since then, the LeTarte label has become internationally known for their very Hawaiian authenticity, exclusivity, signature blend of a bohemian island essence, trademarked prints, as well as their suits with intricate adornments and lavish detail. Because Designer Lisa LeTarte Cabrinha, lives in Maui, she really does know how to design and cut a suit for the pool or the beach.
If you want your own cover style for spring break or that warm weather winter vacation, we have a feeling you might want grab your favorite look before it's gone. The white sporty mesh triangle/tie side haute suit Kate Upton is modeling will be available for pre-order soon at LeTarte Swimwear.
Congratulations ladies on making your 12th SI Swimsuit Edition and your second cover. Carolyn Murphy in 2005 and now Kate Upton. Quite an accomplishment.

xo
NJ, The Brunette