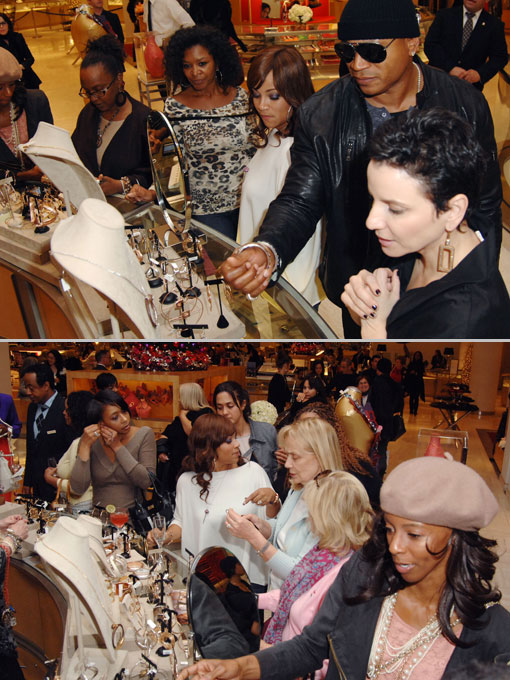 A week ago Saturday, the main floor of Neiman Marcus in Beverly Hills was jammed with excited holiday shoppers waiting to meet Simone I. Smith and attend her one one-day trunk show showcasing her aptly named Simone I. Smith Jewelry Line. Everyone from Mary J. Blige, Simone's devoted husband LL Cool J, Tatiana Ali, Traci Johnsson and Dina Spinale, were there to support her and mingle with the massive crowd.
Simone, just like the team of The Blonde & The Brunette and all our readers, is a self-proclaimed "accessory queen" who's confessed love for earrings (and this usually dictates her outfits) works perfectly with her out-of-box fashion sensibility. With followers from Demi Lovato, Tyra Banks, Jennifer Hudson, Simone has mastered the art of blending high-end pieces with classics, everyday looks and emphatically states she is a "hoop" girl.
Her target customer is us! "She's fashionable, career-minded and comfortable with who she is and knows how to rock her accessorize." For the holidays, the lollipop collection is my absolute favorite as a gift and a personal treat. In yummy colors, for every month of the year, so we can have a world with more birthdays (and read on to find out what that means), they are available in enamel or crystal. The best part is Simone teamed up with the American Cancer Society to introduce "A Sweet Touch of Hope" program to raise funds and awareness to help save lives.
The inspiration for the collection started in 2004, when Simone was diagnosed with stage III chondorosarcoma – a rare form of cancer. Her treatment required an invasive surgery that altered the appearance of her lollipop tattoo. "It literally looks like someone took a bite out of it," says Simone. Inspired by her experience, the lollipop now represents Simone's journey to getting well and staying well, and has sparked a desire to help other cancer survivors. 10% of the lollipop purchase price is contributed to the American Cancer Society.
In memory of my mother, who passed away from breast cancer at an early age, I bought several lollipops as holiday gifts. You can too with the bejeweled enamel version priced at $100 a "pop" and the crystal collection lollipops priced at $300 per pop. Click here to learn more, buy a delicious lollipop online or find a retailer.
xo
– NJ, The Brunette