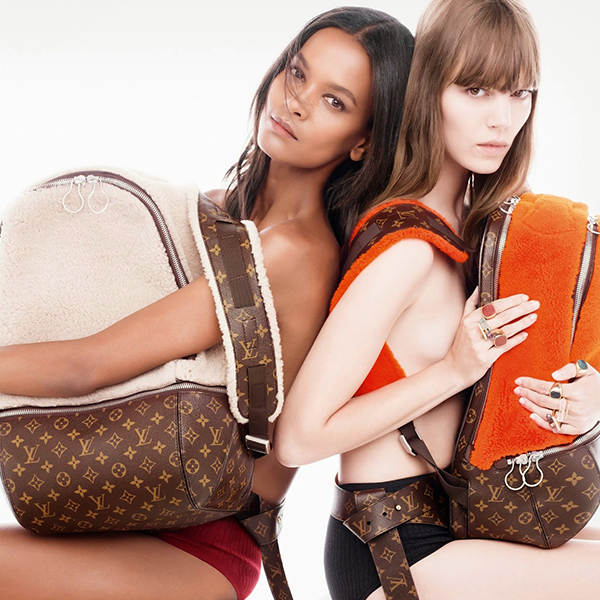 There was a teaser campaign in the June Harper's Bazaar and now Bazaar has unveiled a full editorial celebrating Louis Vutton's iconic monogram in a fantastic shoot by Karl Lagerfeld. It features famed designers Christian Louboutin, Cindy Sherman, Frank Gehry, Karl Lagerfeld, Marc Newson, and Rei Kawakubo. Each of the six iconoclasts has reinterpreted the intertwining LV monogram in inventive new ways that only they could re-imagine.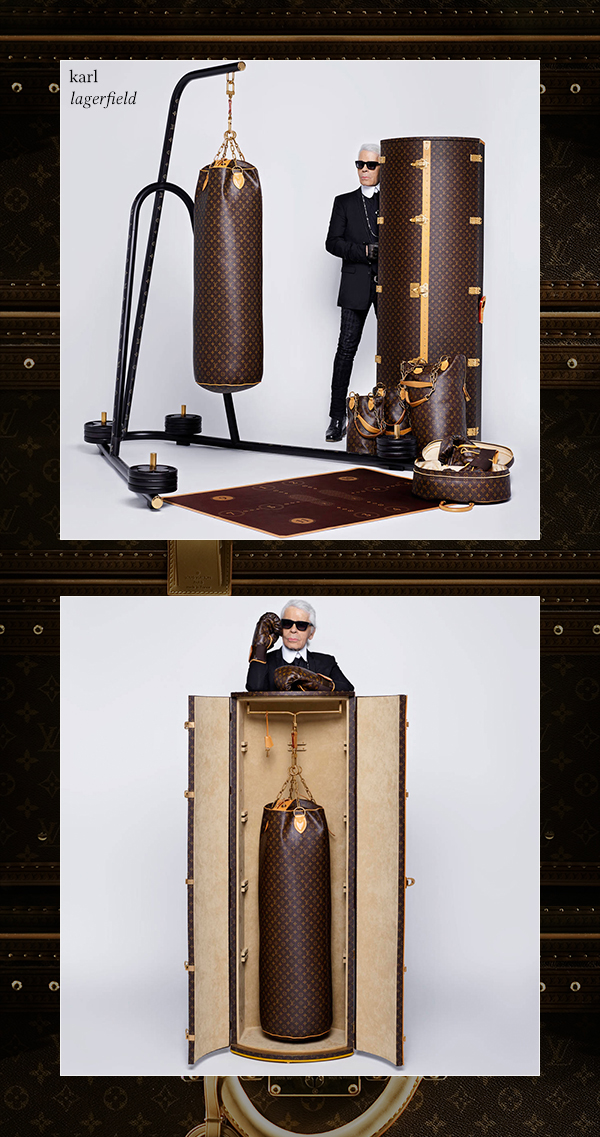 Karl Lagerfeld's take was as clever as float like a butterfly and sting like a bee (which is Mohammed Ali's famous quote in case you don't know) with an LV Punching Bag, Punching Trunk, and Suitcase.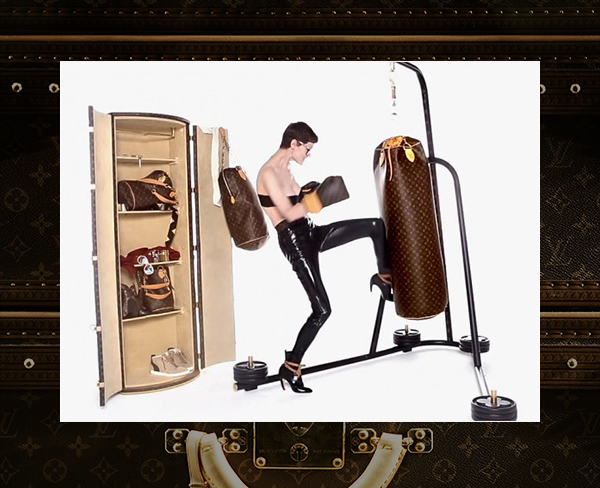 And yes, that's model Stella Tenant giving the set a stylish workout in FW15 LV gear along with LV Punching Gloves which are also part of the set.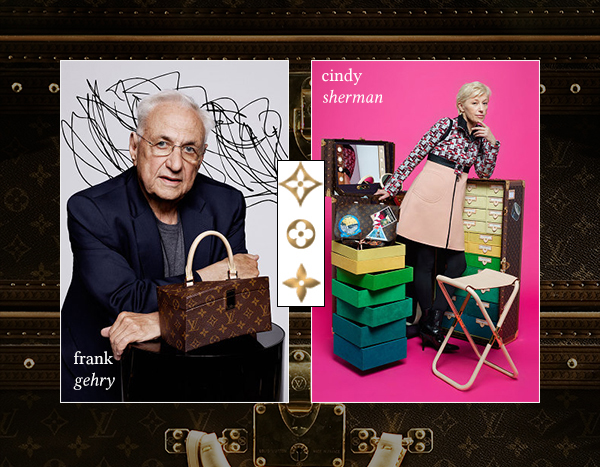 Architect Frank Gehry played with his signature curves and created a "twisted box." Not to be outdone, Cindy Sherman concocted Studio In A Trunk with a fabulous stickered messenger bag and removable Vanity Case. It's only sold as a set. Rats!
Louis Vuitton is all about travel. That was the jumping off point for two more of the designer six-pack.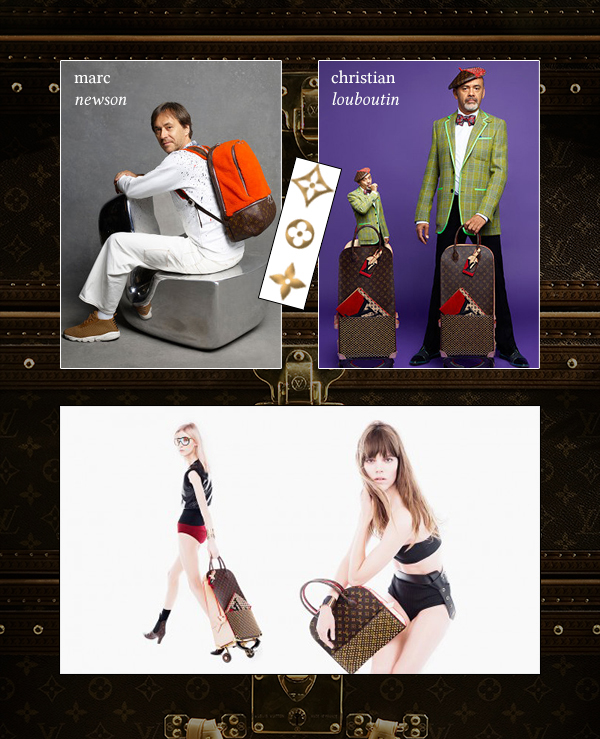 Marc Newsom created a totally modern take on the backpack (which is now so back in style) with fleece trim in orange, navy and the almost impossible to get cream. Perfect for the guy or gal on the go. Not to be outdone, everyone's favorite, Christian Louboutin, takes his red sole and creates two travel mates that have my heart pounding. The Shopping Trolley (and who doesn't need one of these for tooling around Rodeo Drive or Gelson's in booties and briefs?) and Tote.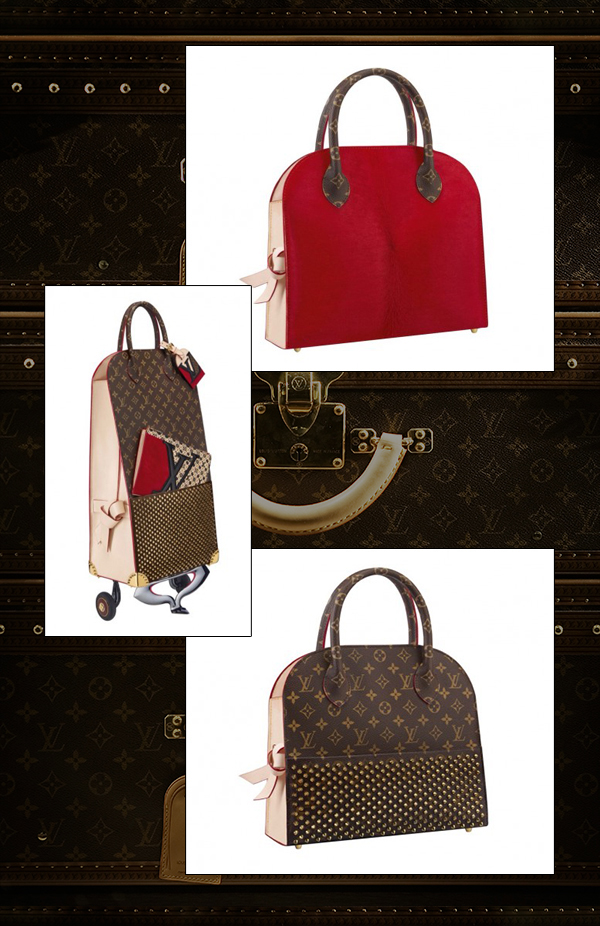 My favorite touches are the LV Louboutin envelope "clutch" and luggage tag with his signature red treatment.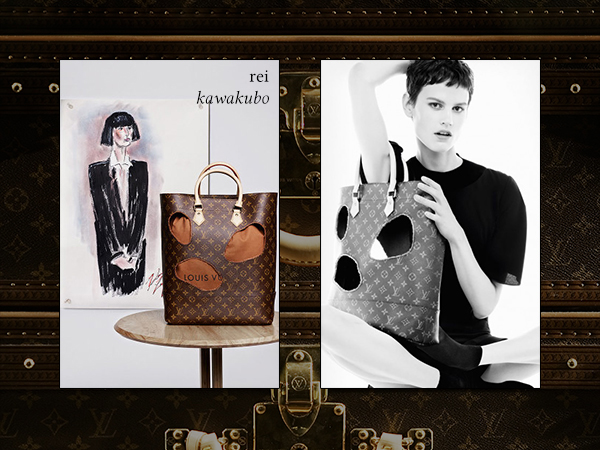 Not to be outdone, Rei Kawakubo zeroed in on the iconic LV tote and went for a 'no holes barred' approach. A classic is reborn!
To grab one of these beauties, call Louis Vuitton at 866-VUITTON, or email me @ nj@theblondeandthebrunette.com. I'll put you in touch with my go-to LV contact who can secure one of these limited edition on-trend pieces for your next travel escapade. There are only maybe a 100 worldwide in each style. Get busy!
With Love From LA
NJ Goldston, The Brunette