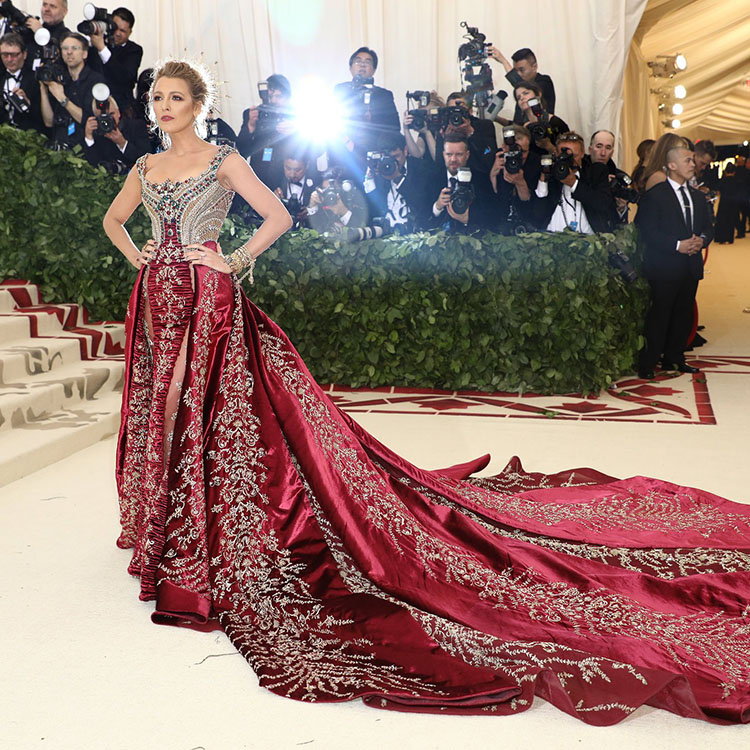 Although it's my first time in eight years not attending the Met Gala, that won't stop me from opining from the sidelines. Still the biggest fashion night of the year, A-List celebs and designers have a love-hate relationship with the Gala, because as the New York Post aptly put it, "not everyone is having a ball". From all appearances it looked like a spectacular evening. This is one of the most fascinating themes in years and the far ranging and quite magnificent interpretations made this a spectacular Red Carpet. Rihanna in full papal regalia including a dazzling mitre, Amal Clooney in English designer Richard Quinn, the first recipient of Her Majesty's British Design Award, and Donatella Versace in Versace (of course) co-hosted last night's "Heavenly Bodies: Fashion and the Catholic Imagination" gala — which even received the official stamp of the Vatican.
The fashion didn't disappoint. It was a stunning display of opulent eye-candy from designers including Dolce & Gabbana, Versace, Chanel, and Valentino all of whom have a long history of using religious undertones in their designs. It was all there on the Red Carpet from the monastic to the glory of heavenly embellished gowns and crowns highlighting "the enduring influence of religion and liturgical vestments on fashion."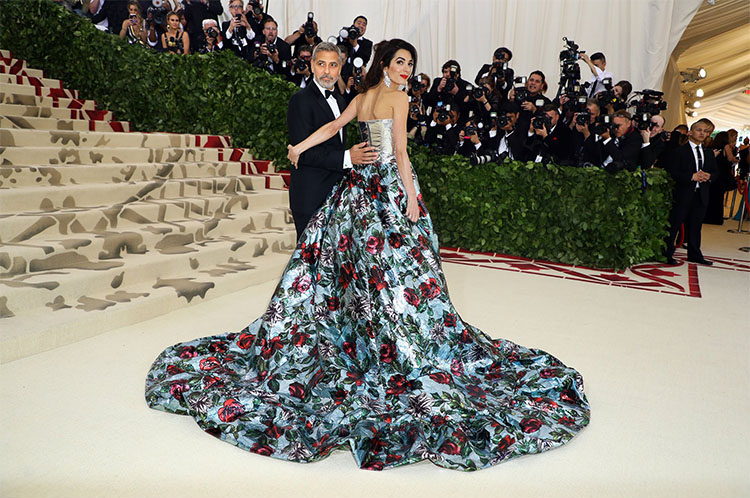 Don't be fooled. This is also an event about designers showcasing their upcoming season to heighten both brand awareness and consumer engagement. So don't be surprised that there is an uproar that Kendall Jenner was in a "simple" Off White jumpsuit. She's being paid a fortune to keep the brand front and center in the consumer's mind's eye. After all, it's basically the most viewed runway show in the world or the Oscars of the fashion world. The net takeaway is accessories transformed the Red Carpet and we all may be wearing incredible religious-themed, stacked paraphernalia and jewels from crucifixes to crowns, tiaras, rings, earrings and bracelets for dressy occasions in the months ahead (with a second inspo from Meghan Markel on May 17th). There will also be a new found focus on uber luxe fabrics, embellishment, and a trend to dressing up. Let me quickly break out the best dressed looks of the evening and a few quick fashion takeaways because just like in the Devil Wears Prada, this is all trickling down into your wardrobe one way or another by next Fall.
Best Dressed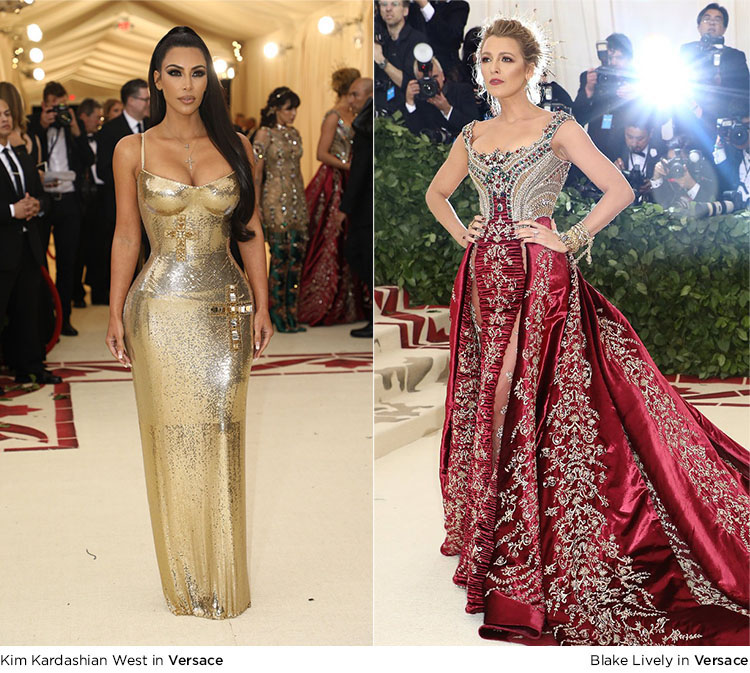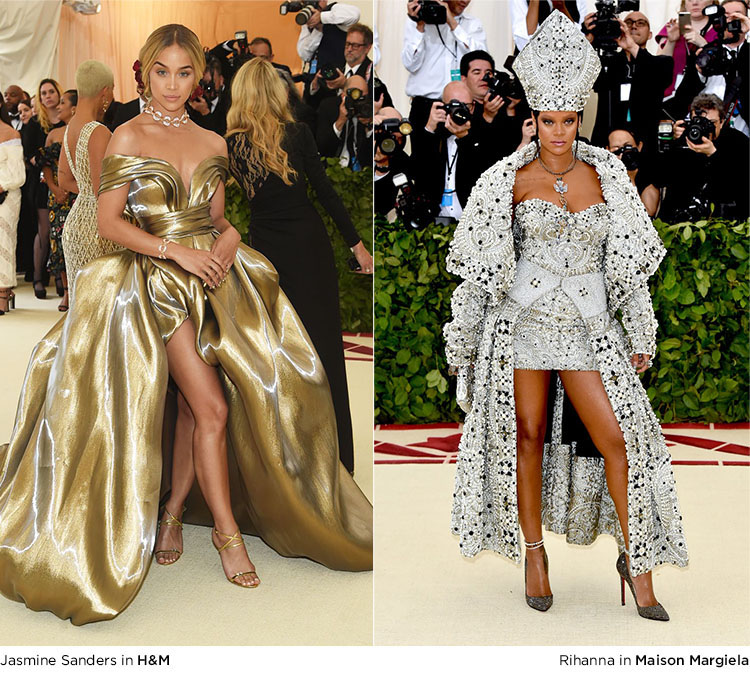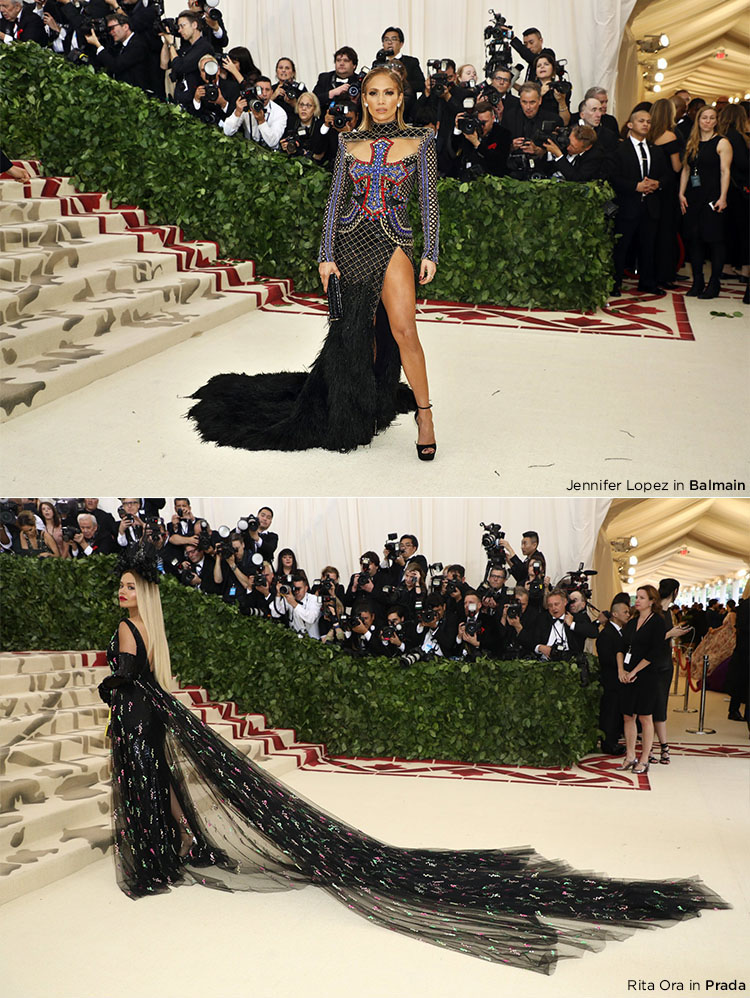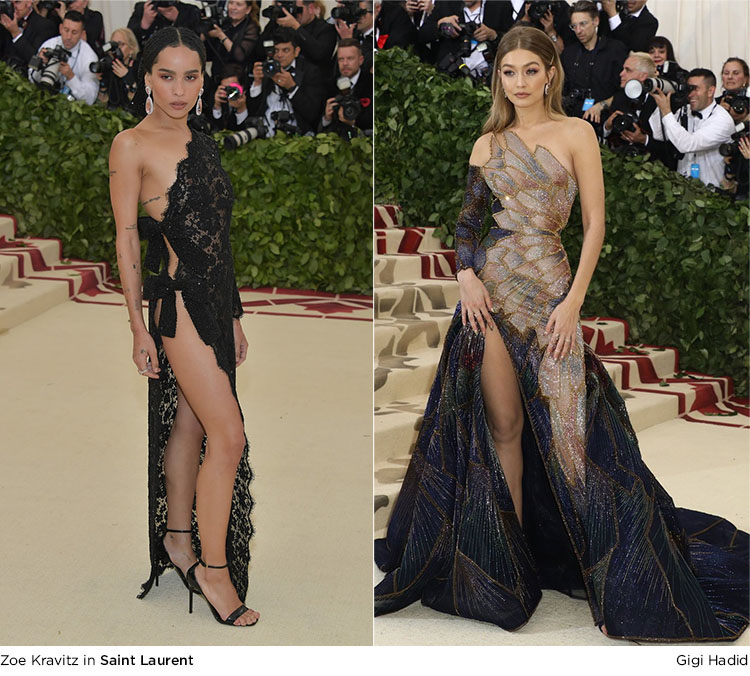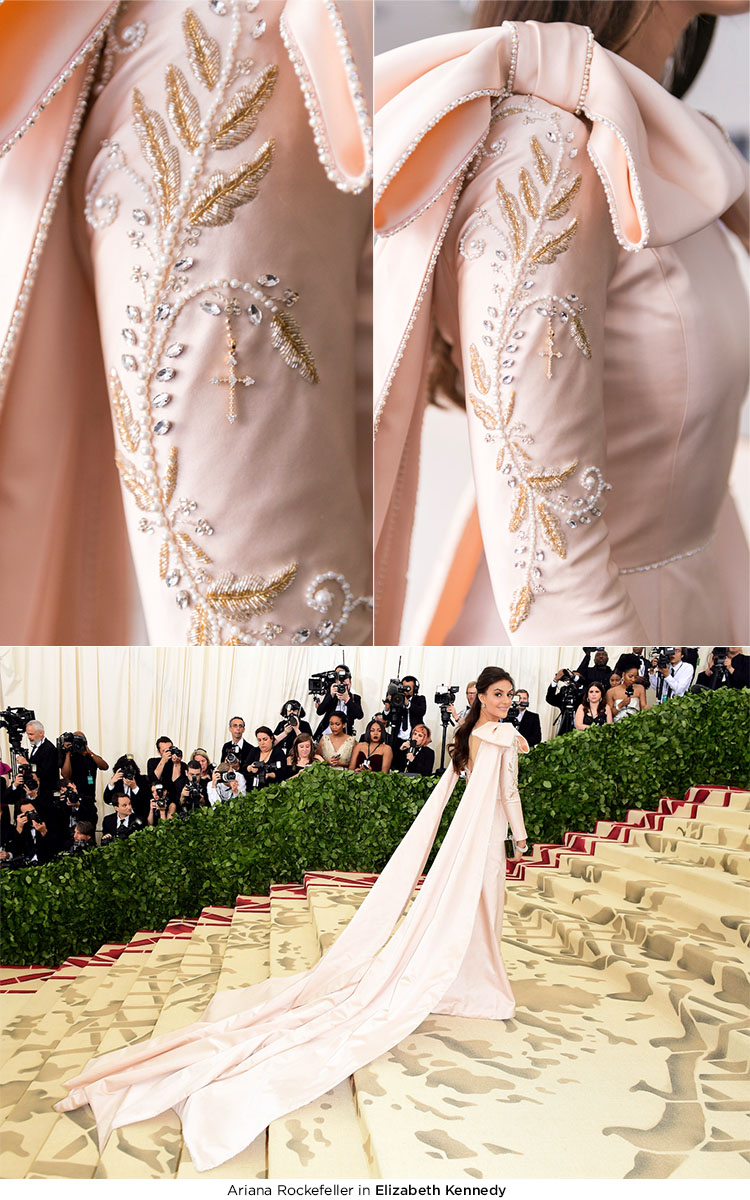 This gaggle of beauties with major assists from entire design and beauty teams delivered drama and elegance along with a major dose of sex appeal, but each beauty, in their own innate way, stayed true to their personal signature style. Of all the looks, Blake Lively in Versace, Zoe Kravitz in Saint Laurent, and J Lo's Balmain may have been my favorite tying with all the Louis Vuitton bespoke gowns and Ariana Rockefeller in Elizabeth Kennedy. My only regret each year is that so few photos surface of other guests who are also in the most stunning attire as everyone makes a spectacular effort.
Best Interpretation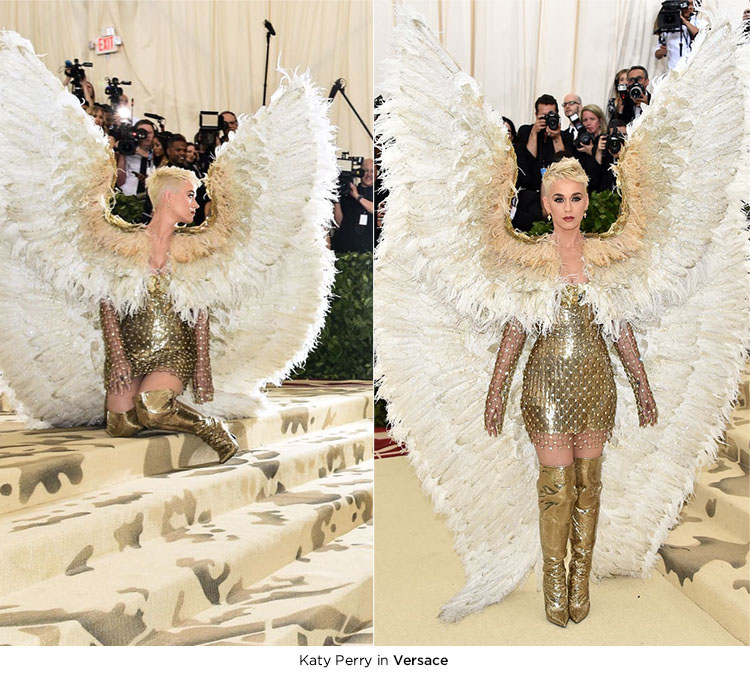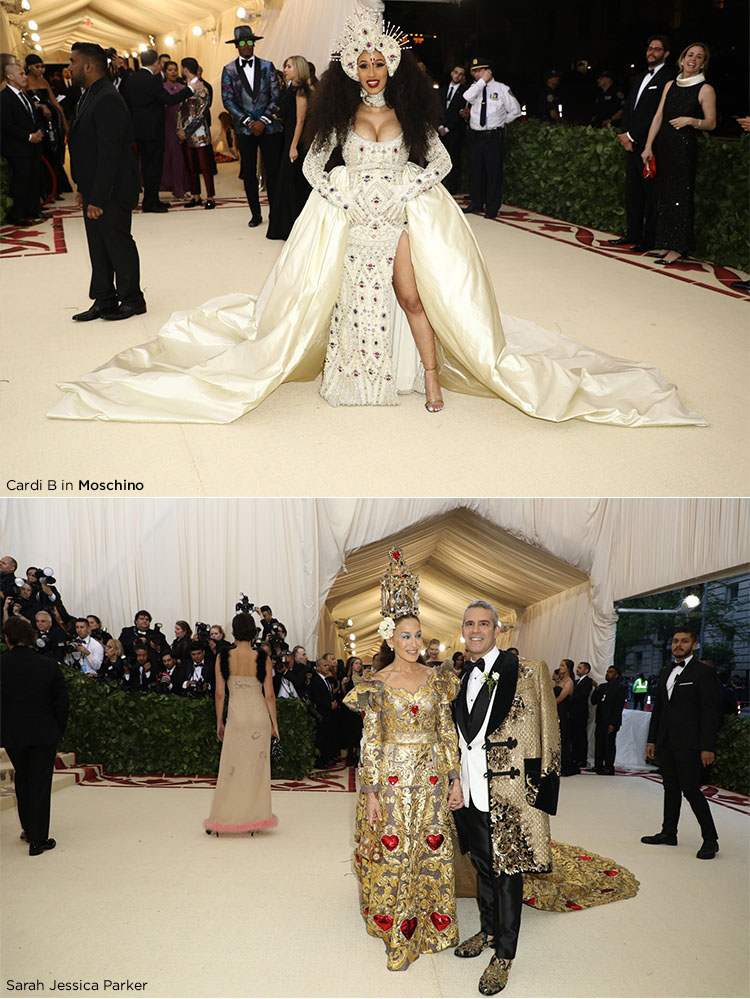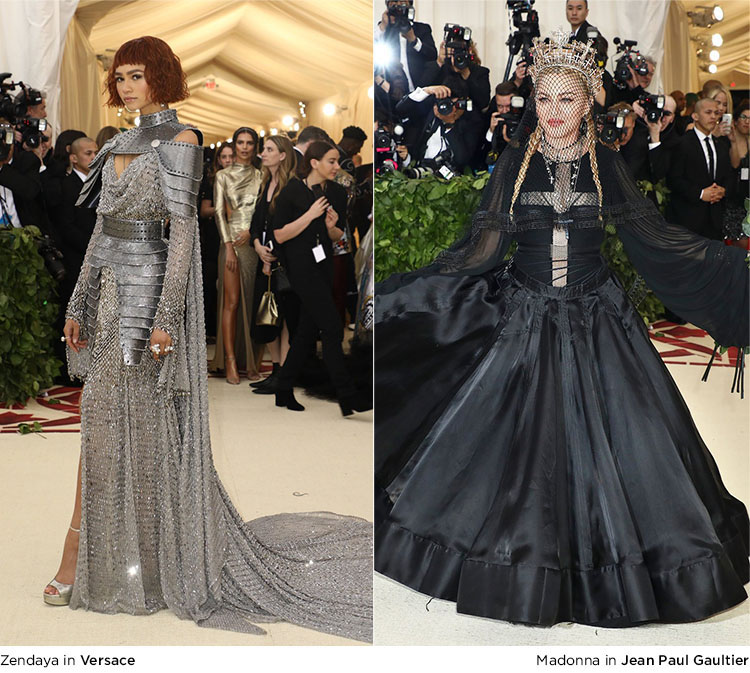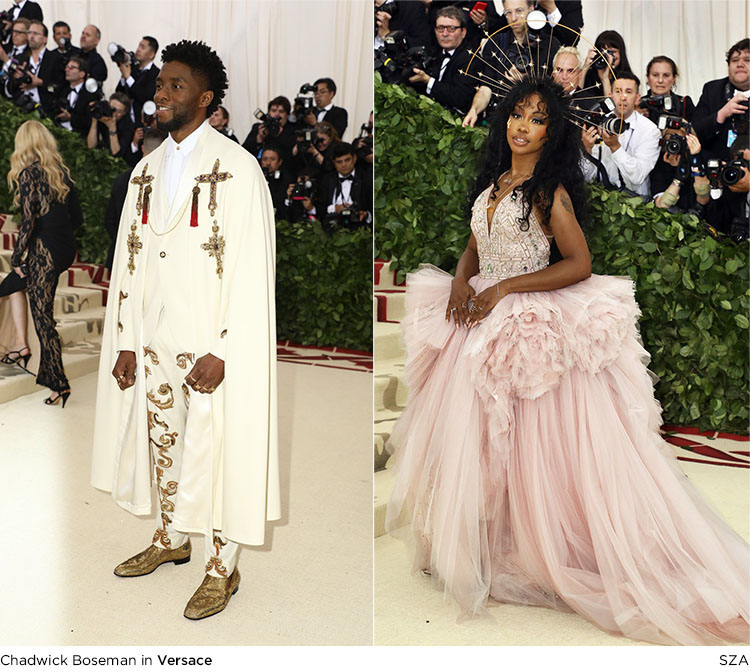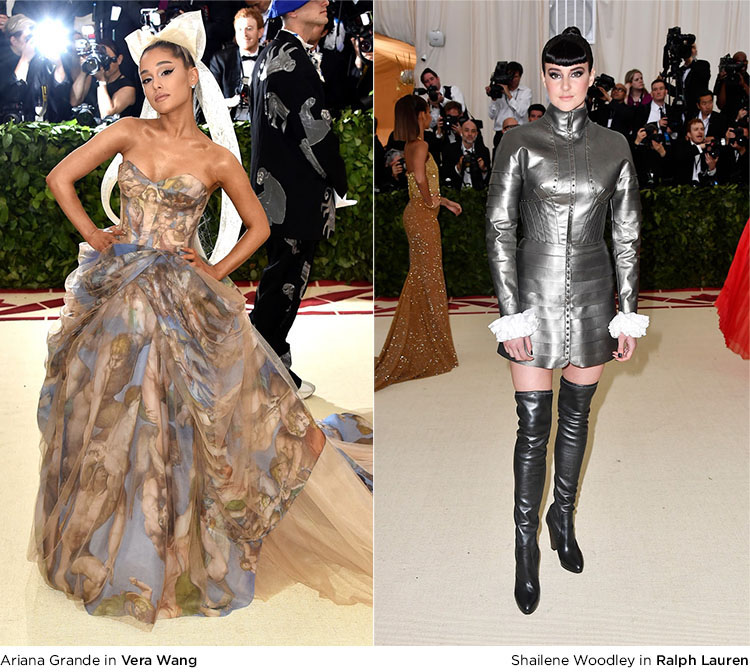 There are always looks that pushed the envelope and theme. Rihanna channeled the Pope, Katy Perry an archangel with her heavenly wings, Lili Collins a monk, and Sarah Jessica Parker had what appeared to be an incredible nativity scene integrated into an almost Papal crown with Ariana Grande via Vera Wang showcasing a scene from the Sistine Chapel — representing opposite ends of the spectrum from the almost celestial to the monastic. Loved it.
Best Couples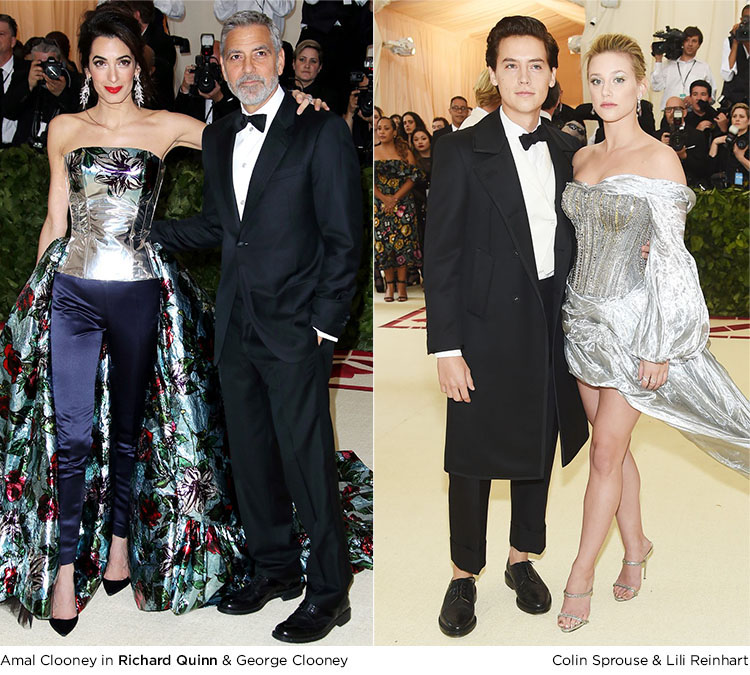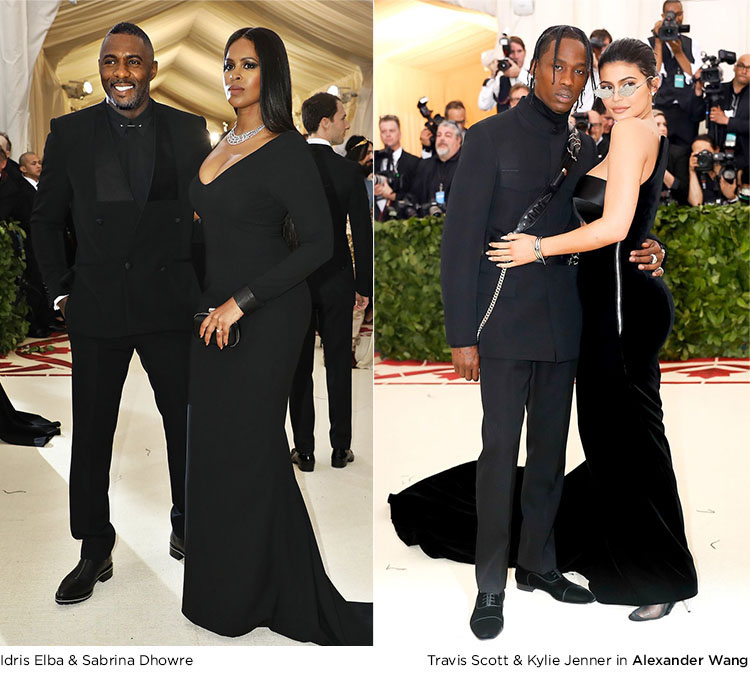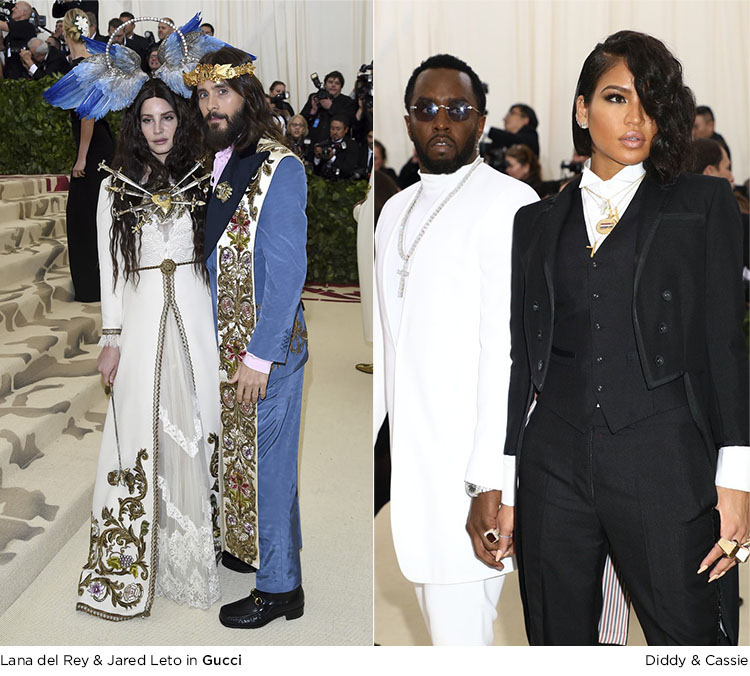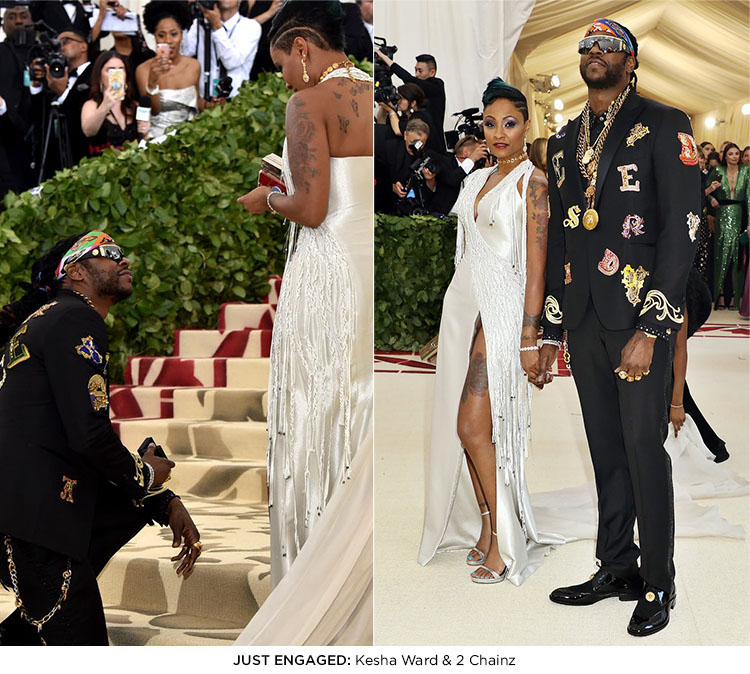 There seemed to be more couples that stood out than in previous years with 2 Chains even getting down on bended knee and proposing to Nakesha Ward, the mother of his three children. Maybe now we have seen it all. Congratulations to the happy couple.
What You'll Be Wearing Next Fall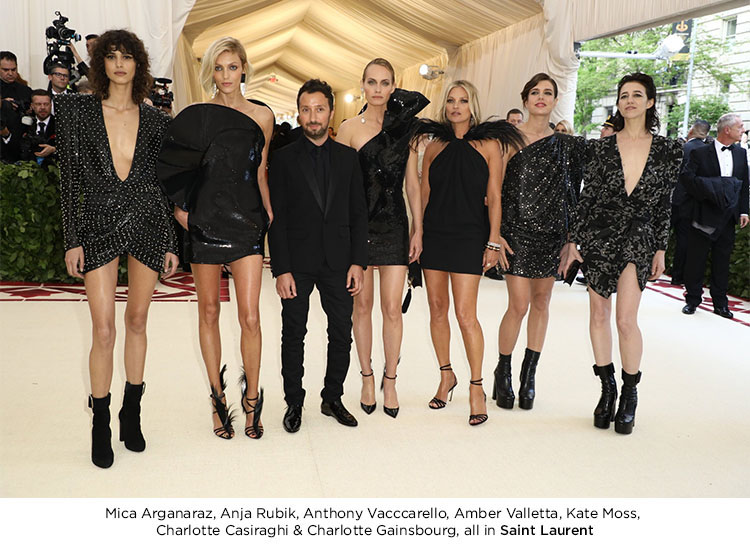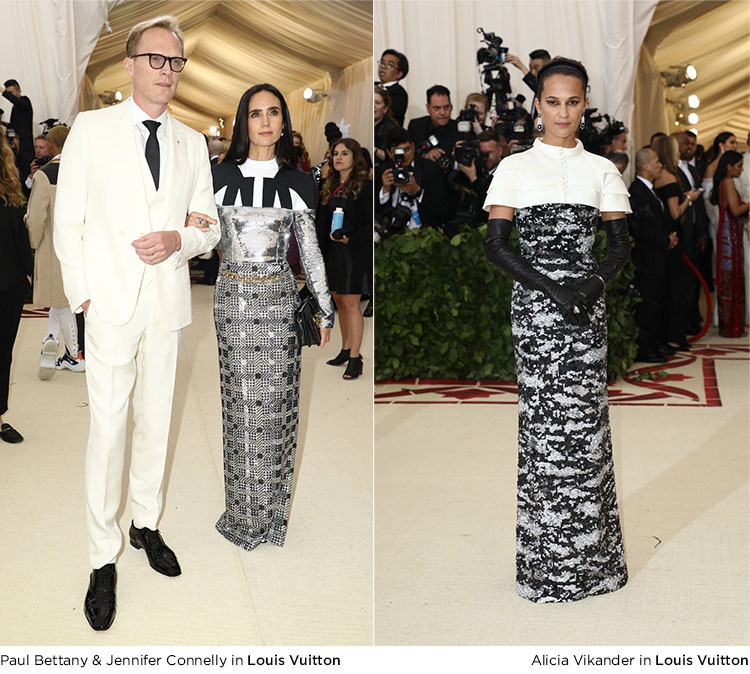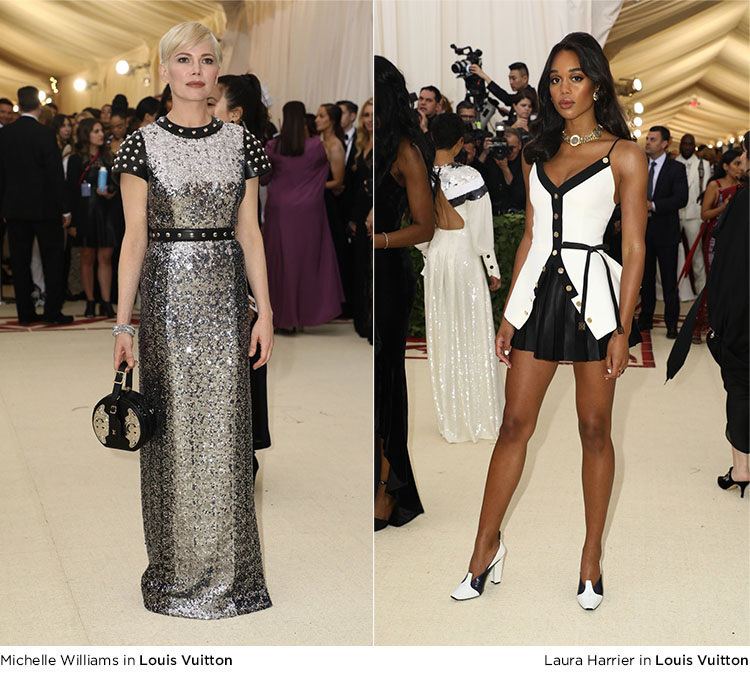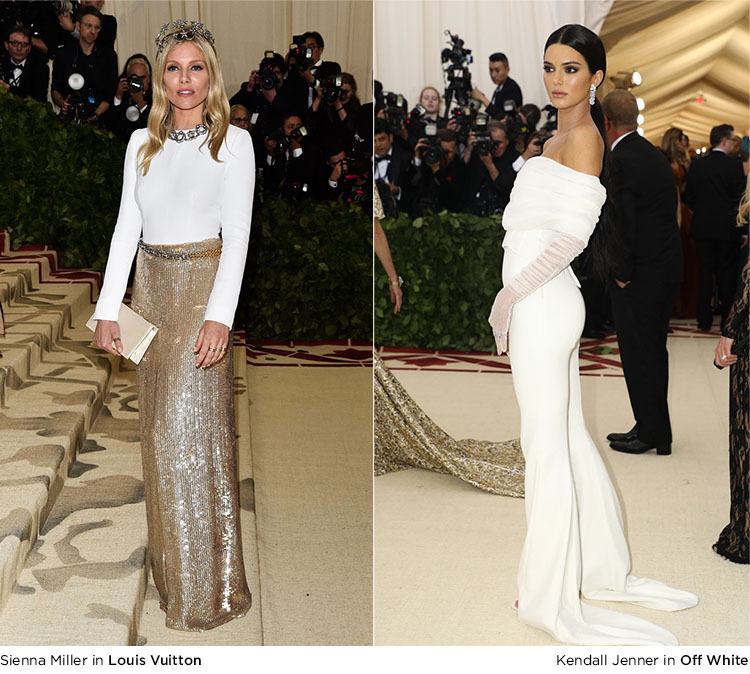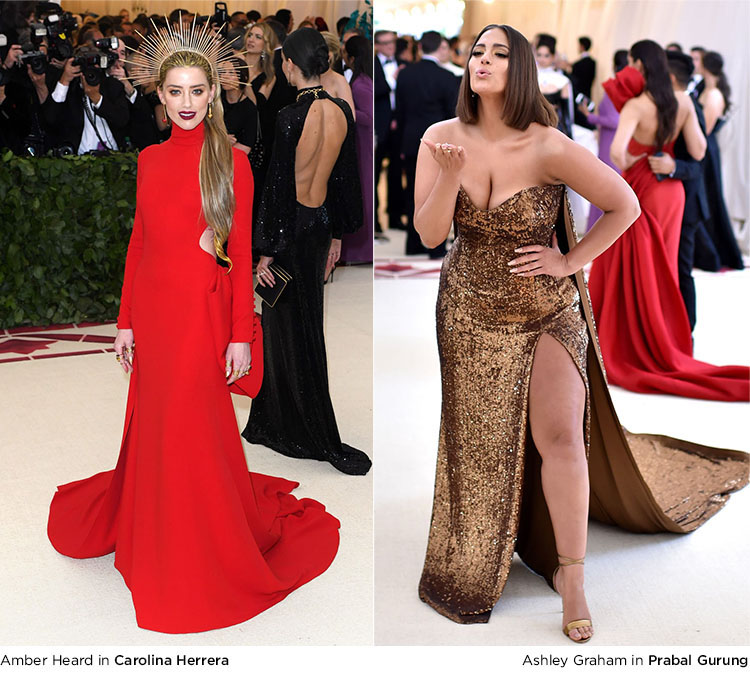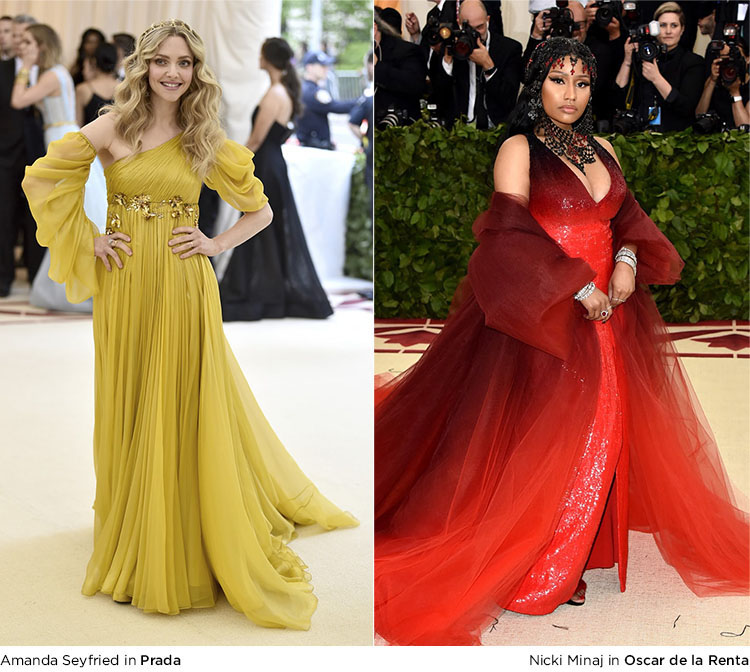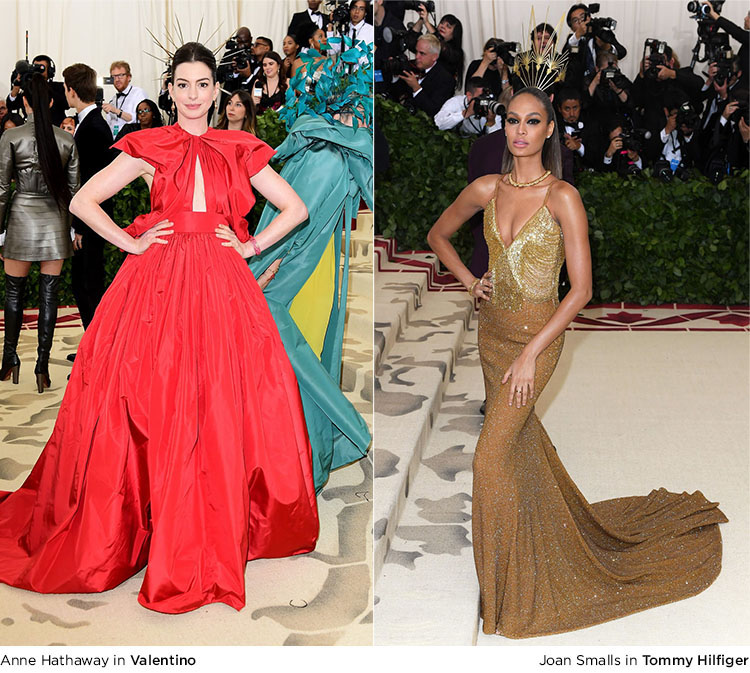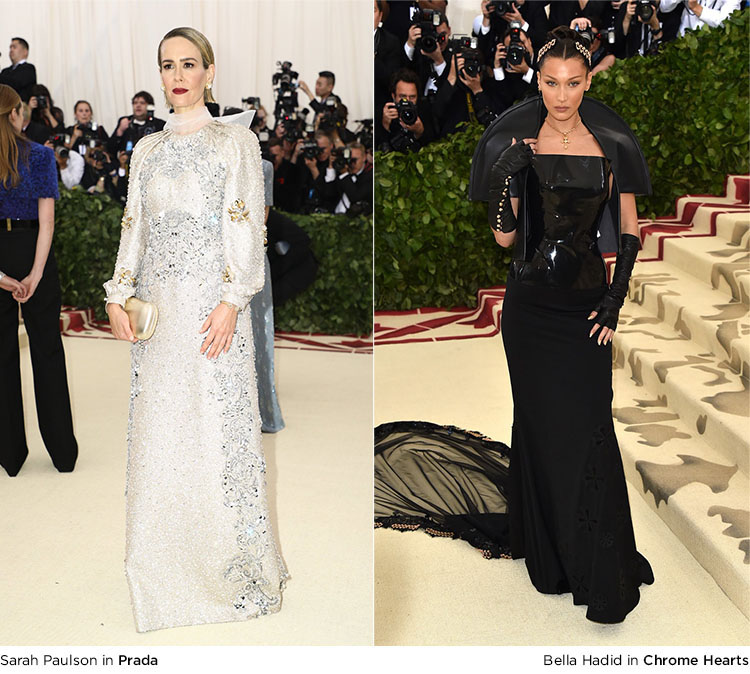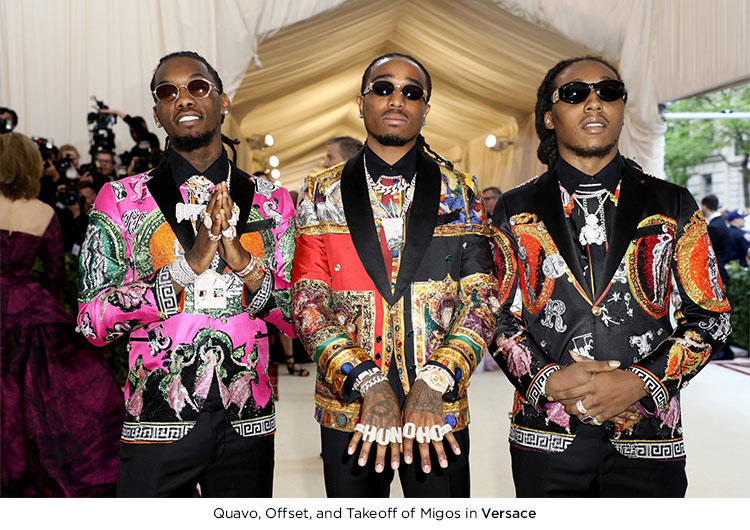 Don't let the crowns, tiaras and bling fool you. All of the above looks in some form or another will be in-store and online for luxury consumers come this Fall. My favorites are from Louis Vuitton. After all, black and silver sequins are always in my wheel house. Finally if you wonder how the evening unfolds, once guests make their way inside there is the most spectacular floral backdrop for more photo ops, check in, the reception line, then on to the exhibit and cocktails and finally on to dinner. Madonna performed this year. The party included a performance of "Like a Prayer" by Madonna and monk-styled backup singers (and this is over the top) flown in from the Vatican choir." It's all over in just a few short hours and then on to after parties. My sources tell me that guests left even earlier this year than ever to hit the after party circuit. There has already been a bit of blow back today as to whether the fashion and the exhibit have gone to far paying homage to pageantry of religious garments. Remember this had the blessing of the Vatican and the Cardinal was indeed in attendance.
If want you to see the exhibit at The Met Costume Institute , and you should as Andrew Bolton is a curatorial genius, there are over 150 designer pieces, including 50 garments and accessories loaned from the Vatican. It will be open starting tomorrow to the public from May 10 through October 8, 2018. It will be a do not miss and let's see if more records are broken.
With Love From My Laptop
NJ Goldston