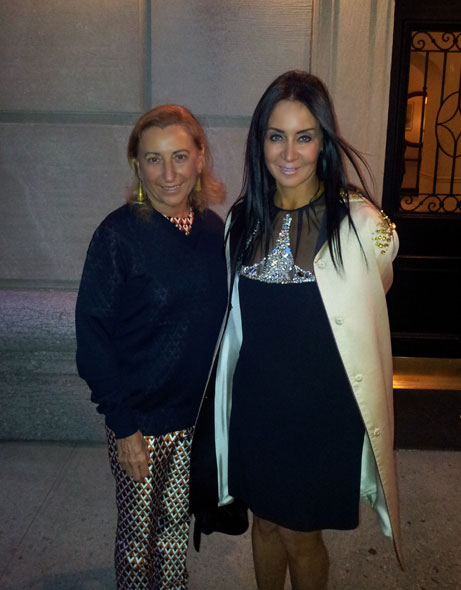 After all the amazing festivities of The Met Gala, there was one more special event the following evening. This time, it was a small, private cocktail party for The Friends of The Costume Institute, in honor of Muiccia Prada. At the residence of Lizzie and Jonathan Tisch, widely known for their many philanthropic efforts and fabulous love of modern art, they are also the key supporters of the Institute, its work and the new exhibition galleries that are scheduled to debut in 2014.
They are also the consummate hosts, opening their home for all of us to enjoy. Truly unique, from their daring modern art collection to the impossibly beautiful views of Central Park , their relaxed, elegant style included hors d'oeuvres served in custom miniature boxes with the infamous Man Ray lip icon imprinted on each one. Before the evening concluded, Jonathan assembled the guests, thanked everyone especially his wife, for their support, as well as Harold Koda and Andrew Bolton, the chief curators of the exhibit. Once introduced, they spoke eloquently about the labor of love in mounting the Impossible Conversations exhibit and Mrs. Prada trusting and agreeing to relinquish control, a first for her. Everyone exhaled as she agreed to put her faith in the Met curatorial team. She remarked, "that once she realized they would be doing all the work, everything became much easier". Naturally we all roared with laughter along with Mrs. Prada.
As the evening ended, Mrs. Prada pulled me aside for a photo together and told me, "You are beautiful. We must be beautiful and we must be beautiful together." You know, she was not speaking to me. She was speaking to all of us. Together, we make fashion and ourselves beautiful; and, we must embrace each other. There is a reason she is my creative and style icon. She speaks the truth and then she creates it.
Let's all be beautiful together. Let's mother each other. Happy Mother's Day.
xo
NJ Goldston, The Brunette