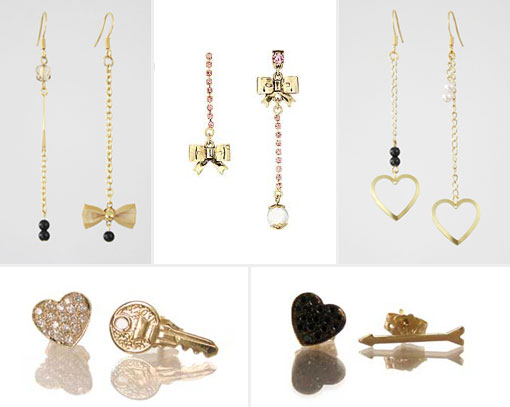 My new favorite way to wear accessories is to mismatch them. Today, I'm talking solely about earrings. Mismatched earrings are the perfect way to create an "edgy" vibe to your outfit.
Below, I have listed a few of The Blonde & The Brunette's favorite mismatched pairs.
If you're looking to save money, take a look into your own jewelry box and see if you have any two pairs that might look good together. Get creative with it! For example, I often pair one long feather earring with one short dangling chain earring. It is also fun to pair a simple stud with a long chain earring. Whichever duo you decide on, make it your own and have fun with it!
Let us know which ones you think look best paired together!
KEY TO MY HEART STUDS $180-$475
HEART AND ARROW STUD EARRINGS $128-$418
LILY.LYS "BOWTIE EARRINGS" $20
LILY.LYS "HEART EARRINGS" $17
Xx. Jadan