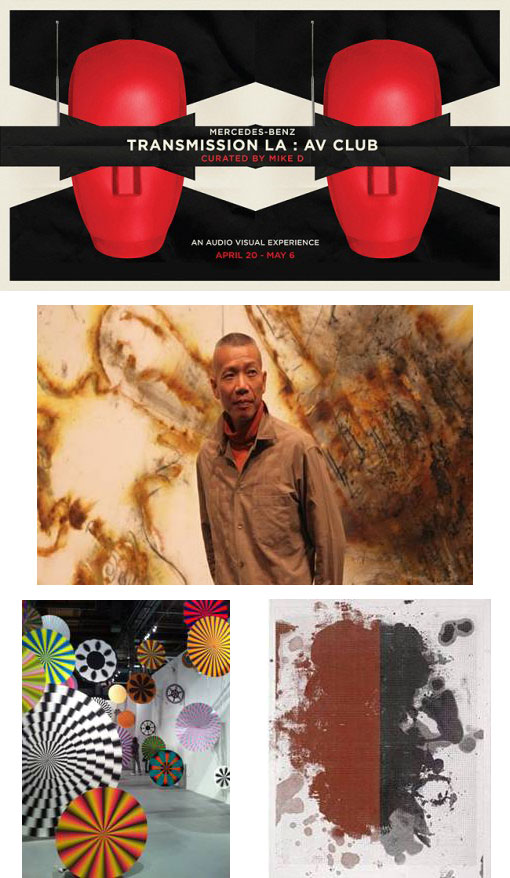 The AV Projects, Cai Guo-Qiang, and The Painting Factory
If for you don't know what to do this weekend,there are three truly extraordinary exhibitions on view at MOCA right now and if you live in LA or are visiting, this is one of those must see times. So think about it very seriously because you are going to regret it later if you don't make your way downtown. 1. The AV Club. 2.The Gun Powder Drawings 3. The Painting Factory.
I went to The AV Club on opening night and the visual candy store was a magnificent paradoxical play on audio visual art. It was a no geeks allowed event with long lines of hopeful attendees desperate to get in, but security was so tight, and the event drew a capacity crowd, so no invite no admittance. The exhibit is open for another week. GO! Of course, I was also recently at MOCA for one of the large scale gun-powder explosions. Yup, I didn't want to miss it because the famed (as in Beijing Olympic fame) pyro-technique artist, Cai Guo-Qiang, lighted a fuse and used gun powder to set off a huge explosion, creating his latest painting which is the length of a building. The experience literally blew my mind along with everyone else in the four jam-packed bleacher stands. Now, the Warhol exhibit is about to open. Here are the details. Don't wait.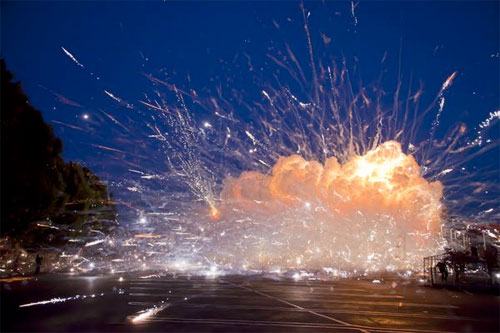 Cai Guo-Chan: The Sky Ladder
The Painting Factory: Abstraction After Warhol opens Saturday night at MOCA Grand Avenue. It includes outstanding paintings by Andy Warhol and the best abstract painters of today's younger generation. At the same time, the Geffen Contemporary is presenting the amazing project, The AV Club, curated by Mike D of the Beastie Boys. The exhibition focuses on connections between new art, new music, and new technology. There is a wonderful pop-up restaurant and a program of performances. It is attracting thousands of enthusiastic visitors and I made lots of new friends that night. I also urge you to see the ambitious exhibition of large-scale gunpowder drawings and a 100-foot long crop circle sculpture by Cai Guo-Qiang. It's a trifecta of great art.
Here are some quick, important notes about the AV Performance Dates that accompany the exhibit.TRANSMISSION LA: AV CLUB will close between the hours of 5pm and 6pm to prepare the exhibition for music performances on the following dates: Thursday, May 3 (DJ Harvey and James Murphy) and Saturday, May 5 (Diplo and Mad Decent Crew).Ticket reservations will be handled through BrownPaperTickets.com and are free of charge. All ages welcome.
Tickets are available at will-call only beginning at 5:30pm, on the evening of the performance, and are strictly non-transferable. Limited capacity; limit two tickets per person. Valid photo ID must be presented at will-call in order to receive wristband. If applicable, plus-one must accompany ticket buyer at time of entry. No ins and outs, no exceptions.
MUSIC SCHEDULE:April 28: Jon Wayne and Z-Trip / May 3: DJ Harvey and James Murphy* / May 4: TBD /May 5: Diplo and Mad Decent Crew**Specific dates starred above require advance ticket purchase from brownpapertickets.com for entry. Please note: All other concerts and DJ series are FREE for all ages and open to the public and are ticket-free, but are subject to capacity limitations. Be sure to check the website and Facebook page each week for updates on events and ticketing information. See full music schedule here. For more information, visit www.theavantgardediaries.com
The AV Club and Cai Guo-Qiang are open until 10pm Wednesday through Saturday and until 6pm on Sunday and Monday. You can also take a moment to watch these wonderful videos from the Nowness:
If you go, please let us know what you think. For directions, just click on this link for the MOCA website.
xo
NJ Goldston, The Brunette