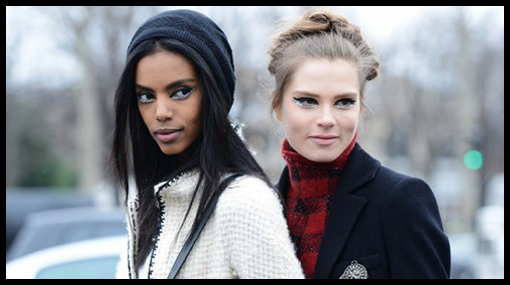 From Dior to Valentino, make-up trends from the Paris Spring-Summer 2014 Couture shows were as thoroughly modern as the fashion. Standout looks centered around stunning contrasts of matte foundations mixed with dramatic eyes, fiery lips, silvery white highlights and shiny black liner. Of course, all of this was carefully tied to new beauty products about to burst on to the scene. The goal. A sneak peek for consumers and beauty editors. My personal favorite, as a sucker for sparkles, is the Chanel iridescent eye.
If any of these looks resonates with you, here's a quick rundown of what to expect in stores in the near future.
Chanel. Makeup artist Peter Philips went with a "chic and iconic" look but then used "sparkle that feels relaxed and fresh" to create magic. How did he do it? Philips used Chanel Perfection Lumière Velvet foundation (launching in March) to create a matte finish, applied dabs of powder blush on cheeks and across the chin, added a bold stroke of the house's black Ligne Graphique liquid liner, ample coats of mascara and then paired it with hologram glitter applied in various sizes. The final touch. Rouge Coco Shine lipstick in Satisfaction (out next month).
Dior. Designer Raf Simons wanted "something modern and non-referential." Pat McGrath, recently honored by the Queen, went with a "natural skin and a bare, simple face with a strong, fiery red lip." She opted to enhance models' mouths with a mix of two crimson lipsticks before sealing the color with balm. To re-create the look, use Rouge Dior in #999 and #844 Trafalgar.
Valentino. Opera-inspired, Pat McGrath was also behind the minimal Valentino "face". Silvery-white highlights accented by warmer foundations, and rosier lips were reminscent of last Fall. We didn't mind. It's so compelling, it was worth repeating with a twist.
Armani, which produces my favorite foundation ever, is introducing new eyeshadow colors and textures, a liquid bronzer and blush (both available in April), Cheek Fabric (a pigment-rich powder blush out in March), and the brand's newest star which we can't wait to try: Eye&Brow Maestro—a multi-use product in eight different colors hitting shelves in September.
xo
NJ Goldston, The Brunette