I have a confession, if you had asked me two years ago whether or not I would be caught dead wearing a t-shirt that had "For Fashion Victims Only" scripted in bold letters, I would have rolled my eyes and assumed you were joking. It wasn't until I dug a little deeper into the history of the house of Moschino that I began to relate, and even advocate the message behind the ironic and sometimes offensive pieces of wearable propaganda.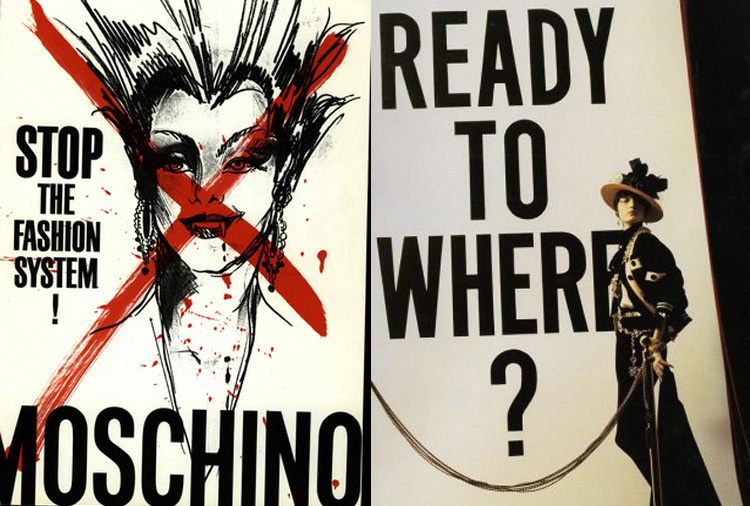 Backstory. Franco Moschino began to create a shift in an otherwise over-extravagant conformist fashion system during the late 1980's and early 90's with his unique ability to express artistry and appropriate universal symbols by way of fashion design. Franco criticized the excessive consumption of luxury goods based on the idea that people were following blindly what was advertised in fashion magazines as being "fashionable". Moschino claimed "Fashion does not exist, and if it did, its true significance would embody the freedom to wear anything." In his opinion, being fashionable didn't necessarily correlate with wearing the most "in" pieces, which he made clear with slogans like: "Good Taste Doesn't Exist", "Stop the Fashion System", "Fashion Kills", and "Ready to Where?". His designs were sarcastic and witty, and his ability to make a mockery of himself and his industry with yet a strong sense of social justice was something only a true visionary could accomplish, and fashion's evolution since then has proved that he was ahead of his time with his "against the grain" mentality. In creating collections for the fashion rebel in us all, he also managed to make a name for himself as a political activist in addition to providing support for numerous charities. Since his passing in 1994, the house of Moschino has maintained its over the top, larger than life reputation and in 2014 named designer Jeremy Scott as the Creative Director to carry Moschino into its future of Barbie Dolls and Big Macs.
Although Franco Moschino created an unequivocal brand through humorous political activism, visual puns, and strong bodies, Scott is building on that foundation and at the same time restoring its relevance. In my opinion, Jeremy Scott is pop culture's Franco Moschino. Creating a Moschino for Millennials. Scott has designed pieces for Pop Music's ultimate divas such as Britney Spears (the flight attendant dress in the video for Toxic), Katy Perry (do ice cream cones mean anything to you?), Miley Cyrus, Rihanna, as well as Nikki Minaj and Demi Lovato, whom he dressed for the Met Gala this year. Scott's latest collection, Fall 2016, was titled "Bonfires of the Vanities" …dramatic right? The collection was inspired by a 15th century Renaissance disaster, during which a mob of Dominican monks terrorized the city of Florence by burning "superficial" objects-art, books, clothing, etc. As I'm sure you can imagine, Scott let his imagination run wild with this collection, some of the pieces even looked as if they had actually been thrown into the flames. Well art is expression, and fashion is art, and I'm sure Franco would have applauded the trademark Moschino theatrics.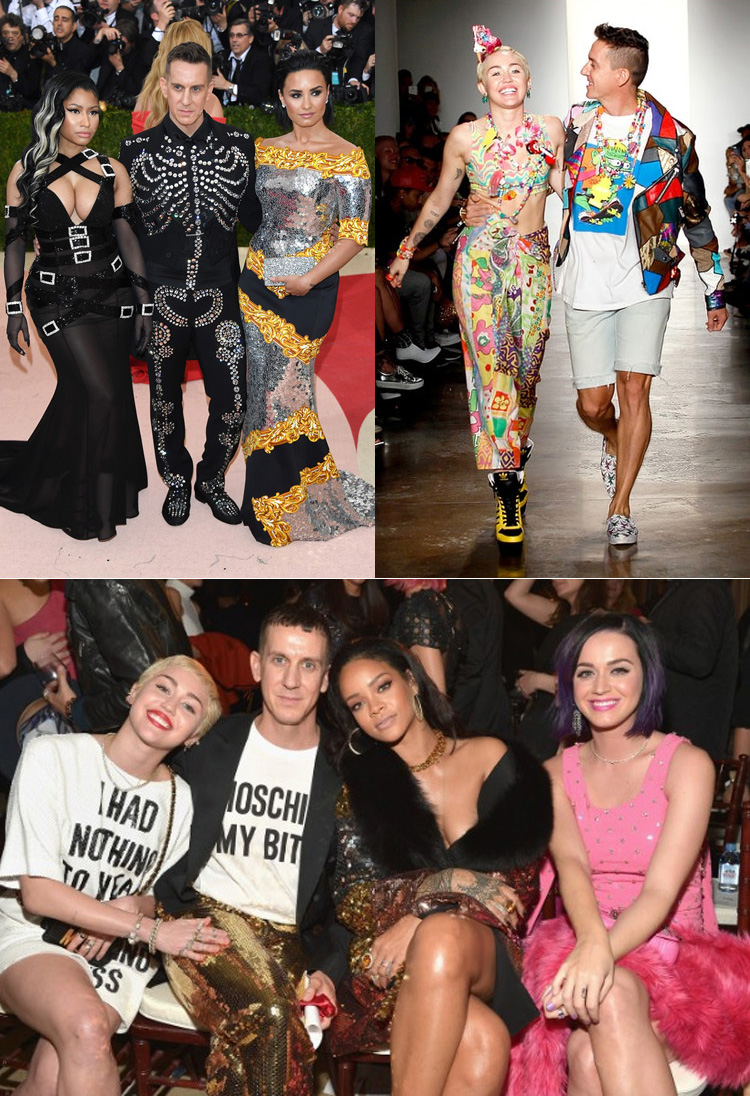 Tonight, for the very first time, MADE Fashion Week hosted MADE L.A. at the L.A. Live Event Deck…and I was there, witnessing anti-fashion in all its fashion glory. As I've said before, I think Los Angeles has potential to be taken more seriously as a fashion capital and not just in the "apparel industry" where maxi dress designers are here today and gone tomorrow. Since Hedi Slimane's final runway show with Saint Laurent for his Fall 2016 collection took place at the Hollywood Palladium, it was only a matter of time before another Los Angeles local decided to break away from the norm and host their next show here…and of course it had to be Jeremy Scott. The collection was "Flower Power". A Psychedelic 60's Redux for a new generation, the Boomers meet the Millennials. It was something like falling down Alice's rabbit hole into a real life version of an Austin Powers movie (with better teeth)..and a Bohemian twist. We're saying, Late 60's Boho: Glamorous Woodstock. As I was walking towards the event tent, I spotted Alessandra Ambrosio on her way backstage…and then, Jeremy's lineup of supermodel bombshells: Miranda Kerr, Taylor Hill, Stella Maxwell, Chanel Iman, Hailey Clauson (I could go on forever). This collection made me want to pack up and take off to Bali…in a time machine. Psychedelic flower patterns with contrasting animal print, striped bell bottoms & bejeweled sunglasses, patent leather & flower appliques, crochet crop tops, and babes in boho…it was definitely a trip.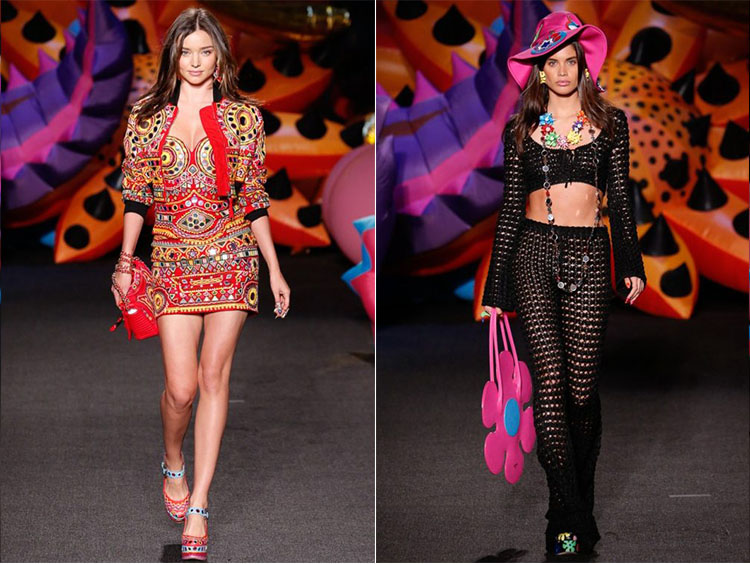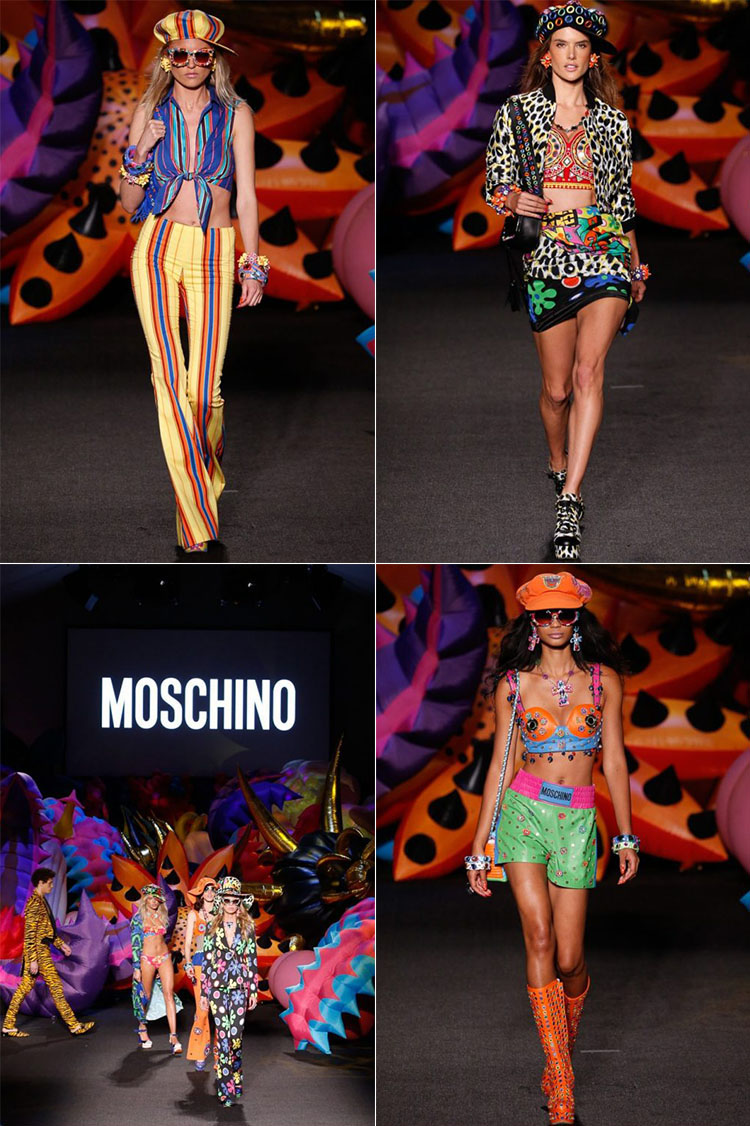 Peace & Love,
Rachael