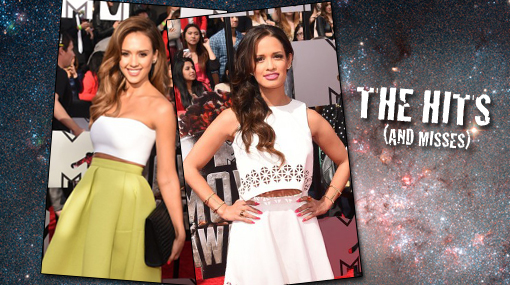 I've been thinking this all Spring but the MTV Movie Awards Red Carpet has finally given me the courage to just write it. The fashion this Spring is, well, not so great. Other than a few exceptions which included Jessica Alba and Shaliene Woodley, I'm a bit underwhelmed by the MTV Movie Awards Red Carpet.
I'm sure all the other media outlets will be gushing. However, I think that's just the standard so and so "stunned in xyz dress." Very few celebs and their stylist pulled it together. There was an eclectic, trendy fashion mix with the only thumbs up for me being looks in modified crop tops, whites, a few of the all-black looks including Nicki Manaj, Rita Ora, Jessica Dawson Tatum and of course, Mila Kunis officially debuting her mommy-to-be bump. I was underwhelmed by Lupita N'yong'O in the hot, art-inspired look of the season (and I may be wildly booed for this) and Zendaya did look lovely in florals.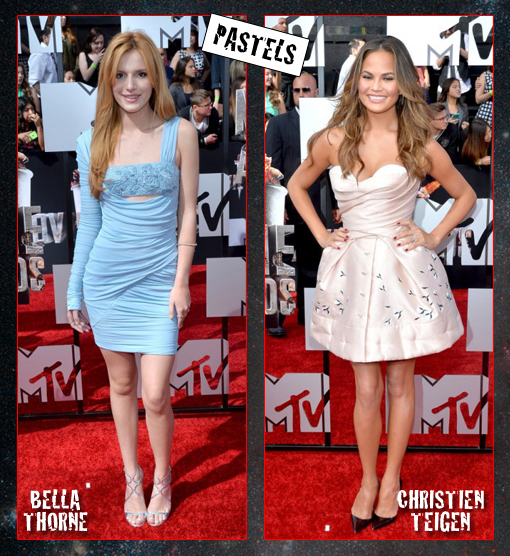 I can't resist highlighting a a few of the misses. I know it's the MTV Movie Awards, and, anything goes. That's half the fun; however I'm starting to like the slightly longer skirt lengths, more mono-chromatic or color-blocked looks. Finally, thank you Zac Efron and Ian Bohen for providing some great eye candy!
So what are your favorites? Did I get this all wrong?
With Love From The Nokia Theater,
xo NJ Goldston, The Brunette