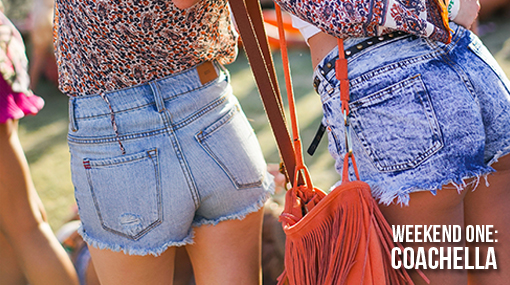 Our intrepid B & B team was behind the scenes at Coachella. We just had to share the celebrity style, exclusive parties, and the best of the street style looks. There's nothing like living in California and a hot music filled day or night in the desert. So pull out your cutoffs, fringe bag, anything white, black and athletic, summer booties, a caftan, or your floral head band and you'll be ready for next weekend. Remember, the fashion rule is the crazier the better.
We'll quickly break it down. The Alexander Wang x H & M party ruled for the explosion of confetti to announce their upcoming collab, out right fun, and party goers from Chanel Iman with ASAP Rocky, Katy Perry (almost unrecognizable in the rainbow hair theme that seemed to be everywhere), to a very, very slender Kate Bosworth, Emmy Rossum, Performer Iggy Azalea and Fergie. Bosworth had a firm grip on her Valentino Capricorn astrological fringed clutch. Hello, a week ago, I said we'd be see it make its way on to many a celebs wrist pronto.

Other great parties included lots of PYT's hanging poolside at the Ingelside Inn. Katy Perry was there too! Julianne Hough hosting a gaggle of great gals at the Harper's Bazaar luncheon including, you guessed it, Katy Perry, plus Katherine McPhee. Rail thin Jordana Dunn looked stunning at the StyleCaster + UGG party . We especially loved the iridescent Sparkle I Do UGG's on DJ Chloe Norgaard and the crazy assortment of sunglasses and hair-do's.

all photos: Angela Pham BFAnyc.com/Aleks Kocev/BFAnyc.com/Billy Farrell /BFAnyc.com
We can't wait to see what next weekend brings.

With Love From Coachella, NJ Goldston, Lauren Cheek & The B & B Crew