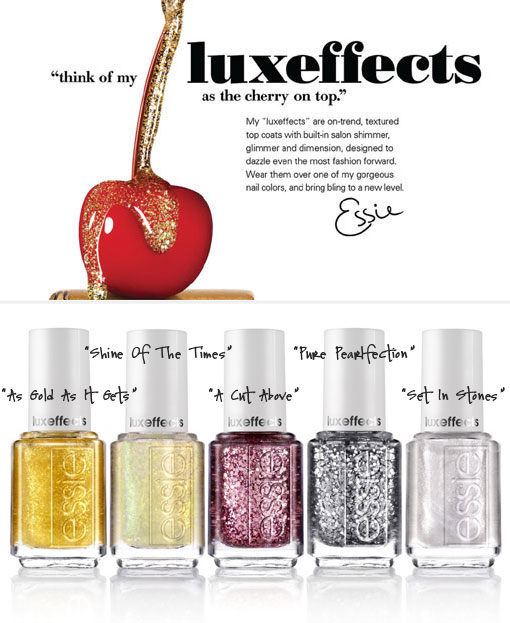 There is one more super hot collection that has caught our fancy at The Blonde and The Brunette. Essie is introducing Luxeffects, a nail polish collection of 3 dimensional, sparkly, glittery, shimmering top coats. The glitter flakes are different shapes and sizes creating a 3 dimensional effect on your nails. Just apply one of the five shades on top of own nail polish:
"As Gold As It Gets" – Golden metallic sparkles in a milky base.
"Shine Of The Times" – Dazzling crystalline flakes.
"A Cut Above" – Light pink with diamond glitter in a clear base.
"Pure Pearlfection" – Fine white shimmery iridescence.
"Set In Stones" – Silver glitter disco mirror balls.
Try it out! It's fun to give your nails a new look. Summer is here; and your nails will sparkle even more in the bright summer sun☺. OK, we just have to ask, again: What's your favorite color?
$8 each at Essie.com or Macys.com.
– Astrid Bryan