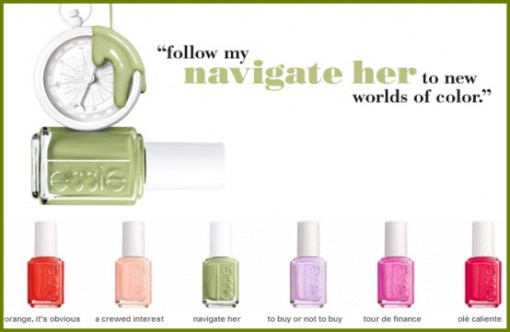 It feels like Spring is almost here although we have a cold snap in LA. That can't stop us from literally navigating the latest color trend. Check out Essie's new nail polish collection for summer 2012!
From left to right:
"Orange, It's Obvious" is a dark orange crème
"A Crewed Interest" is a peachy creme
"Navigate Her" is a light green
"To Buy Or Not To Buy" is a light lilac
"Tour De Finance" is a bright blue toned hot pink with a purple flash of shimmer
"Olé Caliente" is a bright coral red
"Tour de Finance" is my favorite — it's definitely the color of summer; for lip gloss, accessories, and fun summer dresses. This color is so flattering it even makes your tan look darker☺. What's your favorite color? $8 each at Nordstrom or Essie.com.
– Astrid Bryan