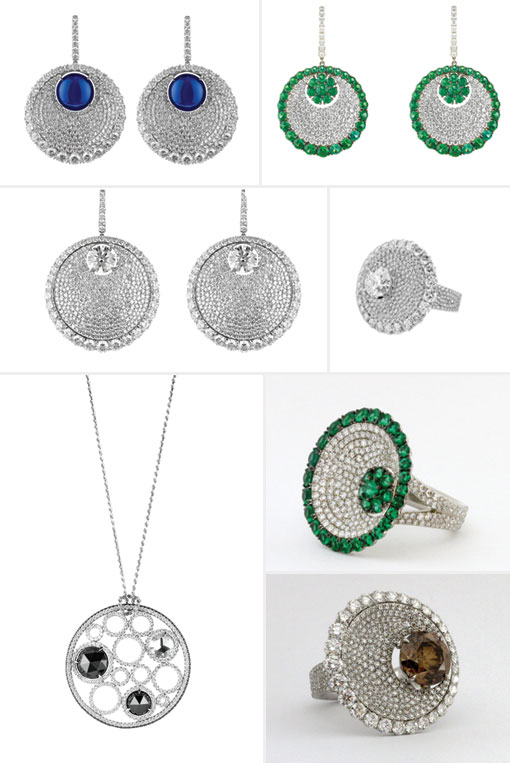 Since we are in "Gala" mode, it seemed like the perfect time to introduce the Martin Katz "The Divine Collection". This collection of hand-sculpted pieces evoke an impression of endless gems enhanced by unique concave settings, circular shapes and varying size diamonds laid in random patterns. This technique is a creative new perspective to the large stone cocktail rings; it encompasses a look that is whimsical and avant-garde.
"I've always had a fascination with geometric shapes; however, the infinite nature of the circle stands out among the rest," remarks Katz. "The soft suggestive curves are symbolic of timeless beauty, divine in nature."
The collection, which will be expanded upon throughout the season, launches with the following pieces:
Sapphire Diamond Earrings are 27 MM set with 2 round cabochon blue sapphires weighing 9.35CTS and 484 diamonds weighing 6.48CTS.
Emerald Diamond Earrings are 22 MM set with 68 emeralds weighing 2.89 CTS and 266 diamonds weighing 1.92 CTS.
The Endless Diamond Earrings are 33 MM set with 1.84 and 1.80 round brilliant diamonds and 860 diamonds weighing 10.60 CTS.
The Multi-Diamond Ring is a 1.72 round brilliant diamond with 412 diamonds weighing 3.36 CTS.
The Divine Pendant has a 2.90 CT black rose cut diamond, a 1.30 CT black rose cut diamond, a 0.99 CT rose cut diamond and is micro set with 96 black and white diamonds weighing 0.82 CTS.
The Emerald Ring is 24 MM set with 34 emeralds weighing 1.66 CTS and 388 diamonds weighing 1.80 CTS
The Cognac Ring is a 4.21 round cognac diamond set with 470 diamonds weighing 4.24 CTS
LA and New York are gearing up for the next round of charity galas and events before the summer hiatus. I am sure we will see a few of these on the Red Carpet.
-NJ, The Brunette