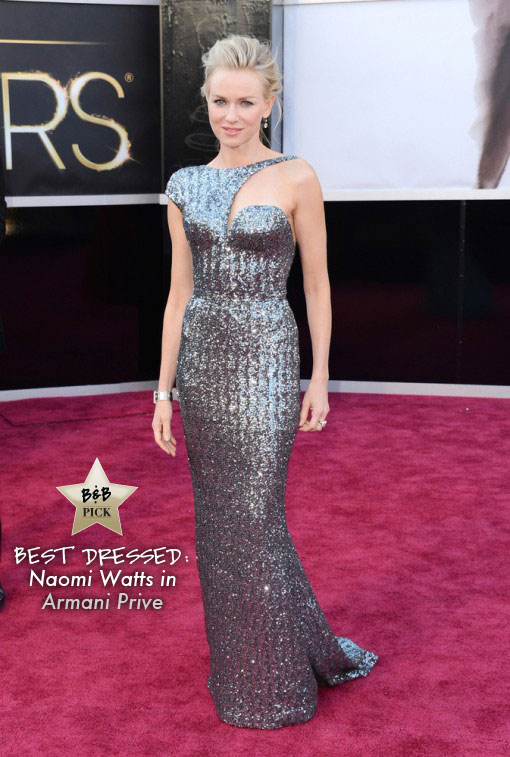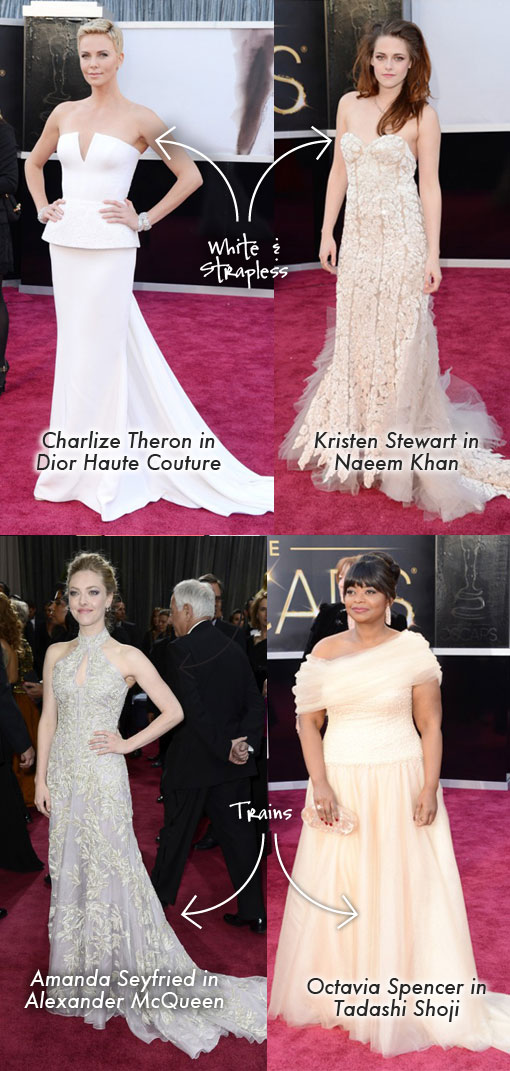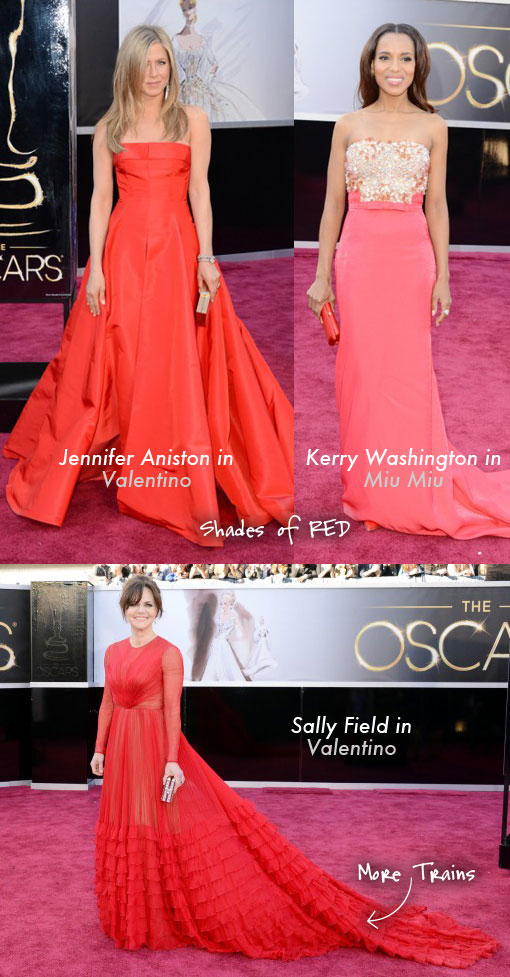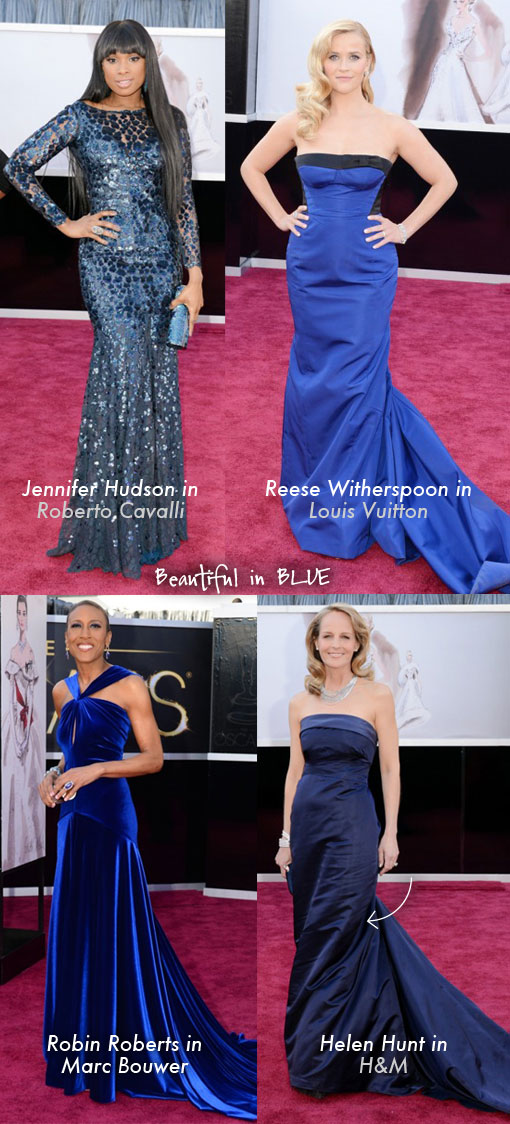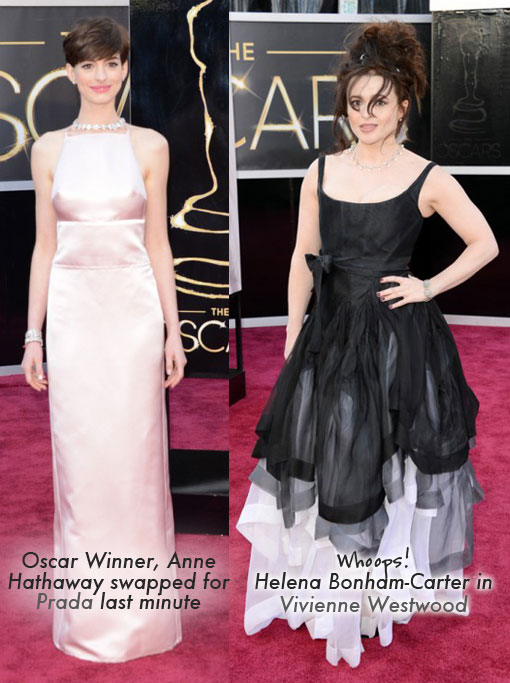 Photos Courtesy Martin Katz/Getty Images
We always take at least a few hours to digest all the Oscar Red Carpet fashion. This year was all about old Hollywood glamour along with white as the new black. Jennifer Lawrence wearing Dior Couture was unanimously proclaimed "Best Dressed" on about every list. We agree. Jennifer and Dior are both having their moment and a slight slip on the Oscar staircase didn't knock this beauty down. She has an enduring sense of humor that makes her a media darling. Naomi Watts also looked absolutely stunning in an Armani Privé with stellar shape and style.
White also shone on Charlize Thereon (and who doesn't love her pixie cut) along with Kristen Stewart (on and off crutches). Amanda Seyfried dazzled in an elegant Alexander McQueen and Octavia Spencer looked beautiful in her go-to designer of choice Tasdeshi Shoji. Each of them also had magnificent trains along with almost every gown of the evening (as we so cleverly predicted).
Other trends included strapless looks on many celebs along with red on Jennifer Aniston, Sally Field in Valentino and gorgeous Martin Katz diamond jewelry. Kerry Washington looked lovely in an embellished Miu Miu. Shades of blue also proved to be quite stunning on Reese Witherspoon in Louis Vuitton, Helen Hunt in an Eco-friendly H & M gown ( from her closet!) and $700,000 of Martin Katz jewelry to dress it up in style. We loved Jennifer Hudson in Roberto Cavalli and Robin Roberts in Marc Bouwer.
Heavily sequined Art Deco gowns were another big trend generating plenty of attention on Halle Berry in Versace, Sandra Bullock in Elie Saab, Nicole Kidman in L'Wren Scott, and surprise presenter, First Lady Michele Obama (FLOTUS) in Naeem Khan. Two other standouts include Melissa McCarthy looking her absolute best ever in Marina Rinaldi (we just love her!) and Adele, shimmering in a signature black look, received a standing ovation for her rendition of her Oscar winning song, SkyFall, aptly named after the latest Bond movie.
The Academy loves to anoint young, female starlets so Anne Hathaway's Oscar win for Les Misérables was no surprise. However in the whoops department, she had a rare fashion miss. Her last minute switch to a beautiful pale pink Prada gown (after she was scheduled to wear a custom Valentino) had the media buzzing along with the apparent sheerness of the bodice fabric. Something about darts. You get the drift. That's almost all anyone was talking about today. Well, that's a bit of an exaggeration but it was office fodder along with the length of the show and the generally poor reviews. Finally, from not quite enough layers to too many layers, we have Helena Bonham Carter. You've got to admire her ability to march to her own drummer.
What do you think? What were your winners and losers?
xo
NJ, The Brunette and Ashlee, Brunette Contributor