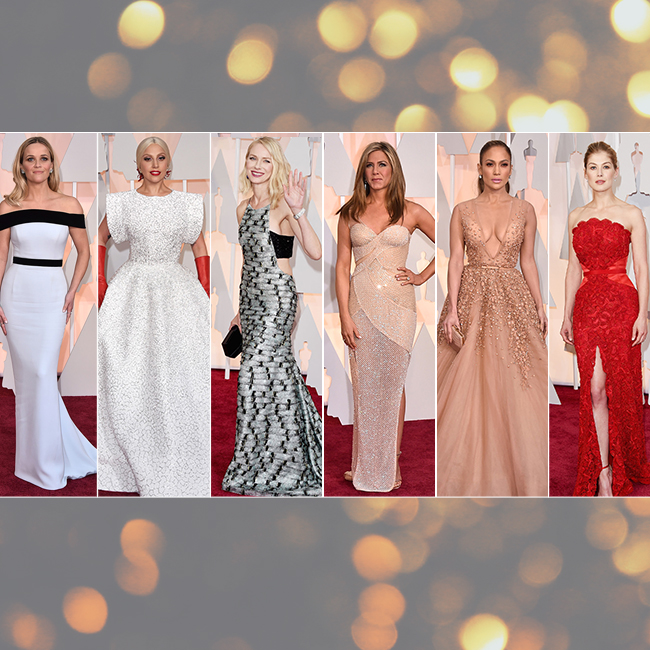 Days in advance, as I circulated many of the Hollywood fashion and Oscar parties, designers from Monique Lhuillier to others who will remain nameless, predicted it was going to be an Oscar Red Carpet dominated by whites, reds and a pink-tinged shade of eggshell with a touch of grey. Too bad there were no Vegas odds because I would have won big. I'm just going to say it.It was a beautiful assortment of gowns and the media is already gushing but in general (and maybe I'm jaded), I was underwhelmed. I am sure the after-parties were a different situation as celebs made their quick change into a gown they truly adore.
Trends that are bound to make their way to the main stream included business in the front and party in the back gowns; white, white, and more white frocks that don't look bridal; and statement necklaces (and most celebs are paid to wear these magnificent jewels.) I learned from a good friend you only wear jewels from one house. Never mix. I made that mistake last year at The Met and managed to offend two jewelry houses at once. Embellishment was back, and I love sparkle as much as the next girl, along with pearl accents as a new glam entrant. Not sure where pearls suddenly came from but they were on the carpet in new and surprising ways. Here's a quick run down and I'll let you decide if you agree. Comments welcome.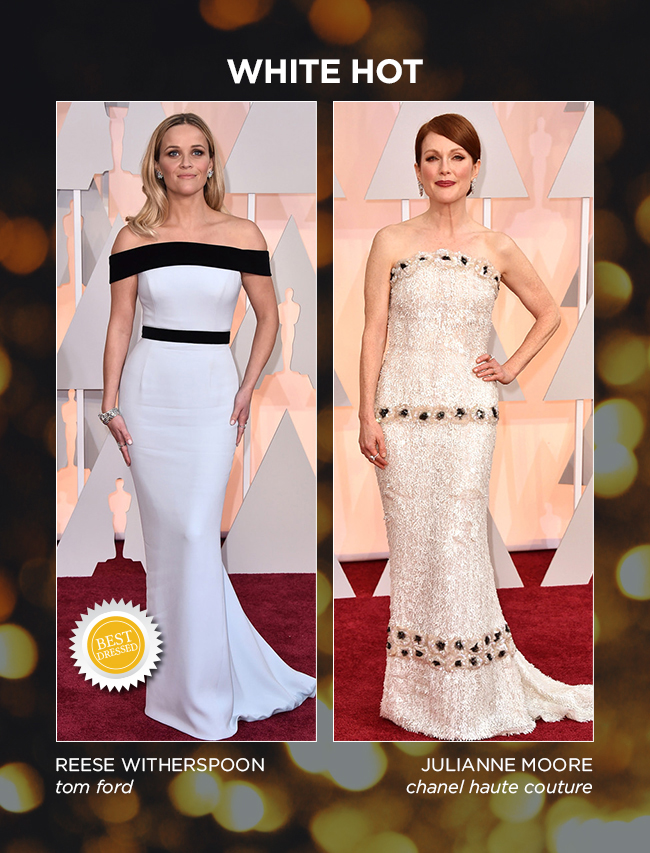 Well I don't know if Reese was on anyone else's Best Dressed list (doubt it) but I thought she looked stunning and Tom Ford can pretty much do no wrong. Oscar winner Julianne Moore went with a heavily embellished Chanel Haute Couture and it was as important as the night turned out to be for her but it wasn't her best look. Congrats to her. The work is more important than the dress.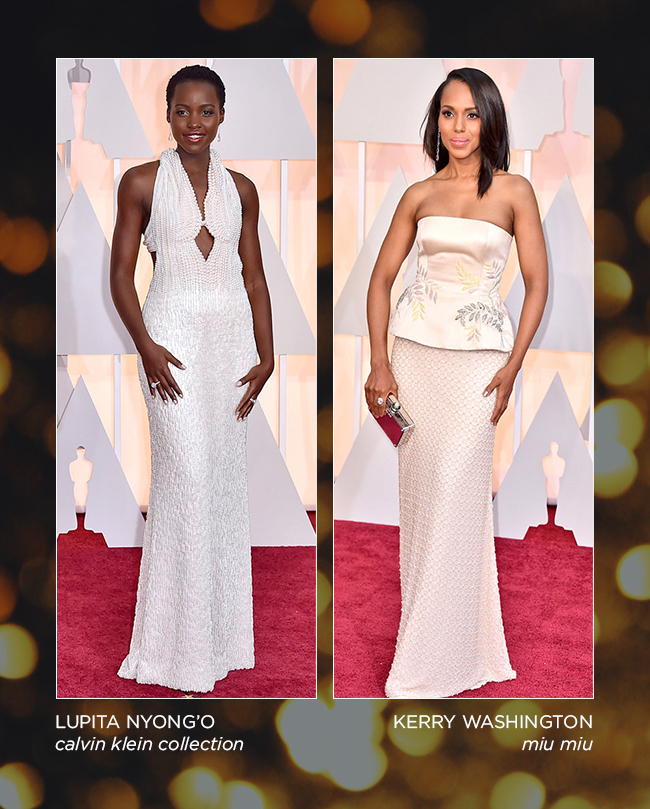 With over 6,000 hand-sewn pearls on Lupita's Calvin Klein gown was a winner in many circles but I think they'll be a big debate on the E! Fashion Police. Did you love it or hate it? Kerry Washington on the other hand wanted to be comfortable in Miu Miu. It was lovely but Mrs. Prada better wake up because other than celebrity dressing everyone is waiting for her to get back in the game in a big way.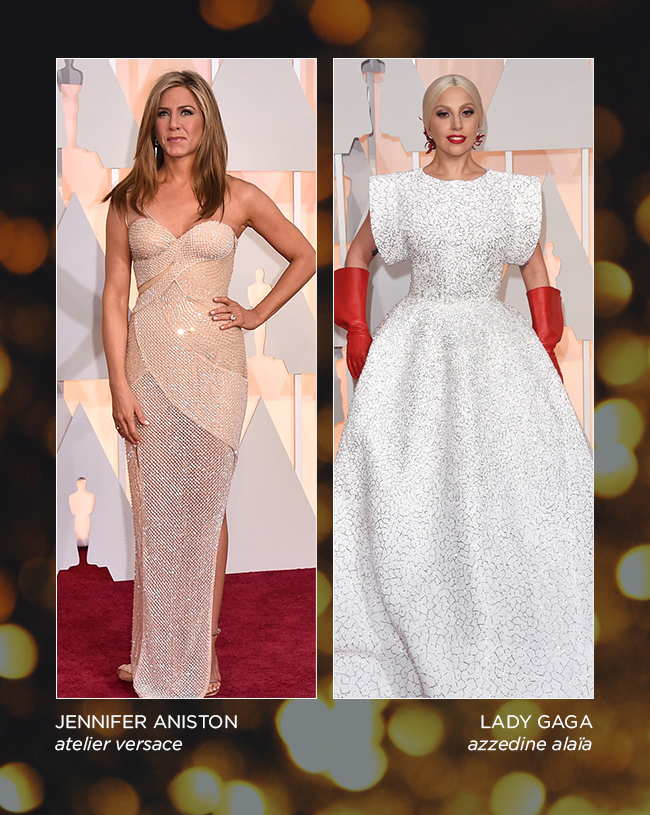 Jennifer Anniston looked lovely but all eyes were on Lady Gaga. She wore a custom Alaïa that took 25 seamstresses 10 weeks to make. I loved it. It was as over the top as she is and the red gloves have galvanized commentators everywhere including Tidy Bowl rubber glove analogies. Who cares? She was the highlight of the show with her tribute to Julie Andrews.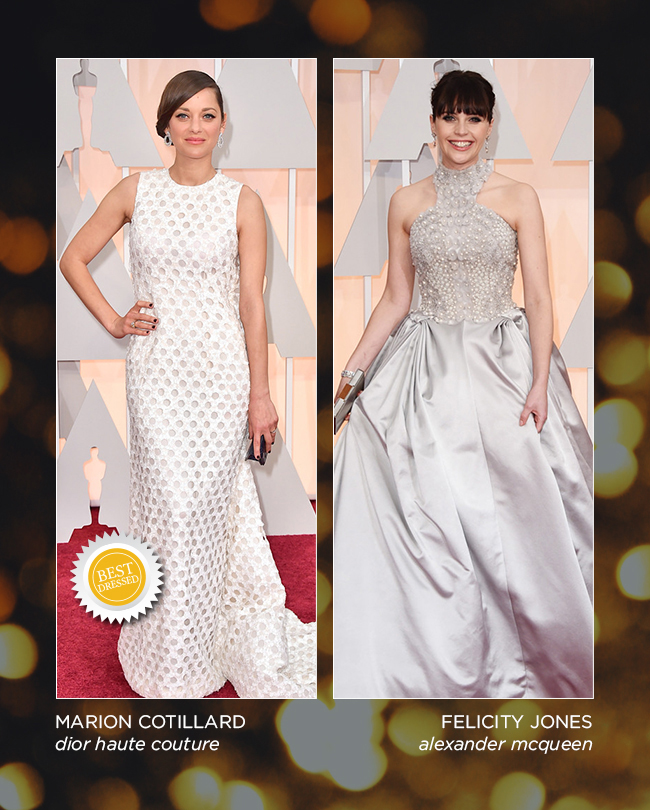 Marion Cotillard in Dior Haute Couture is bound to be on both the best and worst dressed lists. Simple. Elegant. Send it my way. It's couture! On the opposite end of the spectrum was poor wonderful Felicity Jones. This dress aged her. What do you think? Thumbs up or down?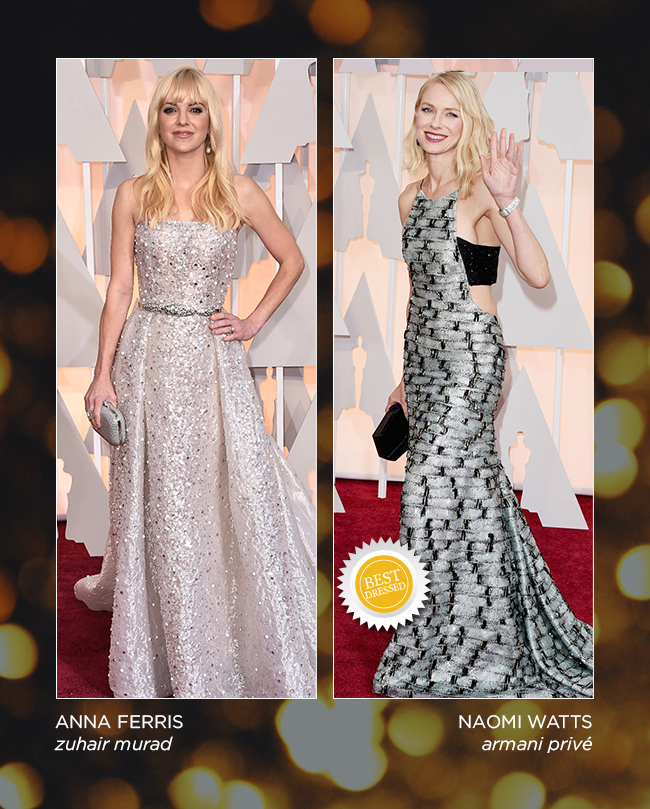 My favorite dress of the night and I tend to be an outlier was the Giorgio Armani Privé worn by Naomi Watts. The workmanship and details from the sequined bandeau top and halter neckline was an elegant but sexy combo. I want that in my closet! Watts was also at the Armani private party this past week. Held for a select crowd of Hollywood insiders, the drill (now ) for most major fashion houses is customers not invited. They don't want the hoi polloi (the luxury masses) mingling with the A-List celebs. Customers ultimately pay for all the free gowns as they support the houses but are now considered second tier. It's an interesting and growing trend. Luxury buyers are quietly talking about this amongst themselves. Why support brands when you begin to realize its more about catering to celebrities? The debate has just begun.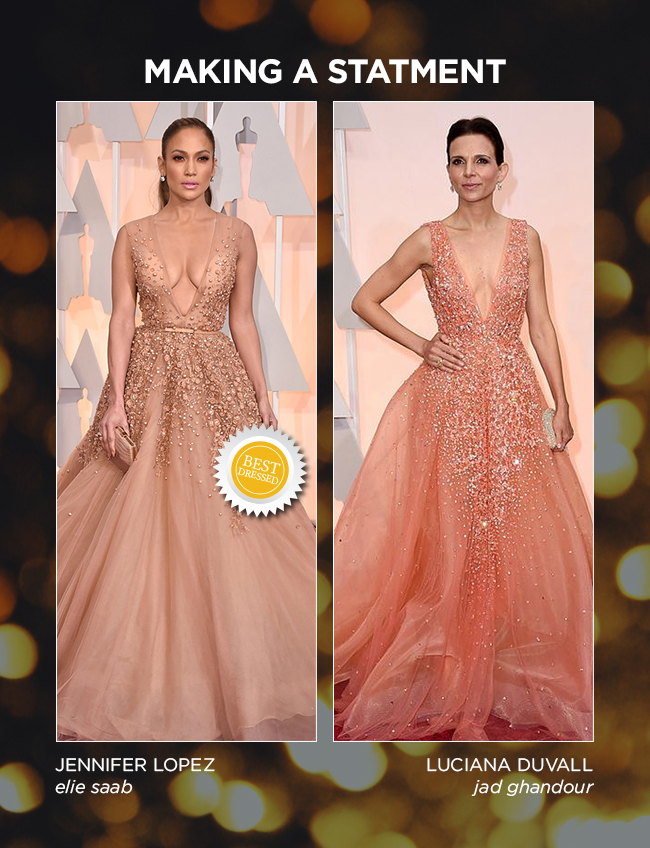 Jennifer Lopez can do no wrong. Luciana Duvall stole her look in the best possible way and they were equally beautiful on the Red Carpet.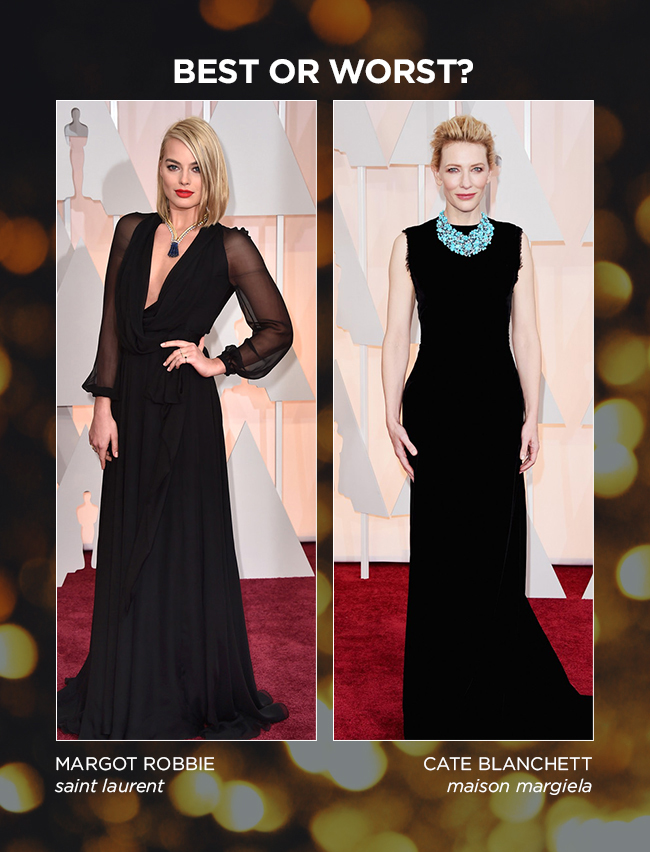 Let's talk about Margot Robbie. Saint Laurent. Statement necklace. New hair color. She's got everyone talking. I didn't love this as much as everyone else but she made a great impression. Cate the Great also rocked a bold statement necklace going with a stunning Tiffany turquoise sparkler. She was elegant but there is some type of disconnect for me here. She can basically do no wrong in my book.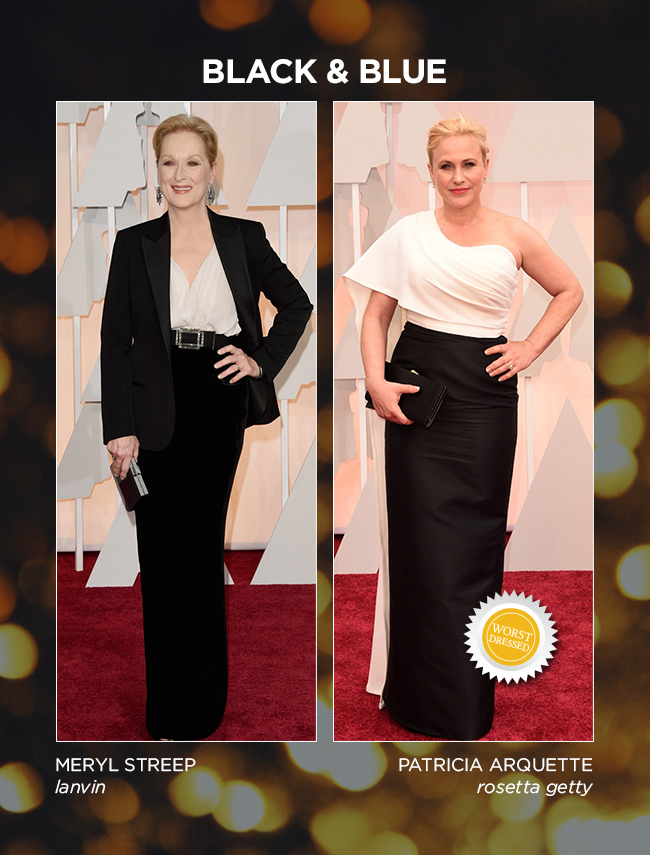 I was so hoping Oscar Winner Patricia Arquette would step up her game. I adore Rosetta's work but this is just the wrong dress for Patricia's curvy figure. Maybe it needed some major jewels.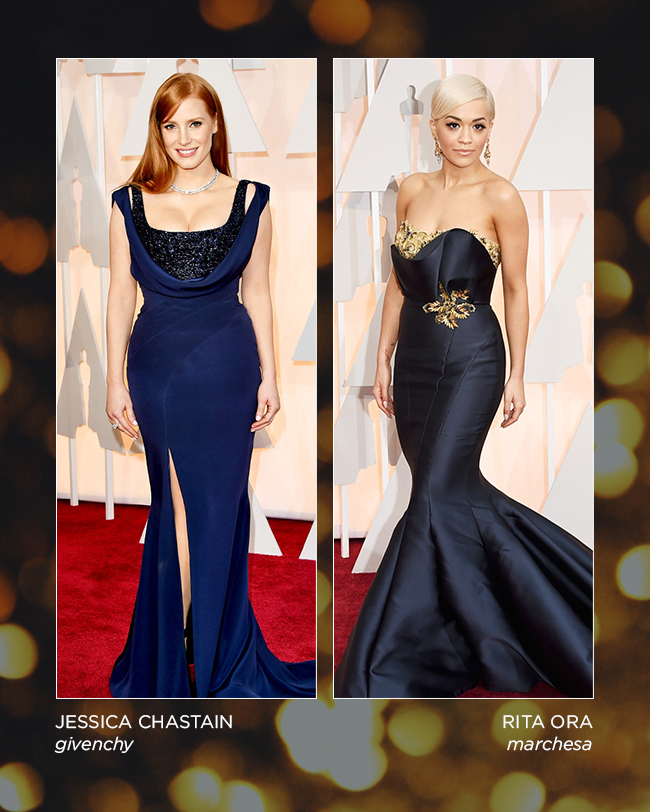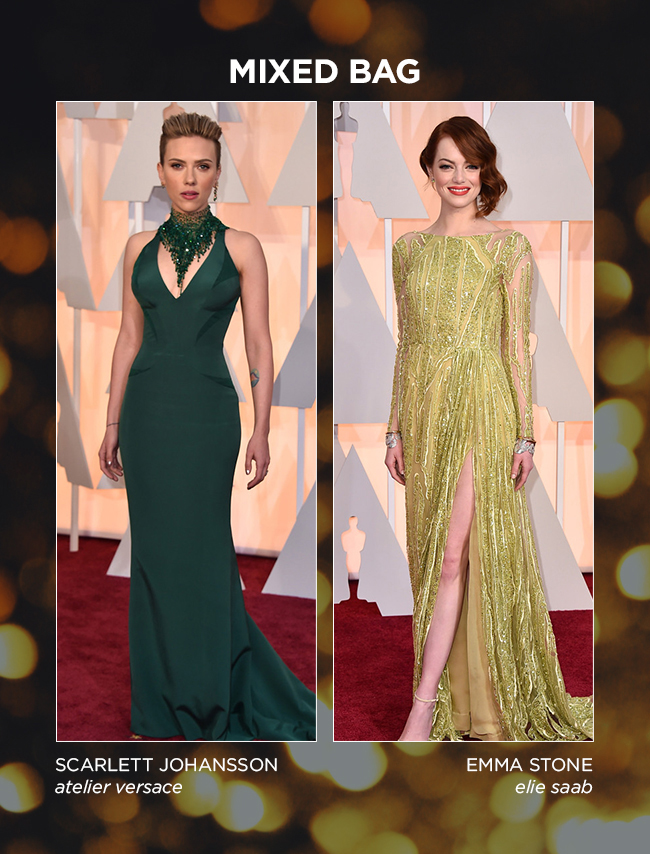 Scarlett and Emma both looked beautiful. I'm still undecided on the Versace but with a figures like that she pulled it off.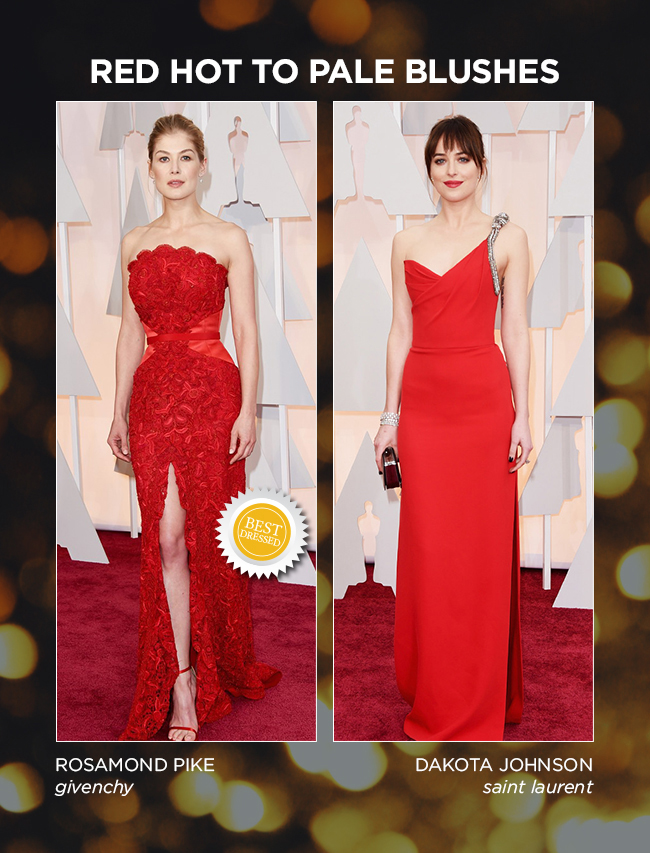 Rosamund Pike made a brilliant choice in a showstopper Givenchy showing off her post baby figure. The strappy red sandals finished the look perfectly.The red Saint Laurent was probably Dakota's best look of award season. She also had on just the right red lipstick. That's not easy.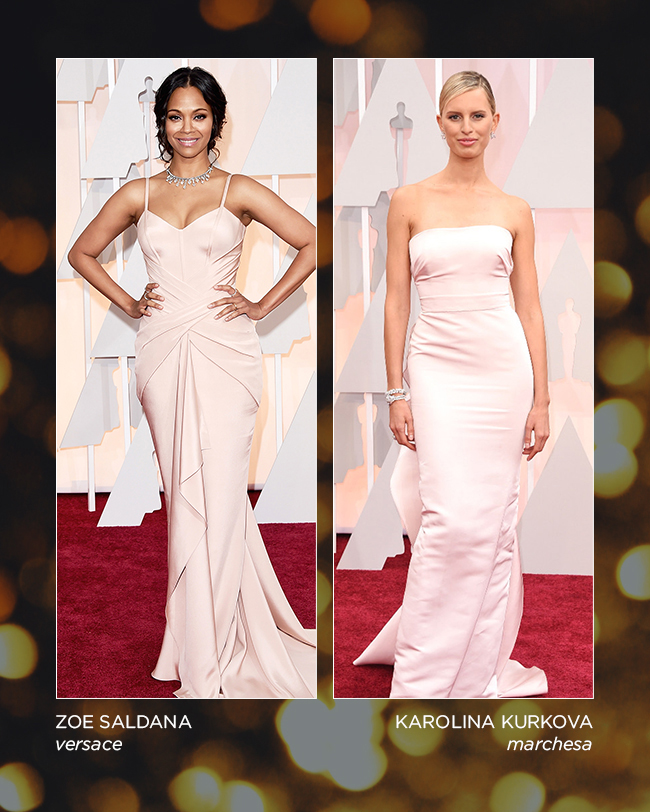 There were also lots of pinks and shades of coral and these were the top four ladies in this grouping.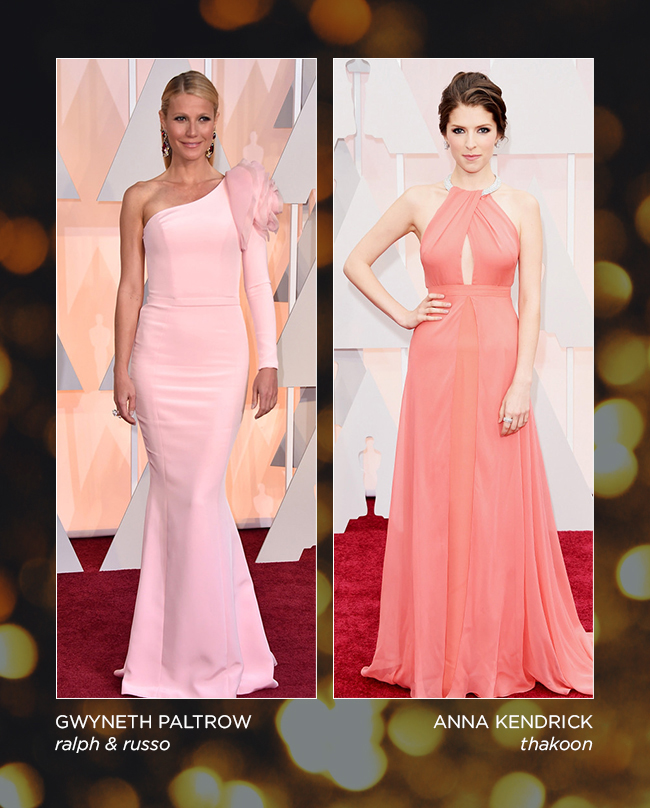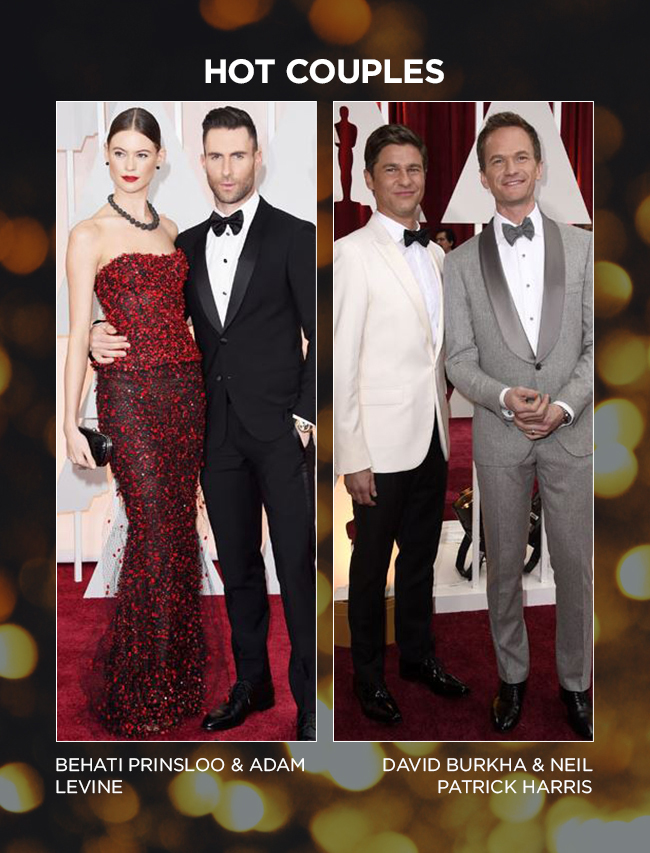 There's nothing more wonderful than a stunning couple on the Red Carpet. The interaction and how they were in the moment is one of the highlights of the evening for me. These six made us smile.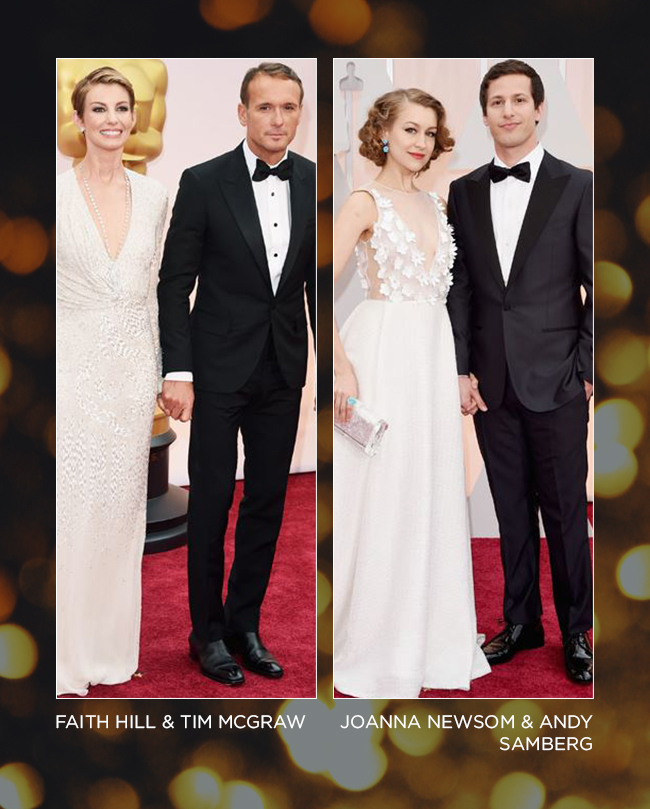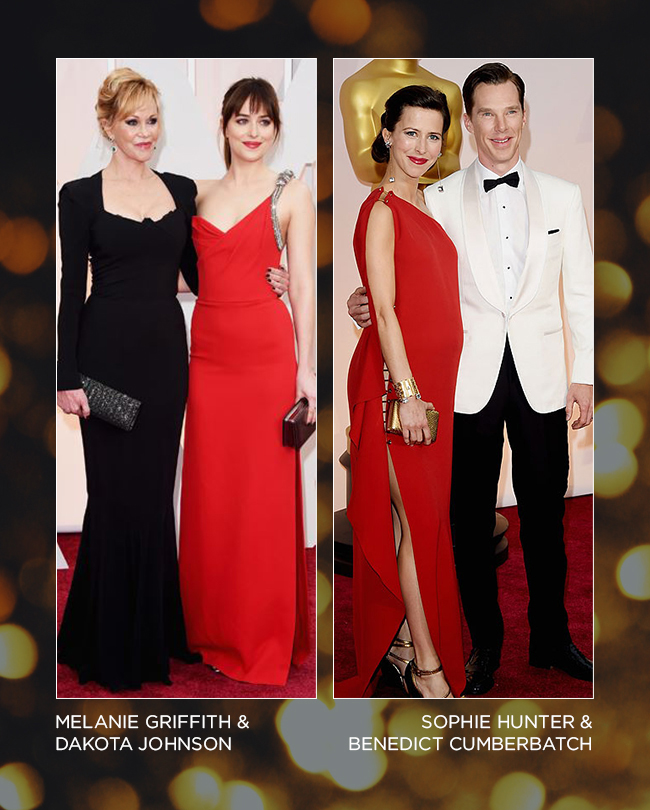 We can't forget the men. This foursome looked so dapper. There is nothing better than a handsome man in a perfectly tailored tux.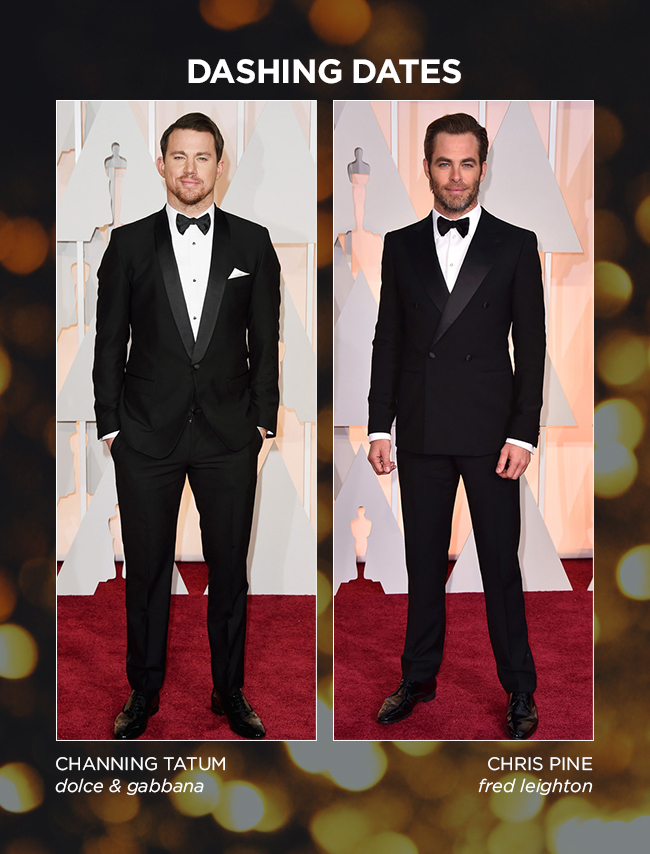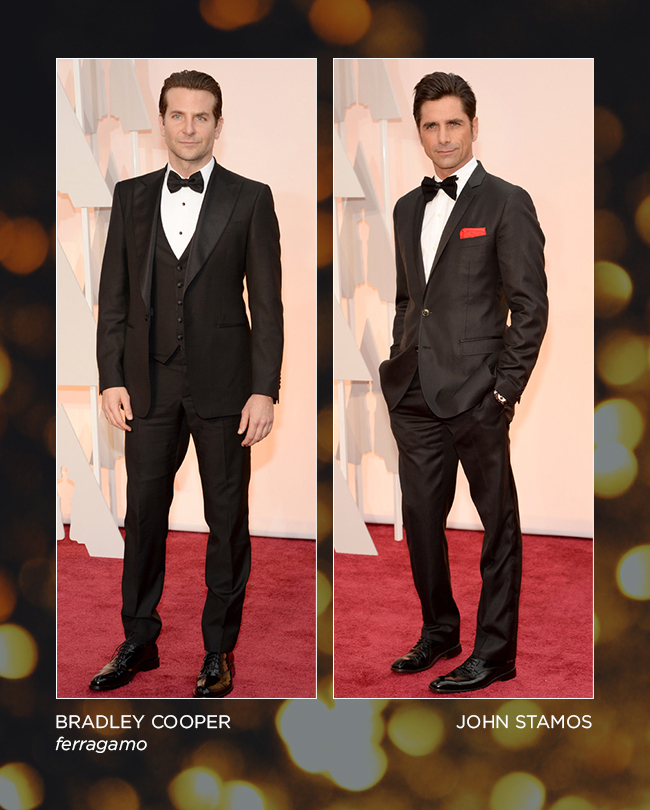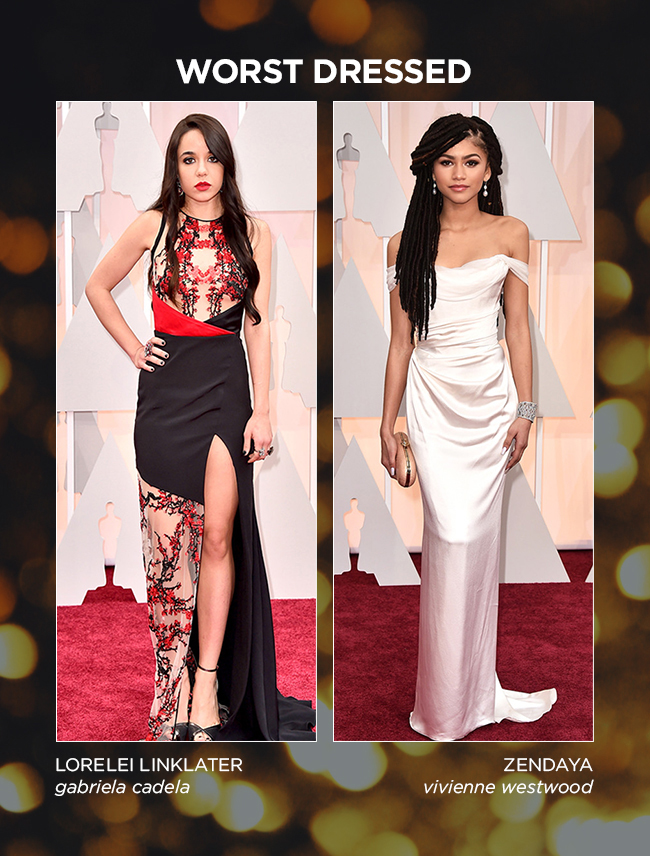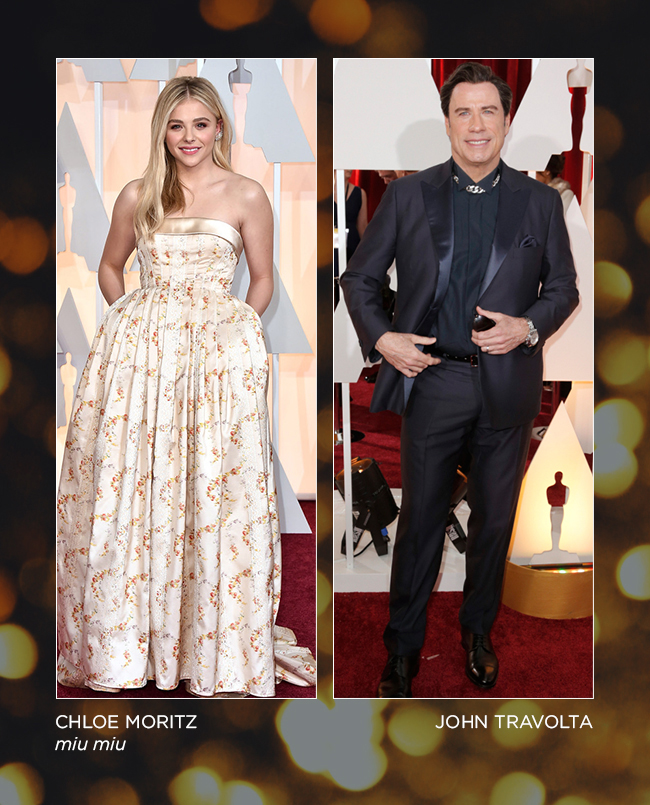 Finally, I am not sure how these young girls have stylists (or maybe they don't)who put them in dresses which radically age them or overwhelm them. Send them to me! This has got to stop. Then there is John Travolta. Sorry, I just don't get the necklace or the whole look. He looks like his character Vinnie out of something out of Saturday night and he was way too weird and touchy feely on th Red Carpet. By the way, the rumor is many of the men had on a bit of makeup to look better for photo ops. After all, why should the ladies have all the fun.
Live From The Oscar Red Carpet
xo
NJ Goldston, The Brunette and David Soriano