It's that time of year when everyone at The Blonde & The Brunette reflects on how fortunate we are and how we can help others all year long. We wanted to take a moment on this special day to share four of the not-for-profit organizations we've been supporting for years because they spread goodwill all year long and make a positive difference in the world. Maybe you'll feel the same way we do. Read on. If not these, then support something. Make a difference.

Women for Women International is a humanitarian organization helping women survivors of wars rebuild their lives. Since 1993, the organization has helped 316,000 women survivors of wars access social and economic opportunities through their year long program. In its 18-year history, the organization has distributed more than $103 million, and has impacted more than 1.7 million family members. This organization provides women survivors of war the ability to move on from crisis and poverty and create a stable, self sufficient life. We have supported more than 10 women and their families over the past 5 years
Changing the world…One woman at a time.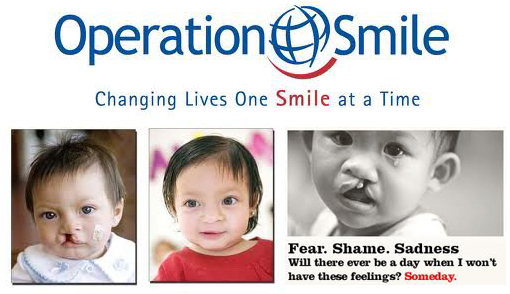 Operation Smile is a children's charity that provides safe, effective reconstructive surgery for children born with facial deformities such as cleft lip and cleft palate. Every three minutes a child is born with a cleft lip and often unable to eat, speak, socialize or smile. Since 1982, Operation Smile has provided over 200,000 free surgeries for children and young adults born with cleft lips, cleft palates and other facial deformities. We have supported this organization for many years and Susan, our Contributor At-Large, recently did a mission.

Heifer International
Heifer works with communities to end hunger and poverty and to care for the Earth. They came up with the simple idea of giving families a source of food rather than short-term relief. This genius idea has become a huge success over the past 65 years. Today, millions of families in 128 countries have been given the gifts of not only food, but more importantly, self-reliance and hope. We have supported them for years and depending on our budget select a donation that changes the lives of an entire family long-term.
A world of communities living together in peace and equitably sharing the resources of a healthy planet.
The Humane Society strives to create a humane and sustainable world for all animals. – a world that will also benefit people. They seek to prevent animal cruelty, exploitation, neglect, as well as going as far to protect wild habitats and entire communities. As well as rescuing animals from natural disasters and cruel situations, they also work to protect animals through their large scale campaigns as well! These target animal fighting, puppy mills, factory farms, unsporting hunting practices, and the fur trade. We are very active in writing and supporting their causes in particular freeing laboratory animals, the bloody annual seal hunt in Canada, the cruel capture and murder of dolphins, the abolishing of live whale hunts which results in them suffocating to death when hung from the side of boats, efforts to save the Polar Bears, canned hunting reserves with tame animals, preventing grossly inhumane horse transportation and slaughter for food, rescue efforts for hoarding of animals left due to neglect and starvation. If you can't afford to donate, subscribe to the email and lend your support in writing so Congress gets behind these efforts. We do it every day!
xo
NJ, Goldston & The Blonde & The Brunette Team