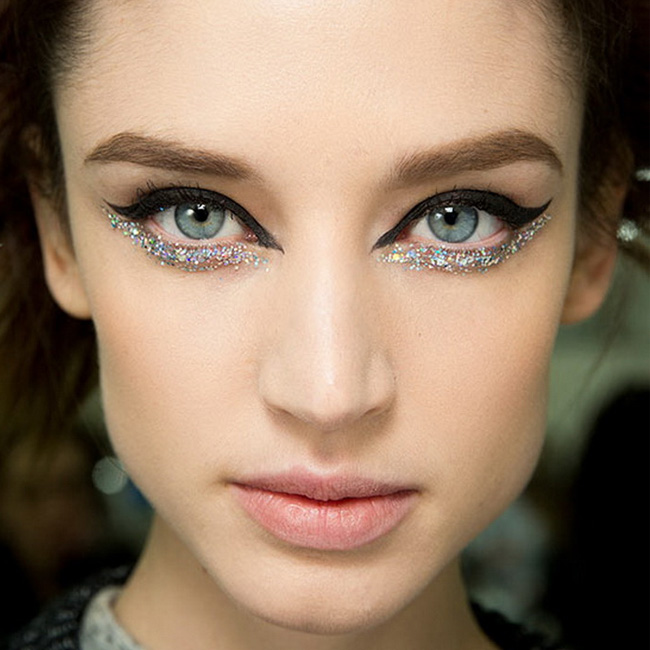 If the word "glitter" makes you shutter from distant memories of messy art projects, the SS16 month long runway marathon is here to help you rethink the way you feel about it! The sparkly stuff you knew in elementary school just got a whole lot more sophisticated when it comes to eyes. Chanel, Giambattista Valli, Creatures Of The Wind, Dries Van Noten, and many more designers, got sparkly during their Spring 2016 show. The difference. This isn't something we haven't seen before but this time around there was a new level of sophistication making us rethink the possibilities.
This season sequins were added to the lids of the models walking for Temperley London & Creatures of the Wind, creating a bit of a disco ball effect in a very relevant, modern way. Rodarte used a lovely jeweled detail on the bottom lash line, that was simple, but just the right amount of sparkle. We also saw a lot of experimenting with metallic bronze, gold and silver eyeshadows.
It's all an interesting contrast on the new minimalism. So to step into the spotlight this season, go ahead and add a just a little extra glam to your evening look. A bold bedazzled eye looks incredibly fresh with a touch of lip balm and effortless hairstyle! Add a little added luxury, even when just wearing jeans and a tee.
We also just wanted to throw it back really quickly to some other collections in the past who have successfully pulled off this look. Then, read on for our cheat sheet of how to pull to achieve this look & our favorite products to do so, below!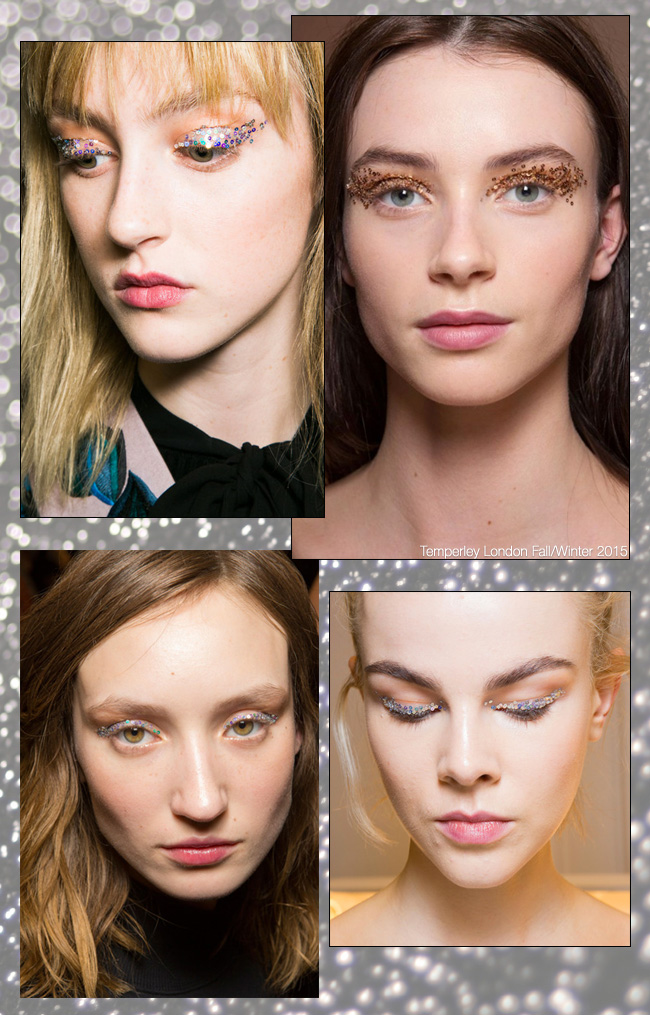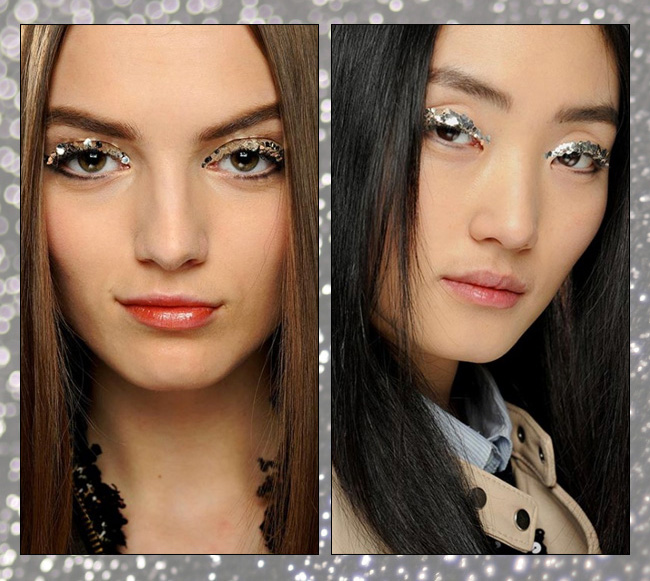 Glitter, just like most trends, comes with a collection of tips!
1. Do NOT Overdo It : Glitter is extremely easy to get carried away with. It goes on easy, and if not cautiously maintained, can spread around your face like wildfire. Whether you are doing a glitter liner or a glitter lid, make sure you stay in bounds. You want to avoid looking like a shiny disco ball!
2. Apply It Properly : If you are applying loose glitter shadow, make sure you have a really solid setting agent. Trying to apply glitter to an eyelid without applying any setting cream will cause a major mess, not to mention, irritate your eyes!
3. Make Sure It's Appropriate For The Occasion : I really can't think of a situation it would be unacceptable to wear glitter, but for example, if you're going into a board meeting, make sure it's toned down and appropriate.
4. Coordinate With Your Outfit : If you're wearing a sparkling eye, make sure nothing in your ensemble contains sequins and or any other glittery accessories. The goal is to look glamand girly, not like a hot mess of shimmer!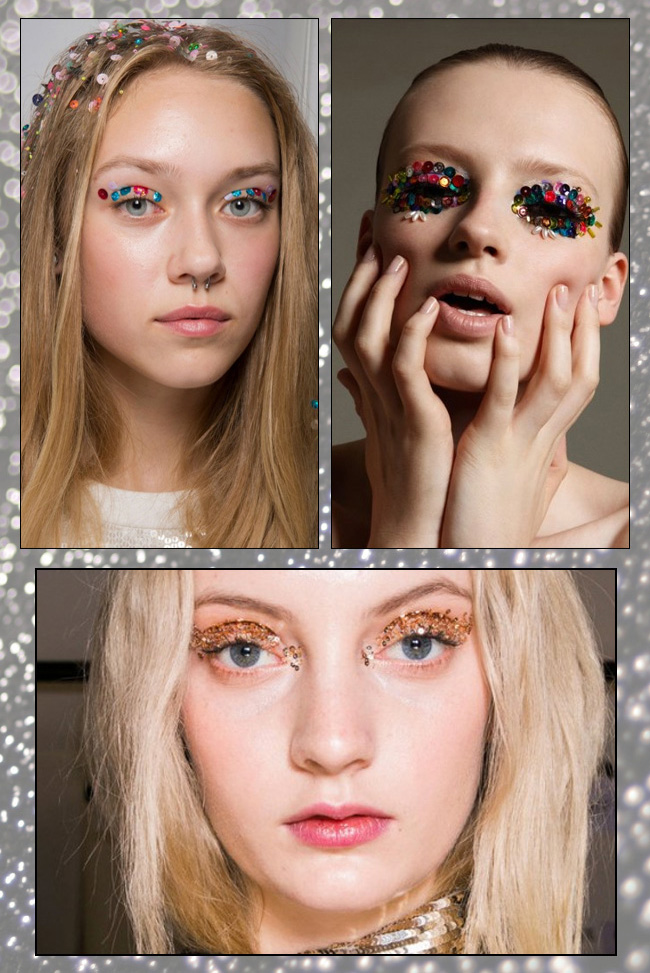 If you need just a drop more courage, think Elizabeth Taylor in the 1963 film Cleopatra. She wears just a trace of glitter on top of her black eyeliner. Who could get more glamorous than that!
If done correctly, there's something really magical about glitter. The only thing not glamorous about glitter is the mess! For those wanting to recreate these looks at home, invest in the Too FacedShadow Insurance Glitter Glue below. It will be your saving grace as you step into the wonderful world of glitter! Is it spring yet?
To brighten up your eyes :

Xx. Jadan Huter