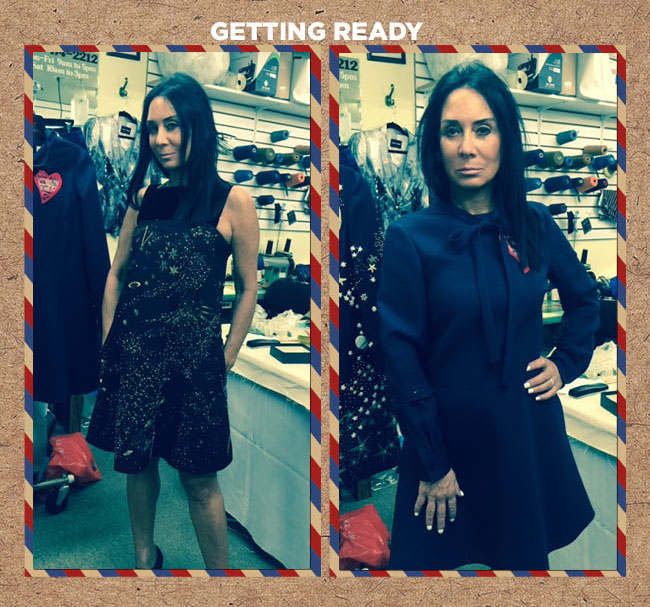 I'm just going to say it. I'm the worst packer in the world. Anyway, I have a mission. I need to get ready for #PFW pronto. Let me just break it down for you. I need dinner dresses, casual run-around choices, party dresses, bags, shoes, and probably boots along with a coat or two, plus outfits for runway shows that represent the designers. So that means Louis Vuitton, Sacai, Valentino, Chanel, Miu Miu, and The Row just to name a few. Let me take you through my mad, mad messy world as I try and put it all together. Here we go. I arrive on Saturday and hit the ground running. But first, I always go to my favorite seamstress in the world, Mitra, up at Beverly Glen on the top of Mulholland Drive. She makes everything perfect and it's the key to making a look really work. Precise tailoring.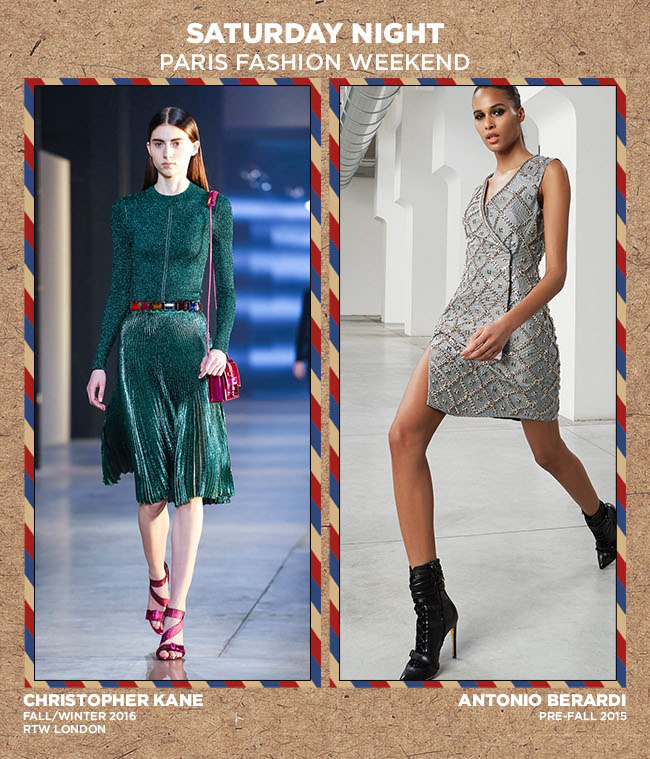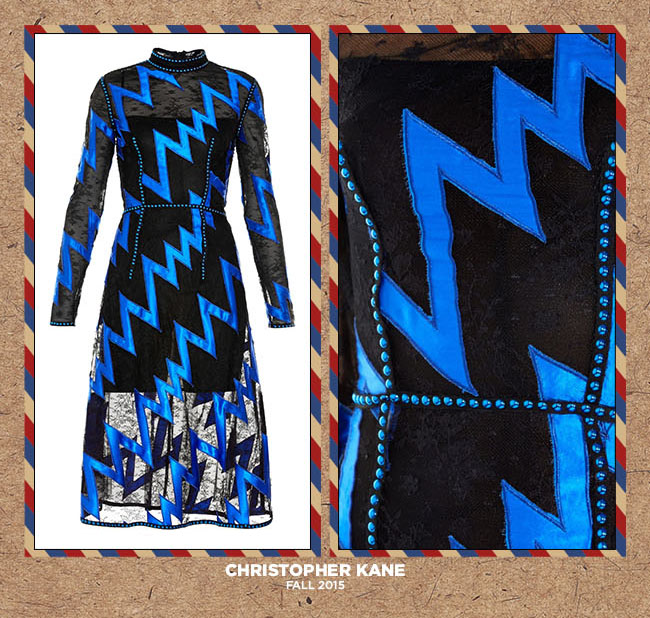 I land in Paris early Saturday morning and I'll be off and running with my #PFW schedule. My uniform for shopping, quick errands, and the museums will be black jeans, a great coat, and a statement bag. However, the real fun starts with all the parties, dinners and shows. So I've planned everything carefully by event. I am sure to deviate based on the weather (rain expected), my mood, and last minute invitations. First up a Cocktail Dinatorie Party hosted by my friend and Haney designer Mary Alice Haney. Attire? What else. Fashion Week. I'm either going with a Prince of Wales embellished Antonio Beradi or a metallic green Christopher Kane number. OH…then there is the backup to the backup. A black and lightning electric blue bolt Christopher Kane. It's going to be a hard decision.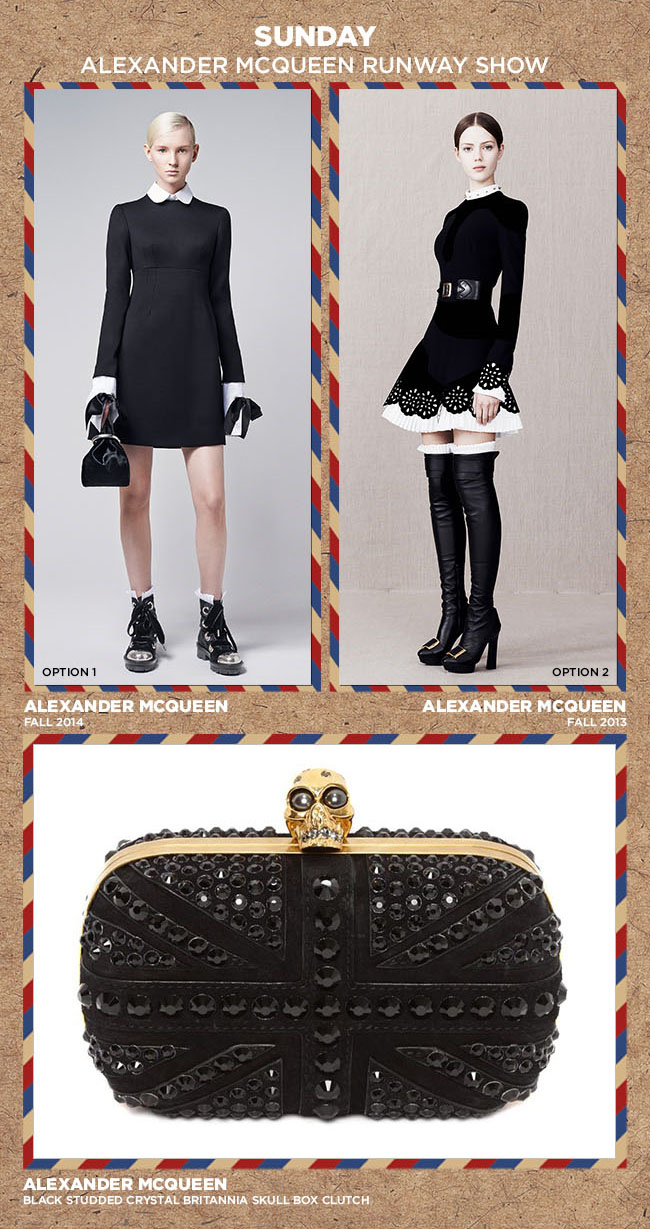 A dream come true. I'm going to the Alexander McQueen show with my pals from Net-A-Porter. I shopped my closet and found two black and white McQueens I adore. I can't decide which one to pack yet but my vintage McQueen clutch (that went to a McQueen Met after Party or two and the House even made me a bespoke McQueen clutch for the Met) is coming along to add some drama. One of my go-to packing strategies is travel with black and white. It makes everything easy.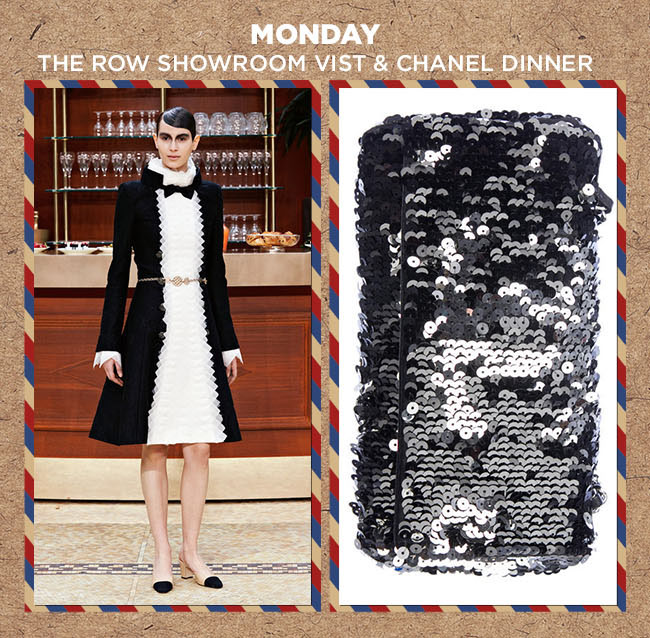 This Not The Dress I'm Wearing. It's the dress I am obsessing about. I just felt like showing a picture of it! Anyway. There is a special dinner Monday tonight and I will be in a black Chanel cocktail dress (and promise to post photos) with a silver sequinned Chanel bag. For my Row showroom visit, I am going with a black knit Row dress.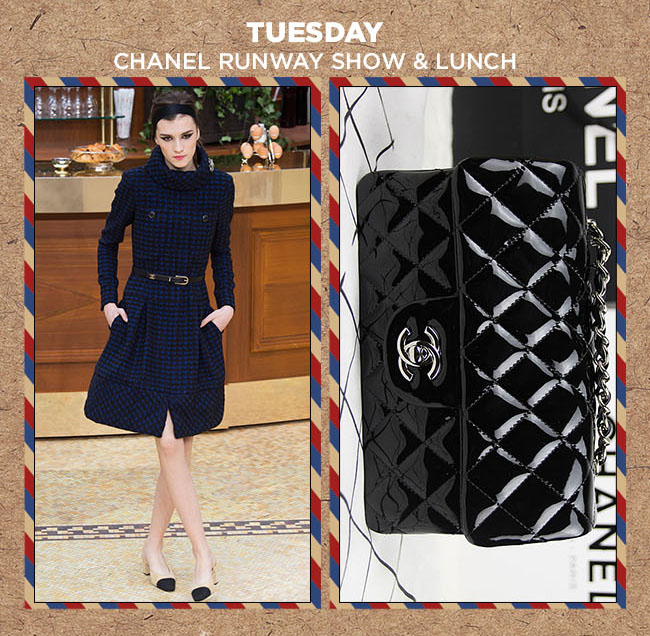 The Chanel Show. What can I say. It's always a showstopper and you never know what Karl will think up next. Attendees DRESS. Really dress. I'm bringing a blue and black tweed Chanel dress (from the FW15) with a thin belt, plus my classic black patent leather Chanel bag gifted to me by the hubby. Then it will be off to the Chanel lunch right after the show. Can't wait.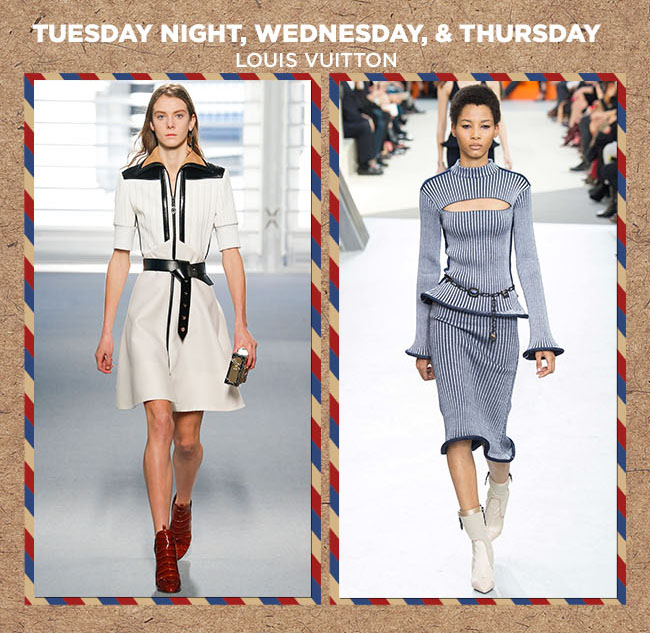 Fashion Week always closes with the anticipation of the Louis Vuitton show and rumor has it this show will be dark, dark, dark. We'll see what that means (if its even true) and I can't divulge how I might know. There's an LV dinner Tuesday night, the show the very next day followed by lunch, a Louis Vuitton dinner Wednesday evening, a trip to the Atelier on Thursday and then another dinner. I am packing lots of choices. As you know. I'm an LV girl all the way. My strategy is knits for day and looks with a bit of drama for night. I did go with white and black and navy and white knits for day. For night, I gotta have some sparkle. It's my thing.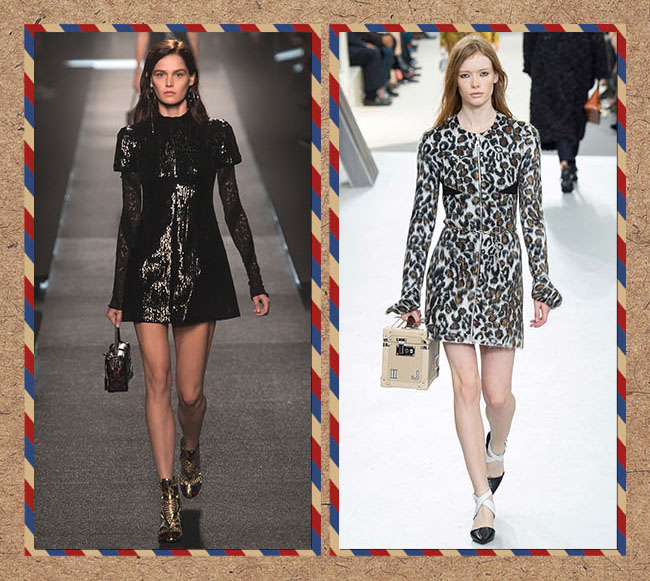 For Louis Vuitton, I packed three of my favorite clutches. Two petite malles and one soft side petite malle.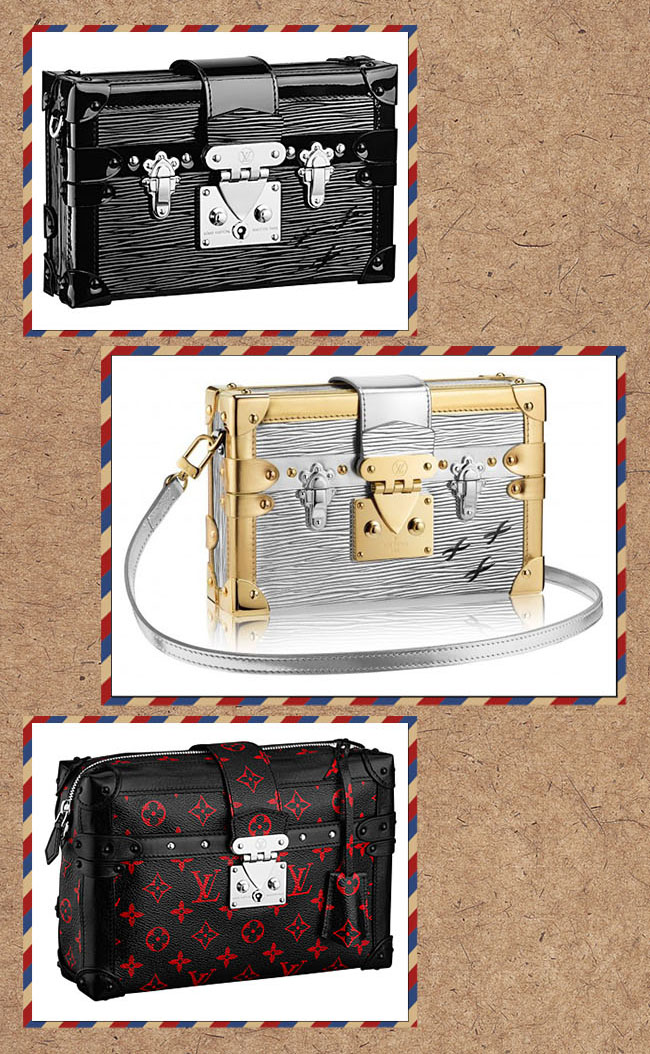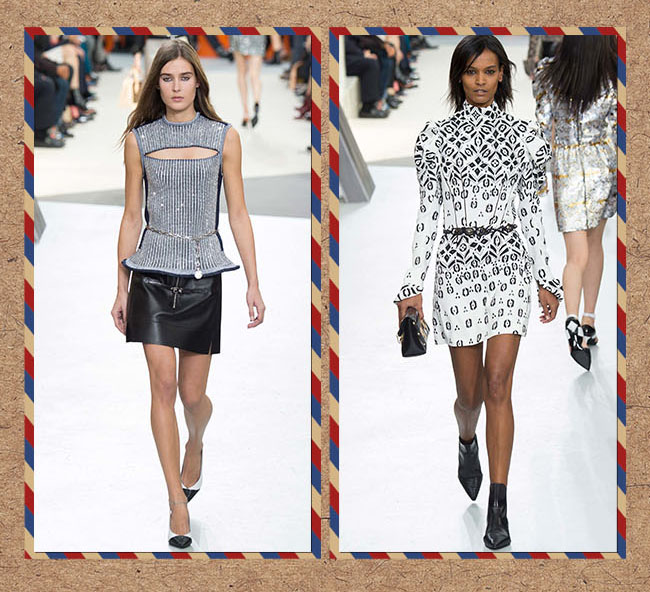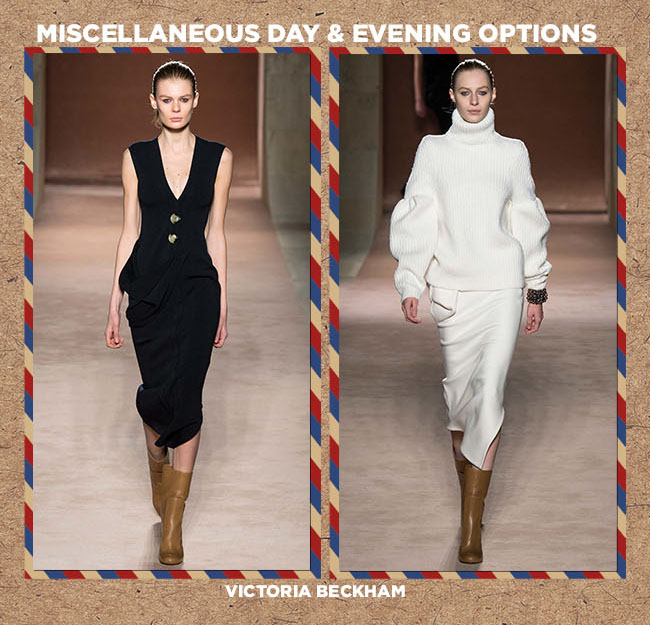 Of course before I left I went for a few fittings and packing is a jumbled mess but in the end it all comes together. I always pack knits that are one piece dresses. You just throw them on and go. I also match my shoes and bags but pick interesting accessories with a twist.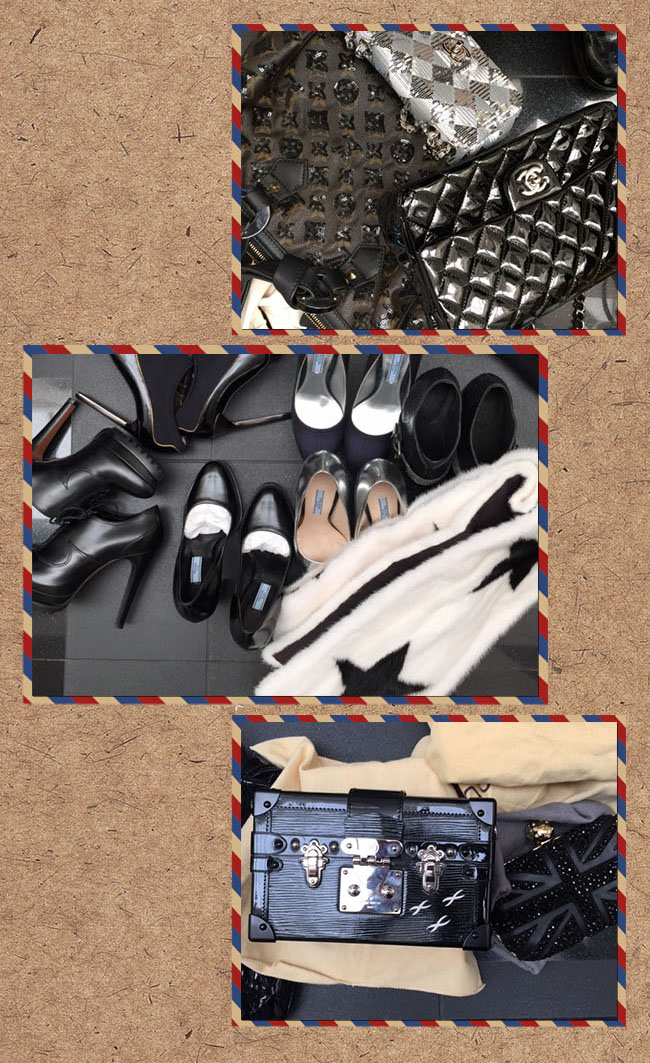 Finally, I'm packing My Nina Ricci Red Sequin Dress that I just wore in case something amazing happens. My key showstopping accessory is my dramatic Creatures of the Wind Mink Scarf (gifted to me by the designers!!!) and two Victoria Beckham knit outfits (again in neutrals) that I can wear virtually everywhere. Of course before I left I went for a few fittings and the packing is a jumbled mess but in the end it all comes together.
It's wheels up. Follow along next week as I post my Postcards From Paris.

xo,
-NJ Goldston, The Brunette