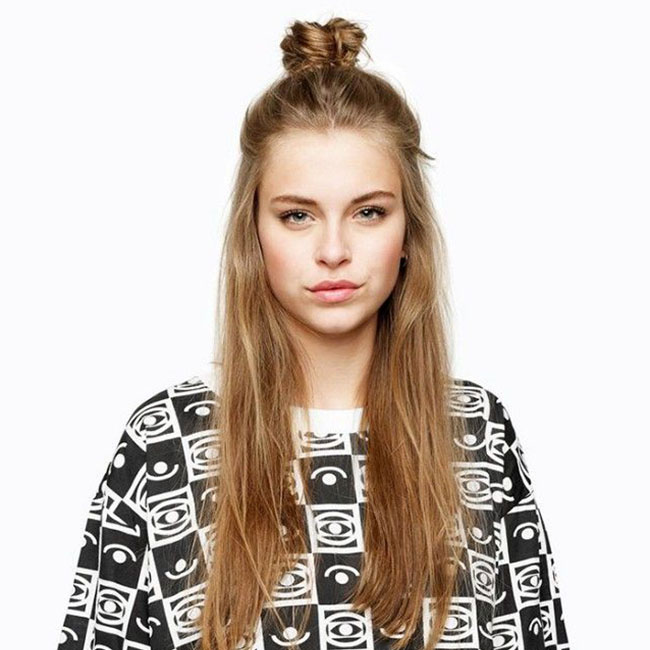 We're calling this years "it" hair style, the top knot 2.0. This time last year, we were all about the messy top knots, & it looks like they're back with a makeover! It's basically just a half-up, half-down version of the go-to top knot style we have all come to love so much!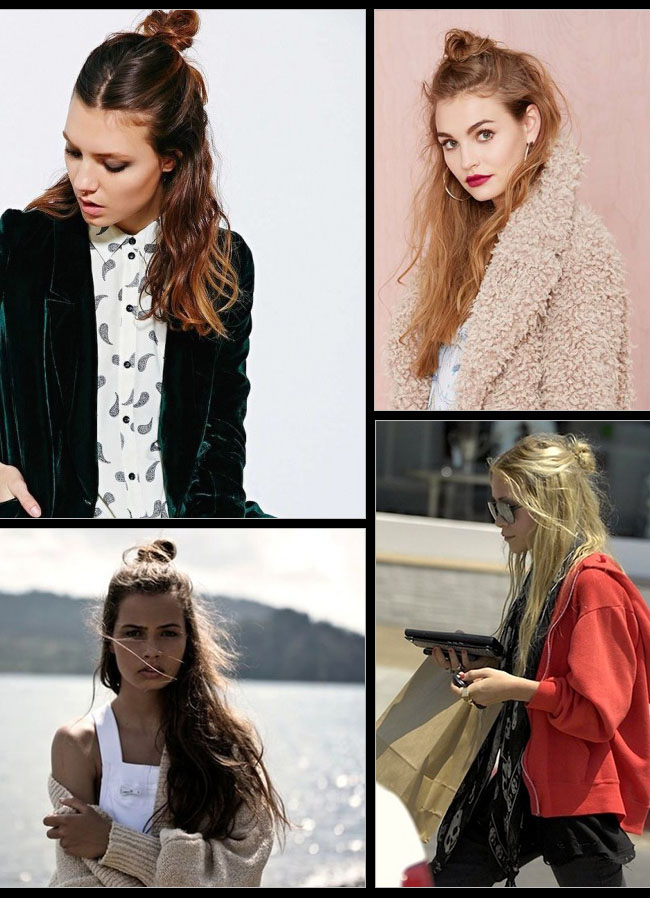 We recently spotted the top knot 2.0 on a handful of fellow bloggers at New York Fashion Week, which confirmed this as the new "it" do of the season. It's still very new, and people are just beginning to play around with it, but once you nail it down, you exude all kinds of laid back chic with an air of nonchalance. Isn't that what EVERYONE at fashion week is going for?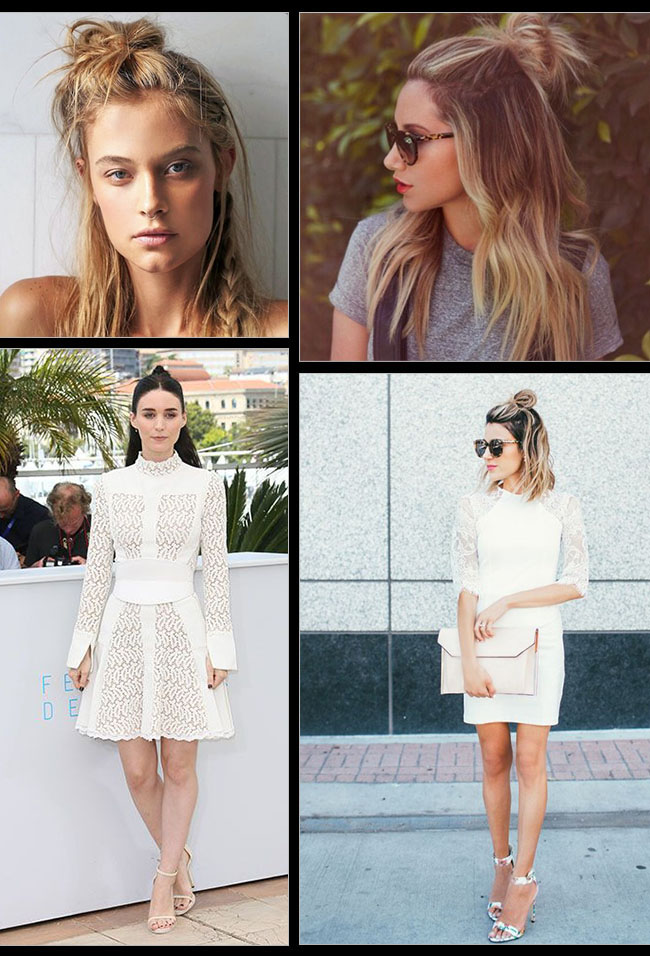 The top knot 2.0 first caught our attention a few months back, when we spotted a few of our favorite bohemian babes i.e. The Olsen twins, Sienna Miller and Julianne Hough rocking the look. I must admit, I even tried it myself a few times while running errands around town. The real infatuation began when we saw our glamour queens, i.e., Ariana Grande, Rooney Mara & JLo rock the look. Not to mention JLo & Rooney rocked it on the red carpet. This look is here to stay, and we totally approve!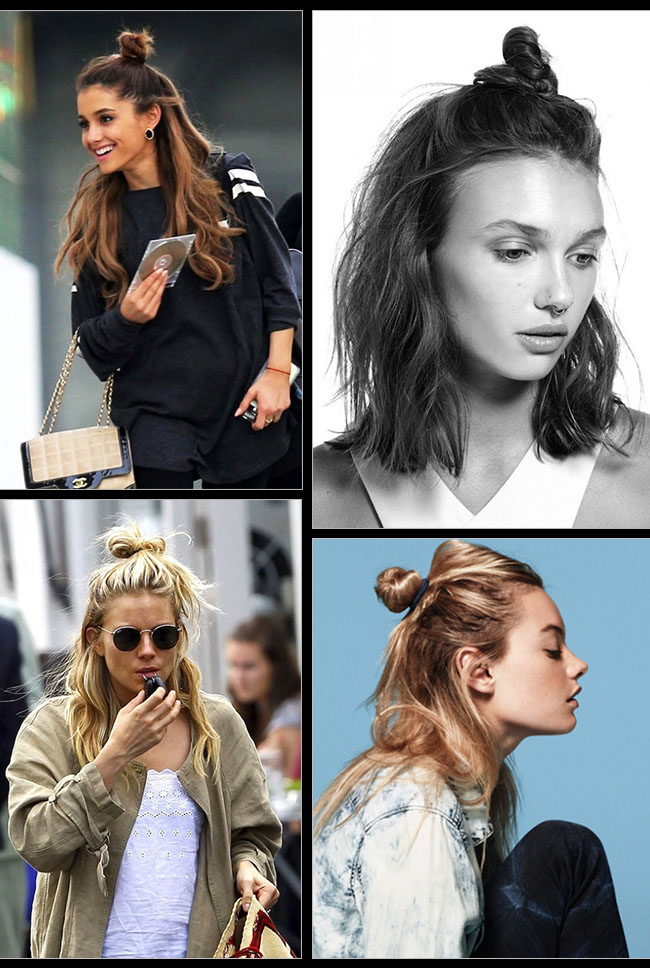 Of course, the ease of the messy top knot 2.0 has its obvious appeal. Possibly even more so for people like me who are very indecisive by nature. I often have a hard time deciding whether to wear my hair up or down #thestruggleisreal so this hairstyle is the best of both worlds! A friend of mine wears this look on the daily, because A. She swears it makes her grown out roots look less noticeable, B. She swears it gives her height, and C. It makes her feel sexy, while still looking care-free! I'd have to approve!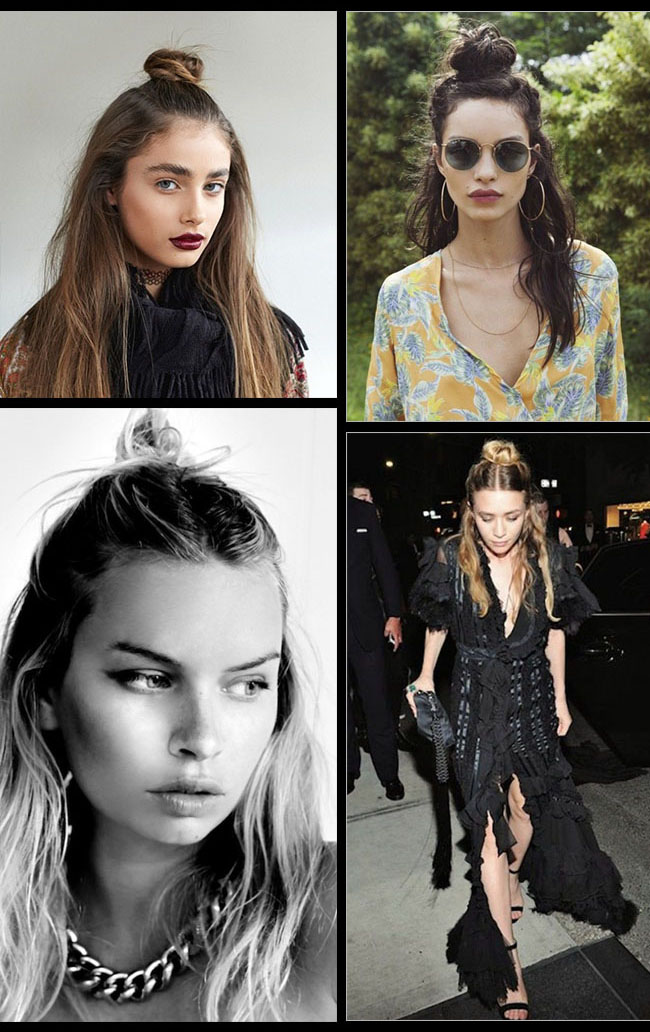 BnB Style Tips: Now for the fun part! The casual styling time is a quick one to three minutes. Can you believe it? I never thought I'd be able to say I did my hair in under twenty minutes, let alone under five!
Want to achieve this look? Here's how!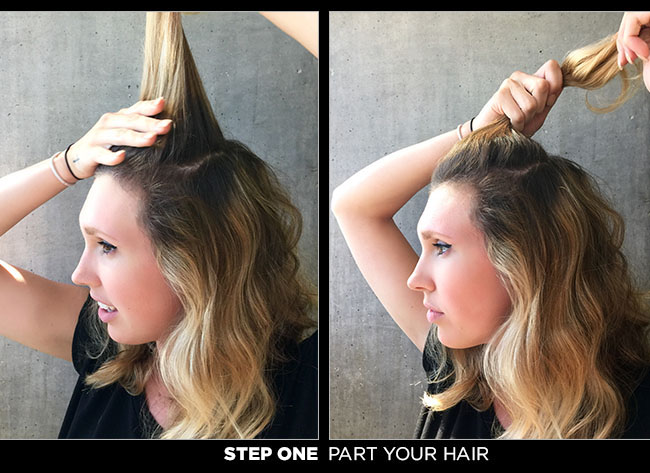 Step 1. Use a moisturizing shampoo to tone down frizz and towel dry. We love using a light sea salt mist for a bit of texture (our favorites are below) and let it air dry. Once your hair is dry and as curly and/or messy as you want it, part the top – depending on how thick you want your top knot.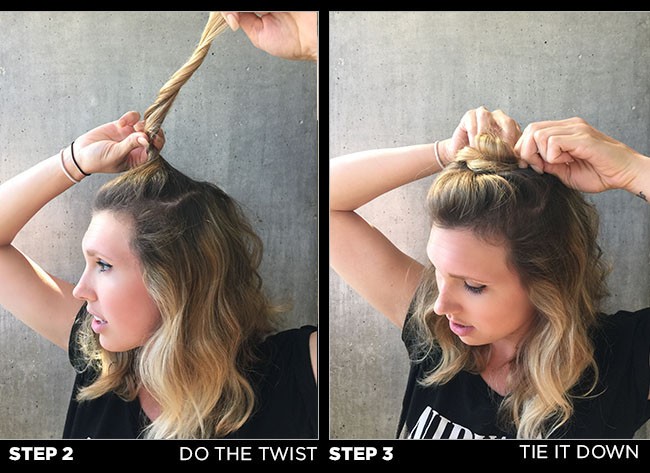 Step 2. While holding this section of hair above your head, pull a few little whispys down around your face creating a whimsical laid back look, or if you're going to an award show, (and just want to channel your inner JLo) use water and hair spray for a more slicked back look. Next start to twist your hair clockwise, until it naturally creates a 'ball' like effect.
Step 3. Tie it down. Use a thin pony tail to tie down your top knot, and adjust accordingly.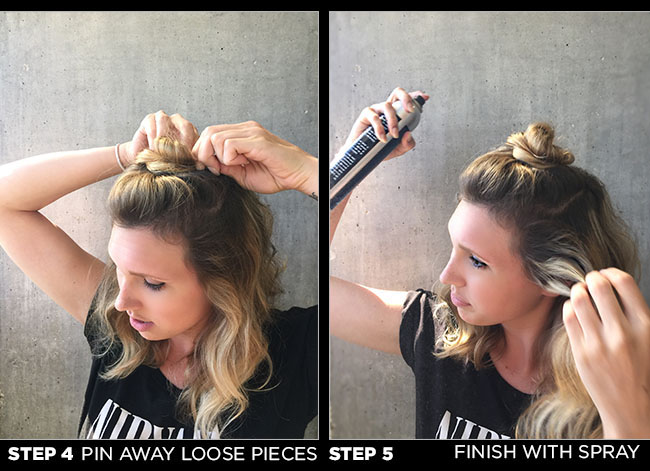 Step 4. Twist the remaining hair around to create a messy top knot and either secure with a couple bobby pins.
Step 5. Lastly, pick up a bottle of our NJ's Secret Weapon Strong Hold The Blonde & The Brunette x James Kendall hairspray, (located in our shop page or at the James Kendall Salon in Beverly Hills) and spray those wispys down!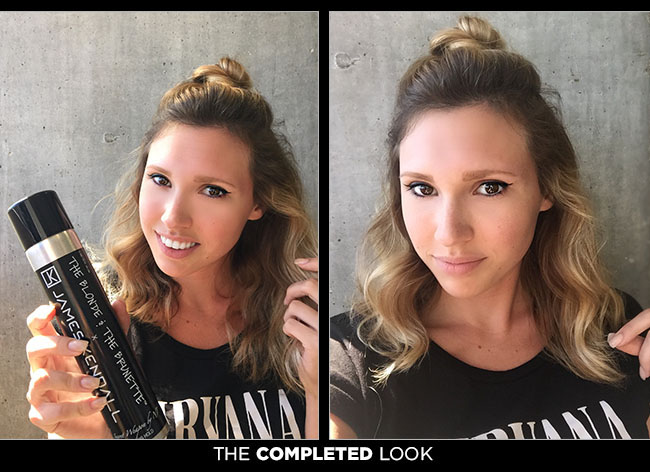 Since you already know where to get your hands on some of NJ's Secret Weapon Hairspray, we figured all you needed was the sea salt spray and some bobby pins to nail down the do! We've already done the shopping, all you have to do is swipe your card!

Xx. Jadan Huter & Lauren Cheek